Social Media
Connect with patients like humans. Because patients buy from people, not practices.
Social Media Marketing
Social media is the new town square, a place where patients go to satiate their craving for interaction one out of every three minutes they spend online.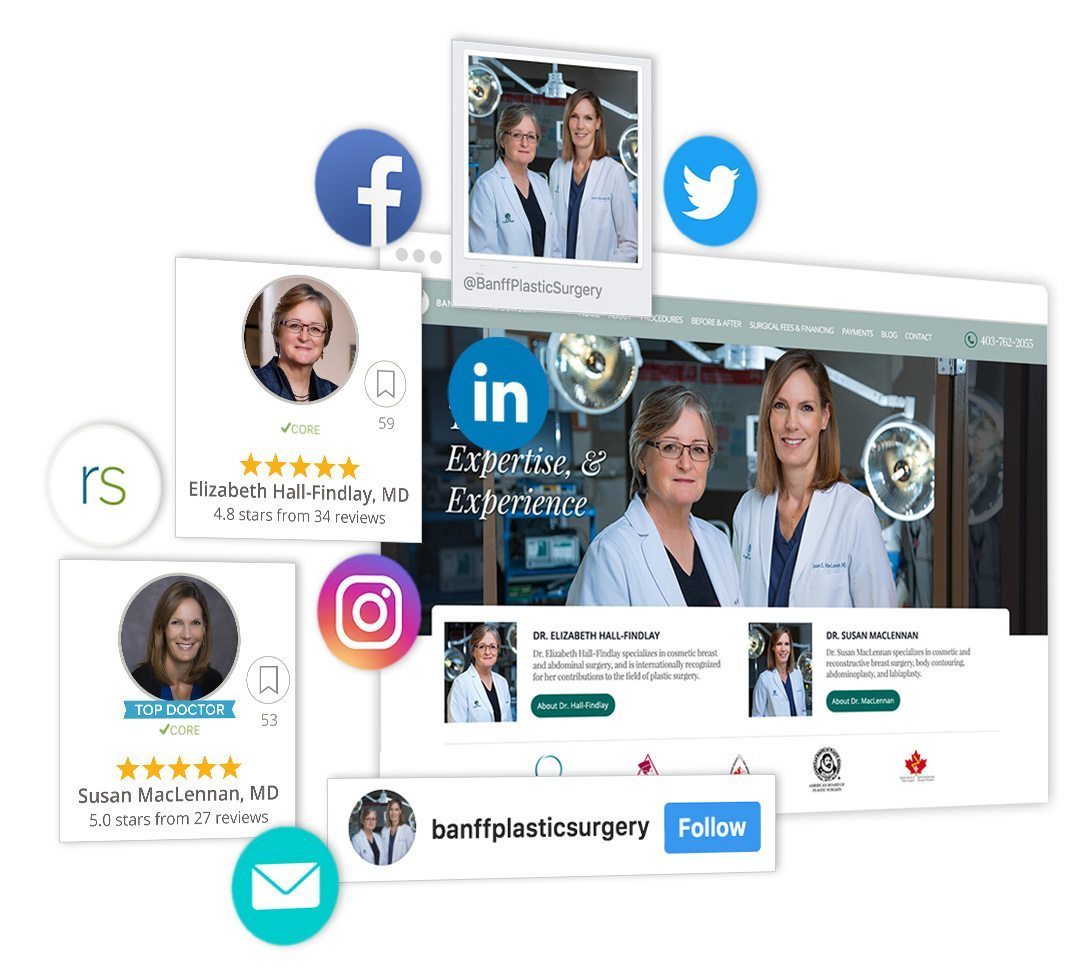 Marketing in the moment we live
Social media has reshaped the way we digest news, share opinions, discover new businesses, and connect with the world we live in. And it's where we go before, during, and after everything else we do. We're living in the era of social media. Are you?
Omnipresent influence
Social media marketing is the only form of marketing that can touch patients at every stage of their journey–from comparing doctors to offering referrals–making it the only medium for influencing behavior at every stage of the buying process, too.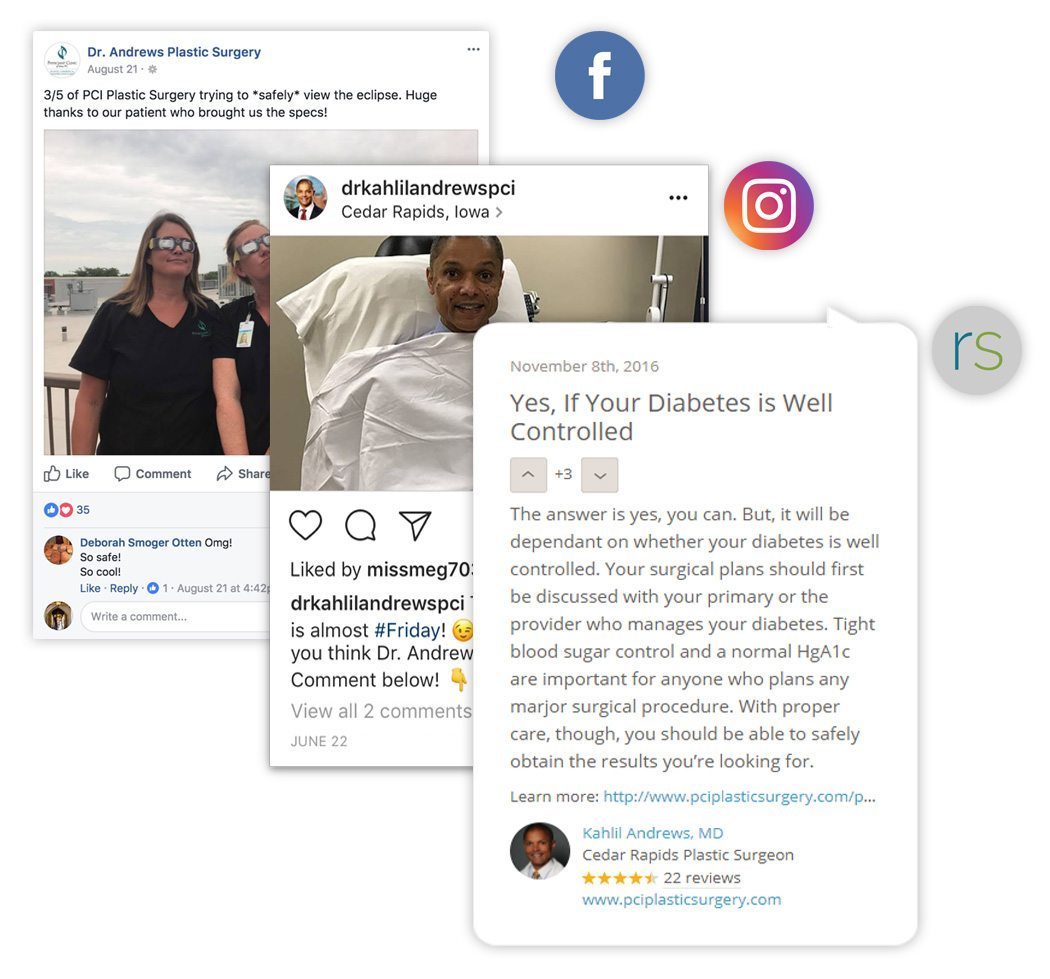 Human to human relationships
We form our deepest relationships with companies like we do with people: one meaningful interaction at a time. Today, social media and its ecosystem of authentic interactions is the platform for building meaningful relationships with patients in the most human of ways.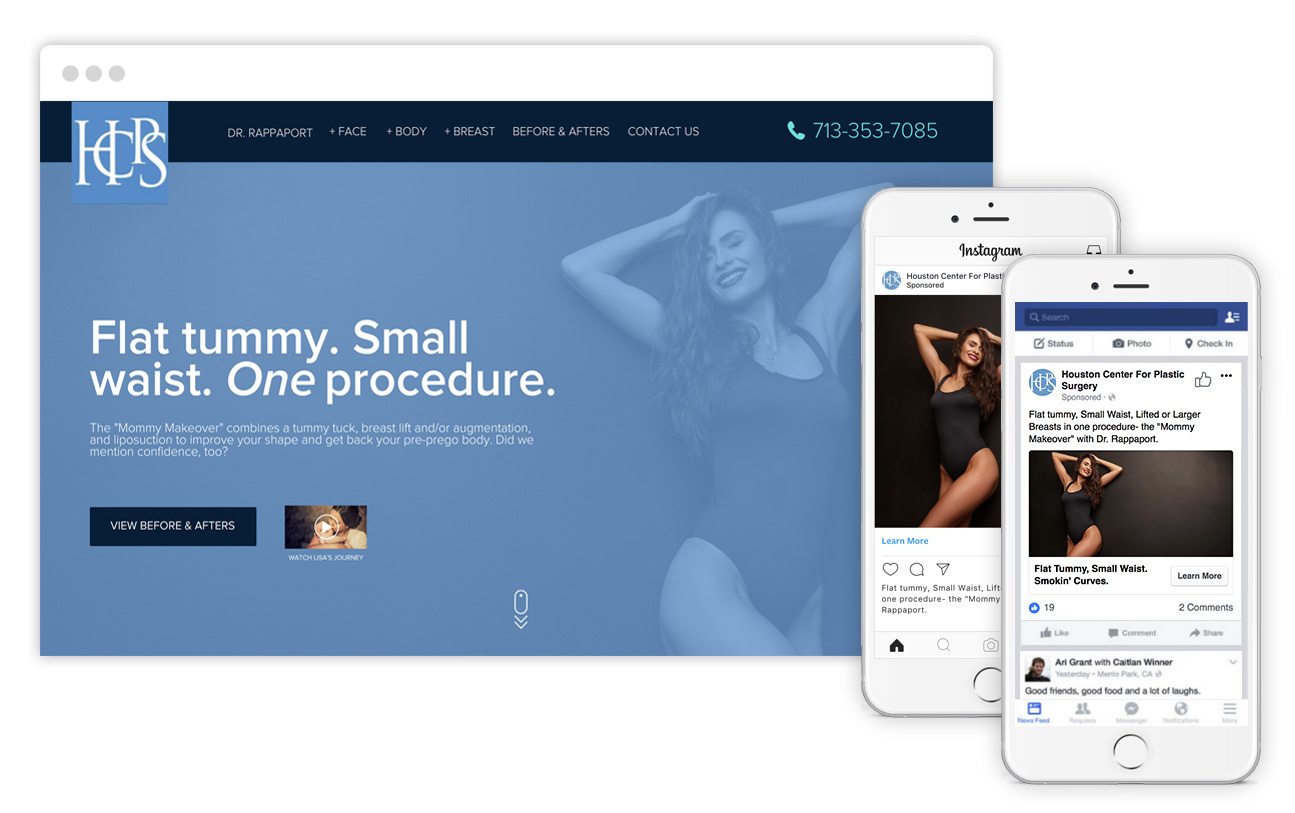 Precision targeting
Social networks like Facebook and Instagram have more information about our interests than any other ad network, giving you the precision to build a loyal community of patients who want to buy from you.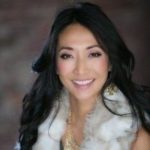 "The Incredibles have become our one-stop-shop for all of our marketing needs from SEO to social media posts to a completely revamped, custom website. Their graphic design artists turn projects around quickly and the entire team are exceptional communicators. Thank you, Incredibles, for elevating our business to an esteemed level of professionalism."
Shawna Chrisman
Nurse practitioner/Co-Founder, Destination Aesthetics
Social media, the new town square
83% of all Americans and 2.8 billion worldwide (37% of population) have a social media account.~ Hootsuite
Social media and messaging account for every 1 in 3 minutes spent online~ SproutSocial
60% of doctors believe social media improves the quality of care delivered to patients~ CDW
41% of people say social media affects their choice of doctor, hospital, or medical facility.~ DC Interactive
An ecosystem of interaction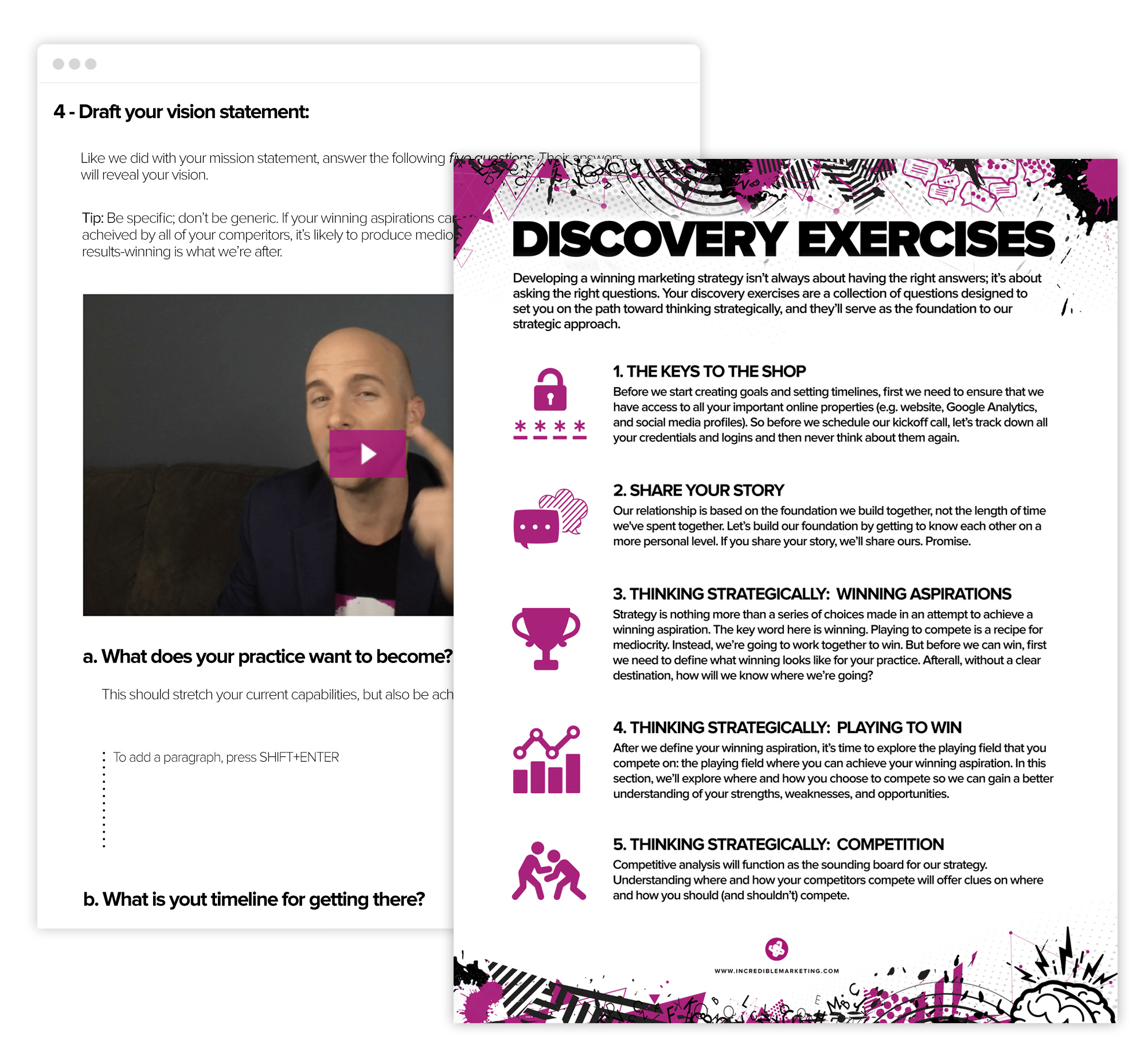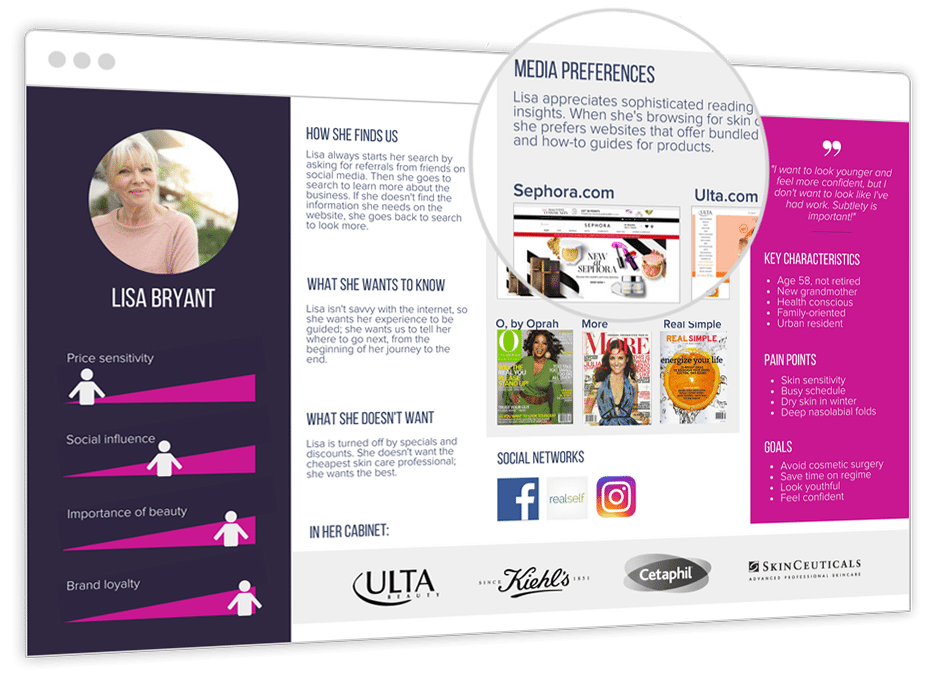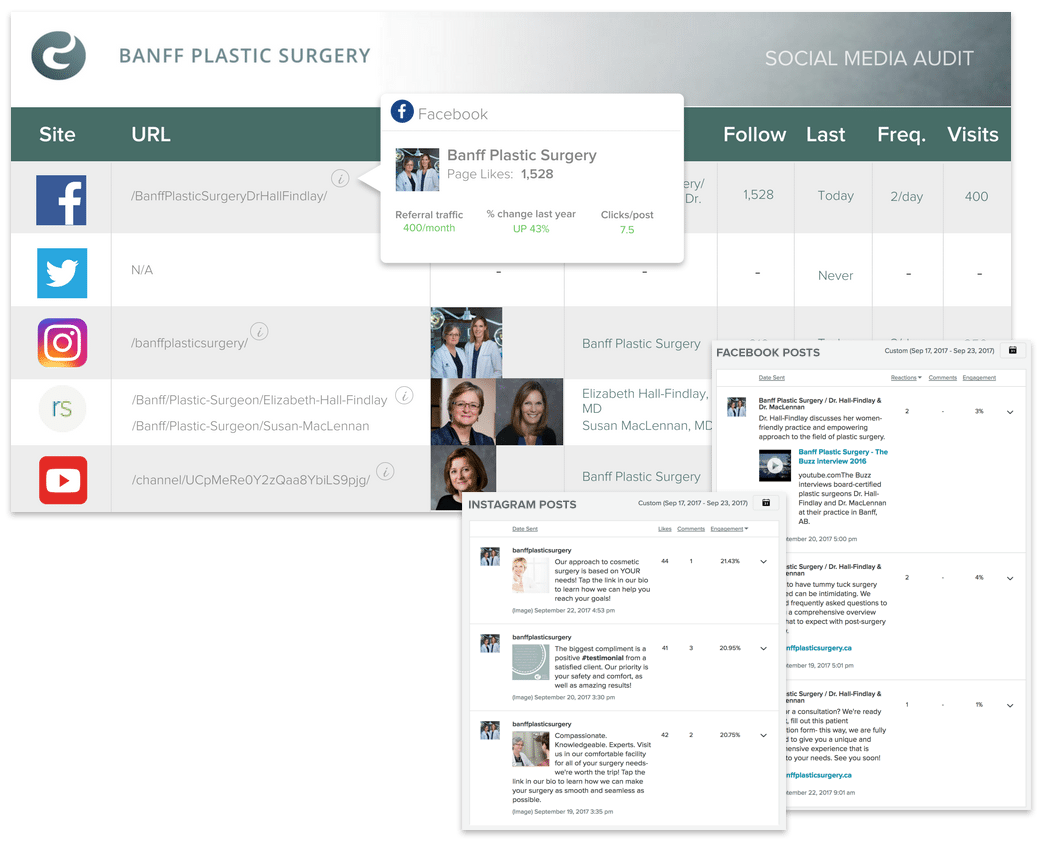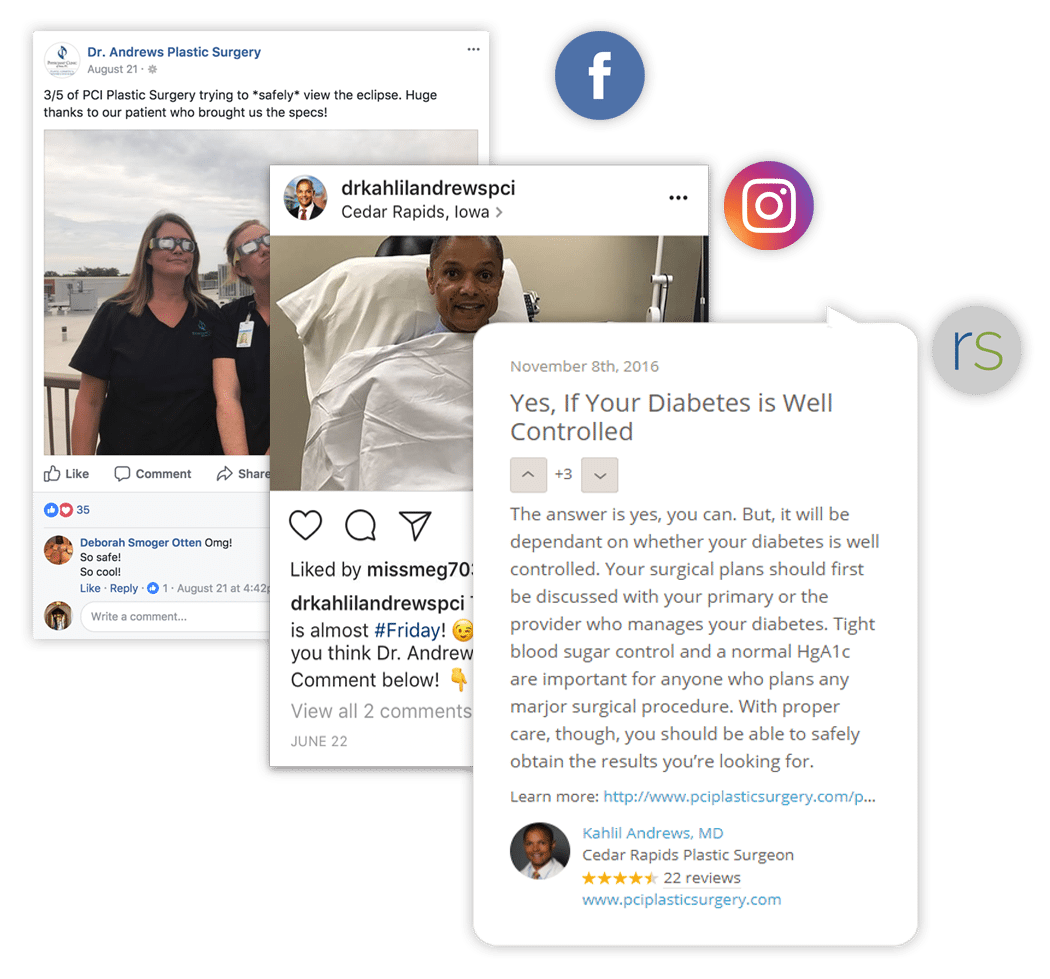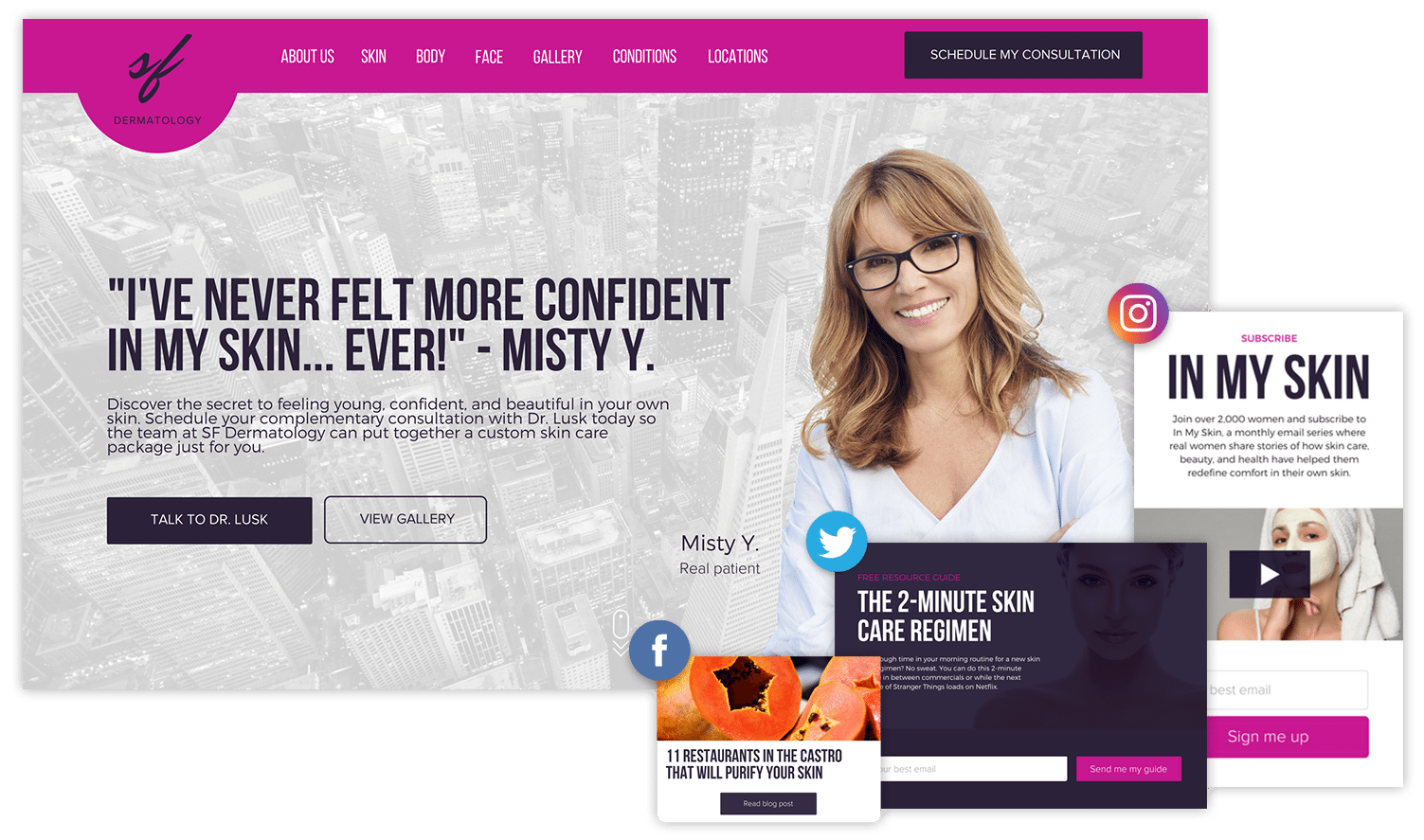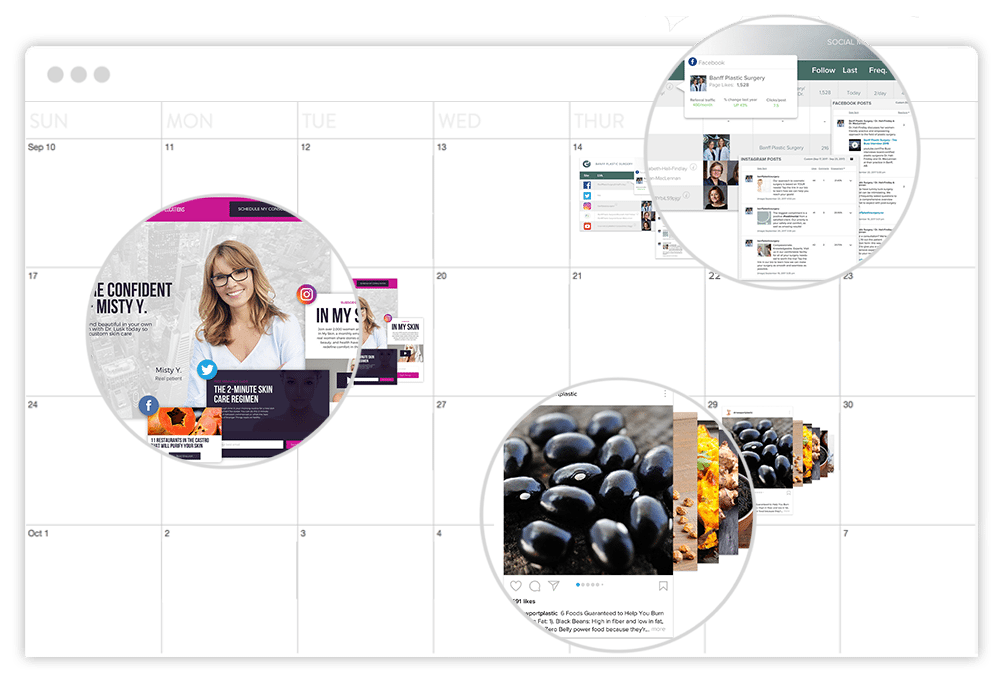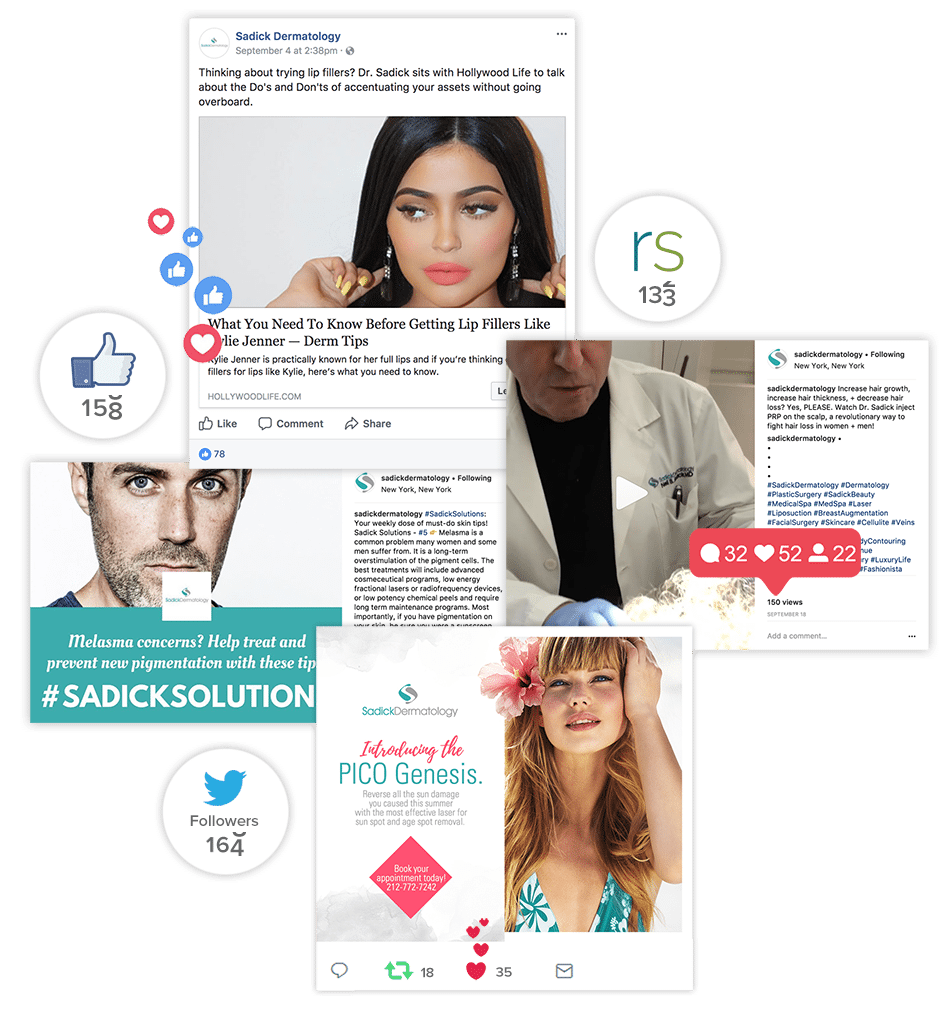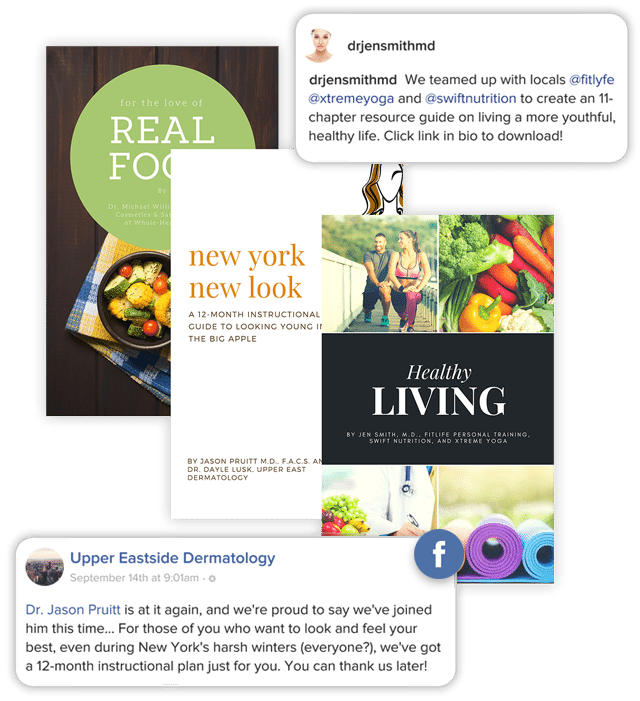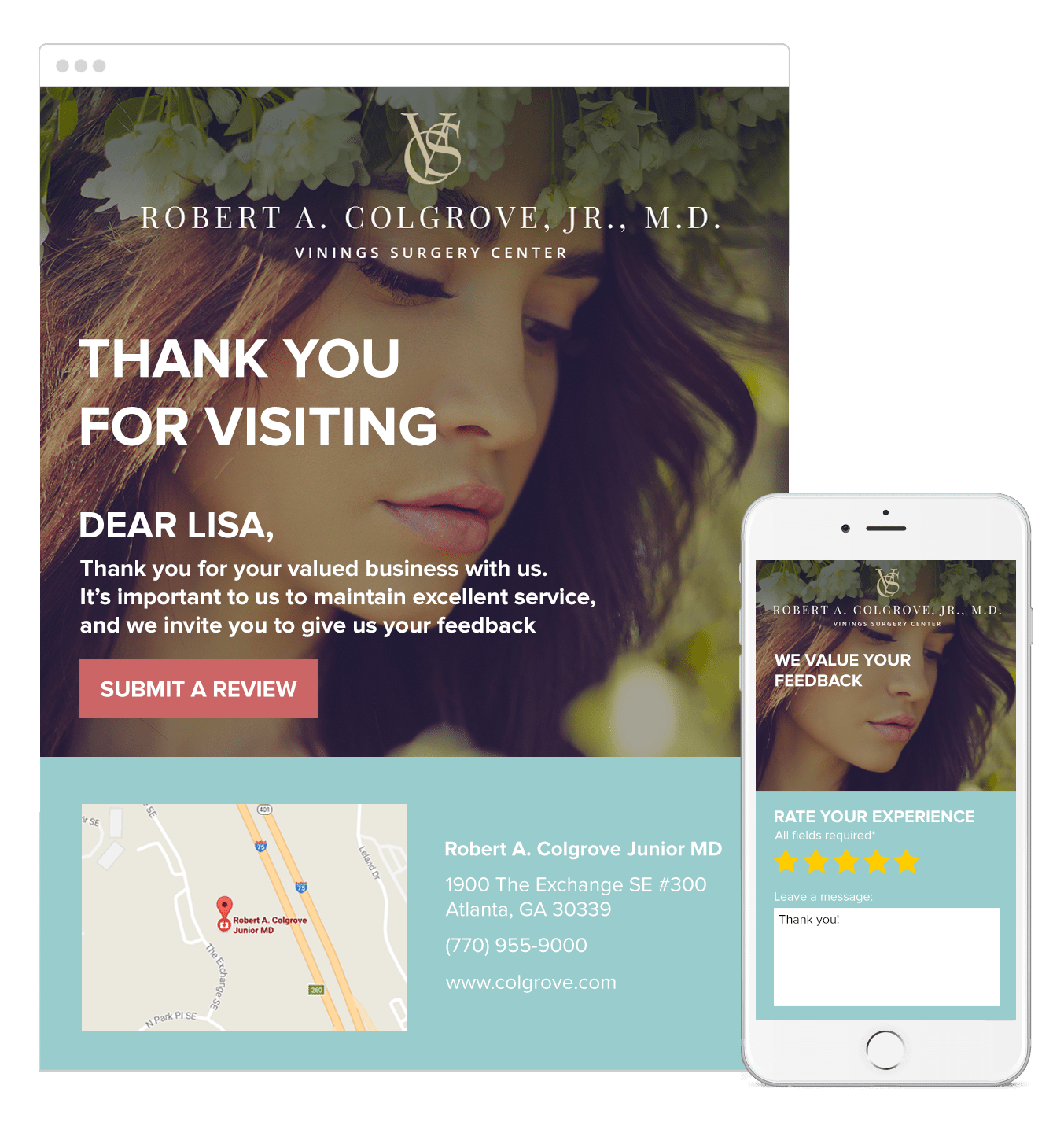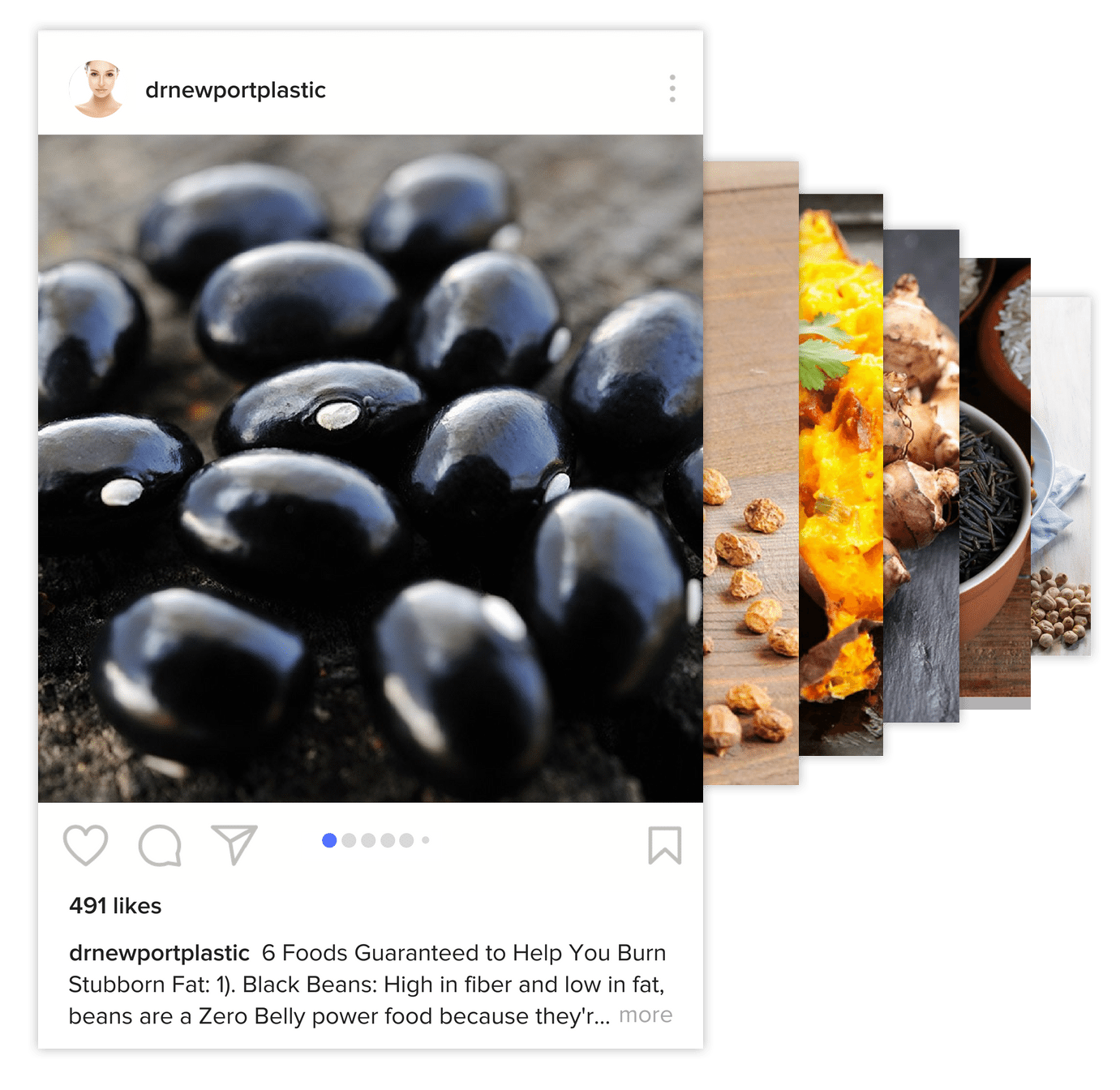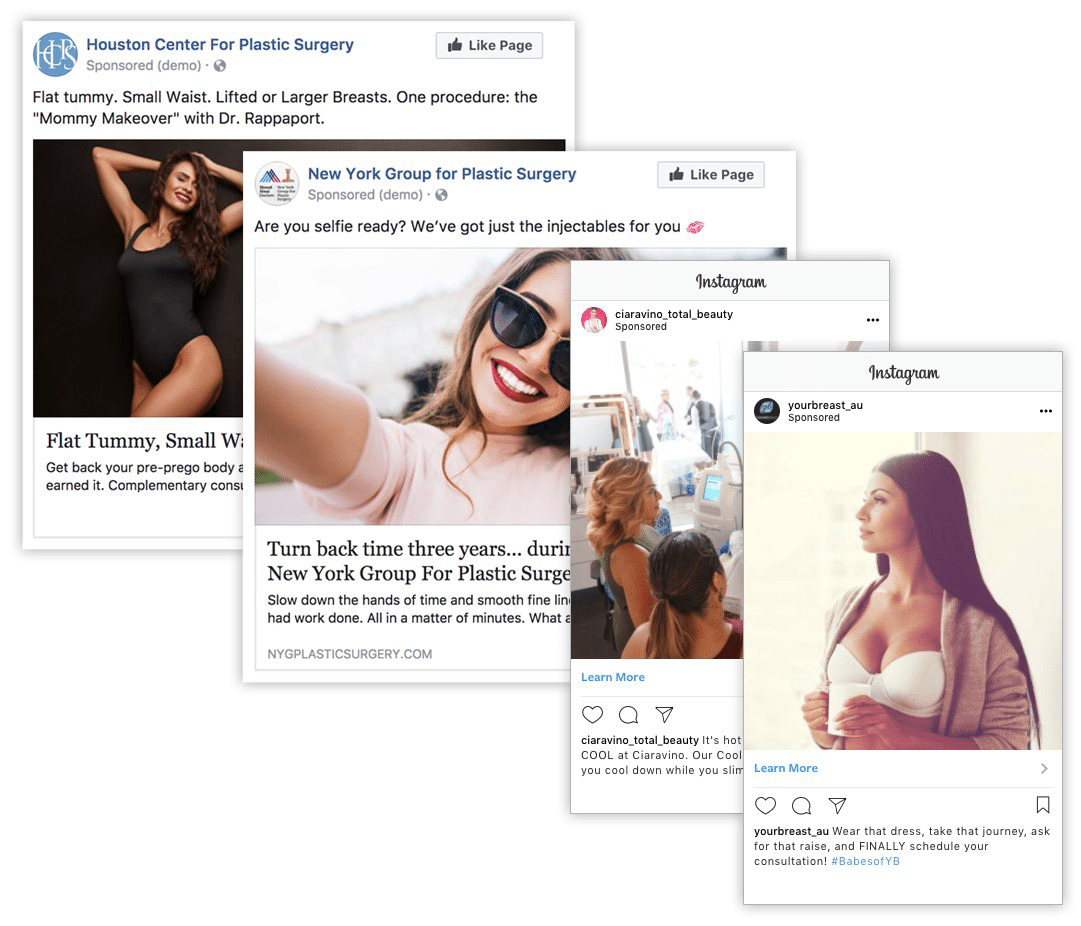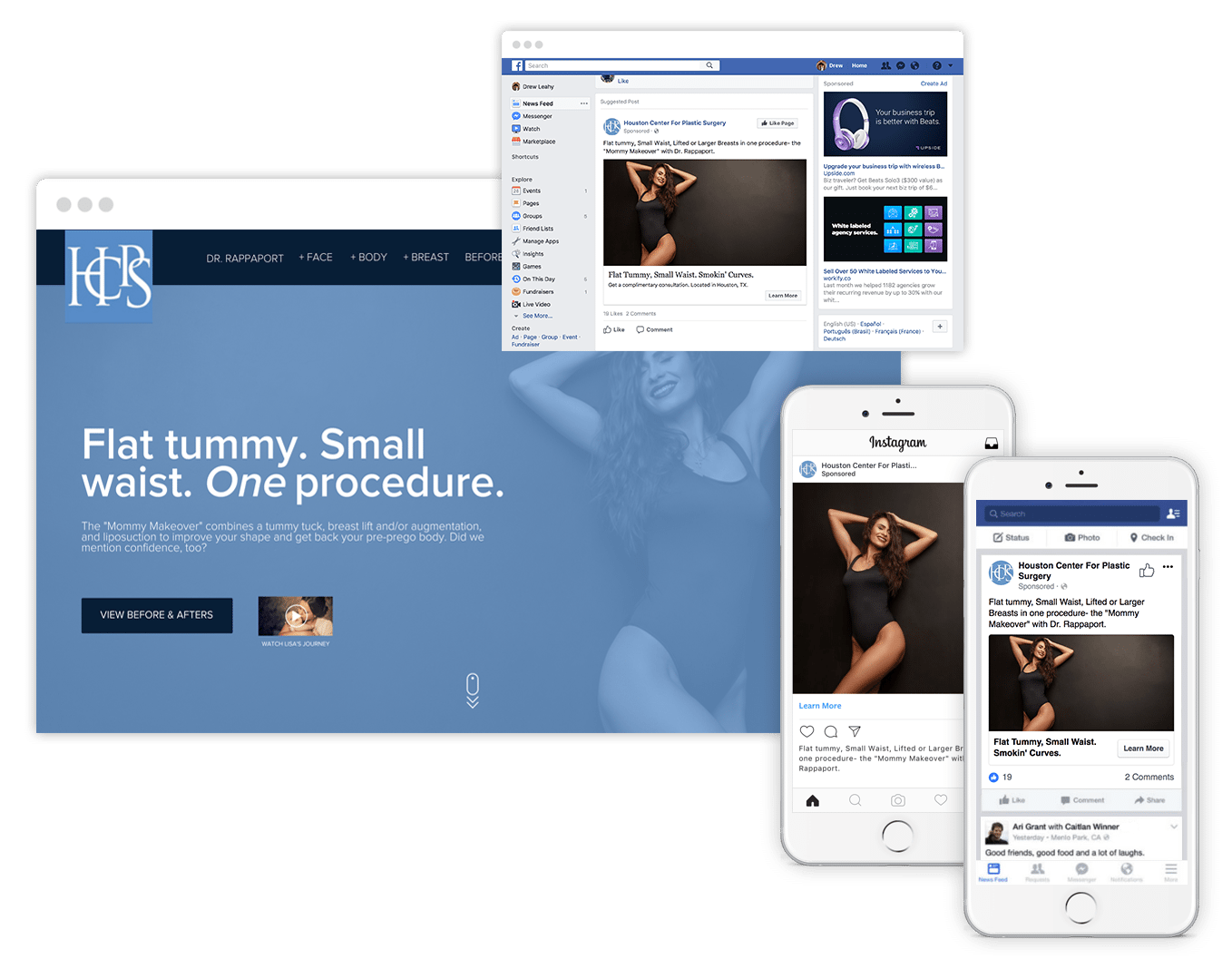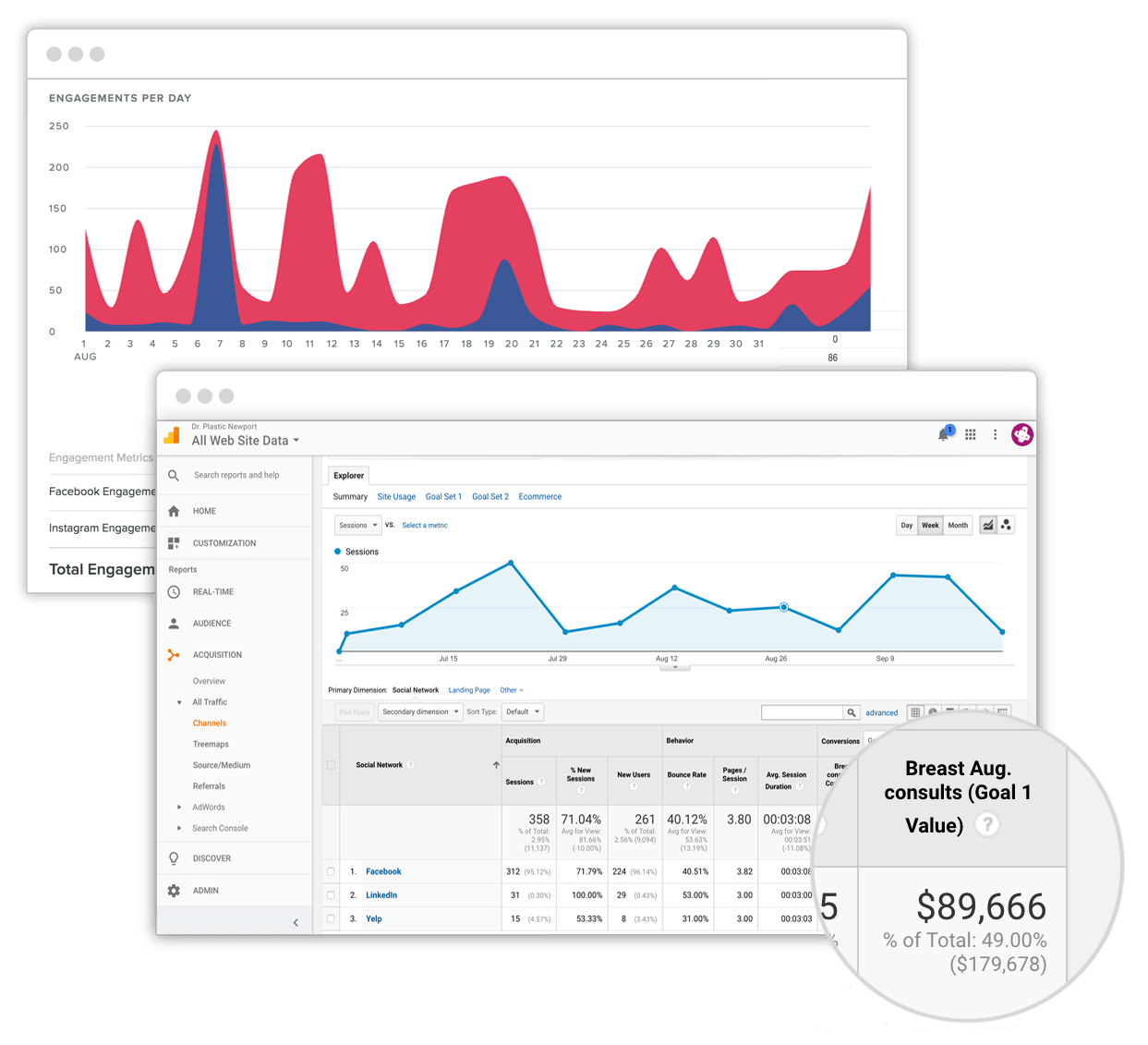 Connecting with patients as people
Incredible doctors. Incredible results.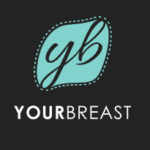 "From our website to our branding to our value proposition and messaging, all of our marketing efforts integrate to create one seamless experience for the patient- that's why it works. Incredible Marketing isn't just building an audience on Instagram; they've strategically mapped the entire patient journey so they can turn a narrowly defined audience of social followers into real patients."
Rick Heartman
Rick Heartman, YourBreast.com.au
View Case Study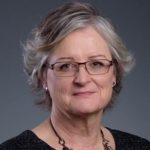 "The staff at Incredible immediately recognized our strengths and weaknesses and they helped us tell our story. Rather than focusing on one source of referrals, they helped us diversity through different traffic sources. They helped us create content to educate both our prospective and our current patients and unify our message across all our distribution channels."
Dr. Elizabeth Hall Findlay
Plastic Surgeon, Banff Plastic Surgery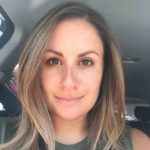 "Incredible marketing are incredible! We have only used them for a short time but could not be happier. They have turned our SEO around so quickly and have really helped us with our websites and social media. The whole team are more than capable and so efficient. I could not recommend them highly enough. Thank you Sam, Ebony, Sean and the team."
Georgie Ryan
Ritz Plastic Surgery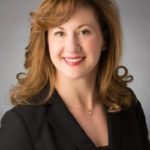 "The team at Incredible Marketing really listens to your business needs and concerns. Recently, Tim Jacobs went above and beyond during a holiday weekend. He noticed our website had gone offline. He immediately notified us and helped every step of the way until we were back in business. So appreciative of his commitment to get us back on track outside of normal business hours. "
Nicole Downey
Practice Manager, Cole Aesthetic Center
Frequently Asked Questions
WHY SOCIAL MEDIA MARKETING?

Because social media owns our attention, and marketing is about gaining share of mind. Not to mention social media allows you to build a narrowly defined audience that functions as a platform for patient feedback, a content publicity channel, and a medium for humanizing your brand.

How much does social media marketing cost?

Depending on your location and desired goals, our social media retainers will vary from $1,500-$2,500/month (or ⅕ the cost to do it in house). That includes social media management, reputation management, and email marketing, too.

Do I have to sign a contract?

Yes, but our contracts don't include terms (e.g. 6 months or 12 months). We'll absorb all the risk and earn your business each month. You can cancel anytime with a 60-day notice.

Is there ROI to social media?

Absolutely. With analytics, we can determine how social traffic contributes to your goals, like consultations, phone calls, and revenue. But we encourage you to think about the qualitative benefits of social media too, like differentiation, humanizing your brand, and building an asset in the form of an audience.

How long will it take to see results?

Friendships aren't forged overnight; neither are social media audiences. But over time, those small, meaningful interactions build trust, trust engenders loyalty, and loyalty creates life long patients. While it takes time to build an audience, your social ad campaigns will provide an immediate ROI.

What can I expect in my first three months?

During the first three months of your social media program, you can expect to see your strategy in full stride: an unmistakable brand identity and voice, consistent referral traffic comprised of your target audience, revenue generated from ads, and the beginnings of your loyal following.
Resource Guide
How to Choose a Social Agency for Your Practice
Free tips, tools, and insights for evaluating your next social media agency. 100% unbiased goodness, because there's a chance we're not a good fit either.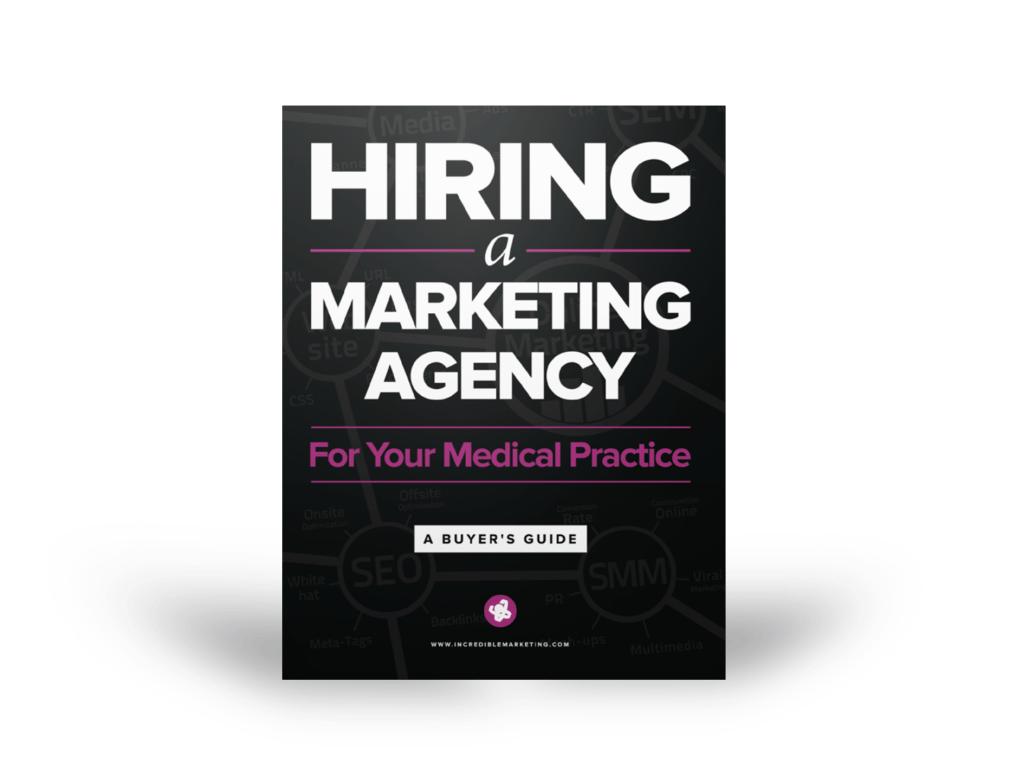 Amplify your reach with the precision of social media
Because patients buy from people, not practices.