If G is for Google, then L is for "Local Pack."
Three days ago Google announced that Alphabet Inc. will replace Google Inc. as its publicly traded entity, and Google, like every other Google Inc. project moving forward, will become its own subsidiary of Alphabet, complete with its own independent brand and CEO. That wasn't the only thing Google changed, though.
Google officially rolled out another change to its local search results, impacting your medical practice's SEO and the way it ranks for mobile and desktop search queries.
Now, searches with local intent will only show three local businesses (not seven), thus limiting your pure local opportunity on the first page. The SEO community has officially deemed this new interface the "Local Pack," a diversion from it's original "7-Pack" title.
Here is a screenshot of what local results ("7-Pack") used to look like:
Here is a screenshot of the new Local Pack:
Cutting local results from seven to three wasn't the only thing Google changed, though. Local results as we know them underwent an entire overhaul in functionality and appearance. In fact, Google made 10 additional changes to their new Local Pack that you'll want to familiarize yourself with.
10 other changes Google made to pure local results (a.k.a "Local Pack")
For those not familiar with the terminology, "pure local" refers to your business's Google My Business results, not your website's rankings. For example, the Local Pack (previously "7-Pack") are considered pure local results. "Organic" results refer to your websites actual listings in search results.
So though Google cut back their pure local results from seven to three, that's not all they changed:
1. Exact address removed: Even if your business does rank in the top three of the new Local Pack, your exact address will no longer appear with the listing. Instead, the user needs to click through on the local result to see your address.
2. No more Google Plus: When you click on a Local Pack result, it now brings you to an expanded maps view with the knowledge graph to the right, not to Google Plus. Google also removed all links back to Google Plus on any page. See below for the knew Maps page, which some are calling the "Local Finder" (notice how there are zero links to Google Plus?).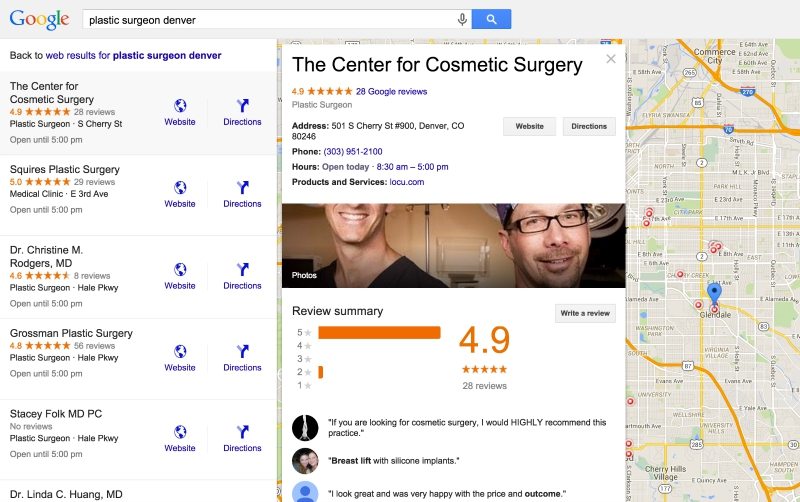 3. Phone numbers removed: Interestingly, Google removed all phone numbers on the Local Pack result on page one. For those of you not in the top three, this is a big win since the lack of phone numbers forces the user to click through to the Maps page. But don't expect to regain all of your lost traffic if you didn't make the top three.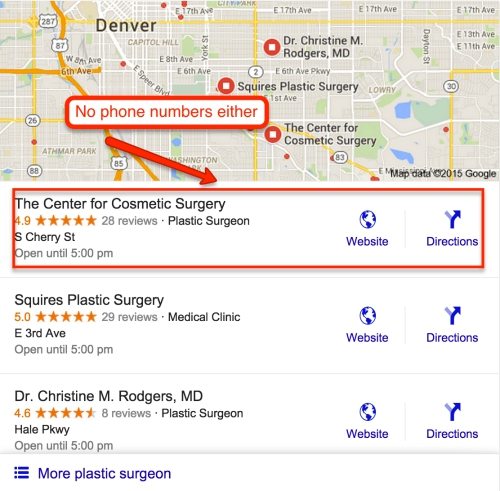 4. Added business hours: However, they did add business hours to the first three results on page one.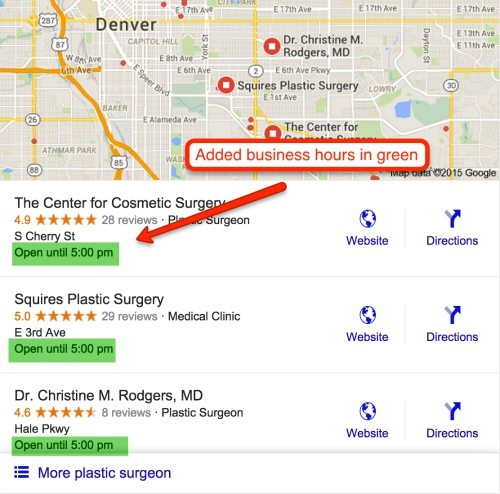 5. "Google Reviews" changed to "Reviews": Whereas before each listing had a link to "Google Reviews," now it just says "Reviews" with the quantity of reviews next to it. Oddly enough this just moves the reviews one more click away. Before, Google used to show a handful of reviews in the knowledge graph to the right of your listing. Now, being one more click away, these reviews will likely get even less attention than they did before.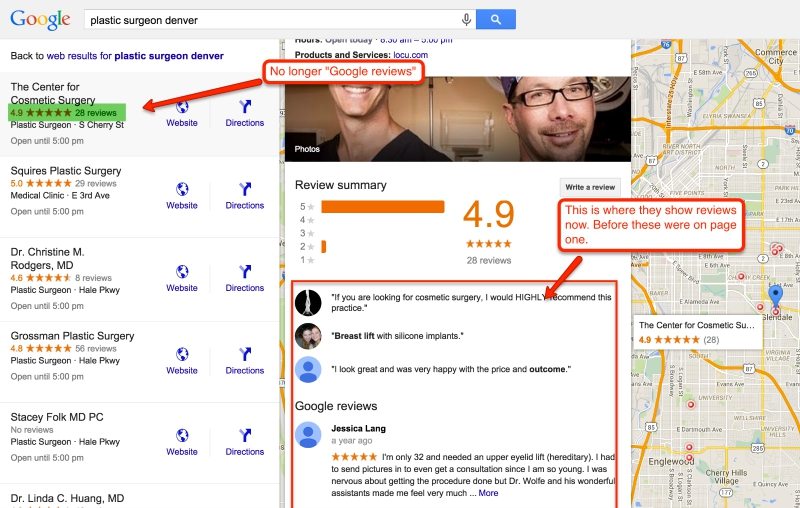 6. No "fly-out" knowledge graph: You used to be able to hover over one of the seven local listings and a fly-out knowledge graph would appear to the right (see below). Now, you need to click through on the listing to view the fly-out.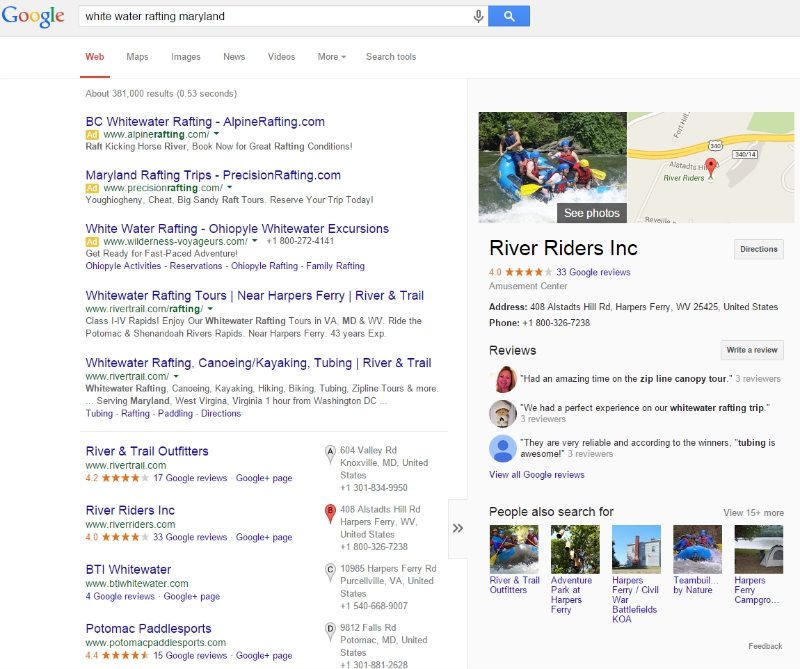 photo: courtesy of theSEMpost
7. Mobile vs. Desktop become one: The Local Pack interface now closely aligns with the local mobile interface. In fact, it's almost exactly the same now. The only difference is the appearance of the "call" symbol.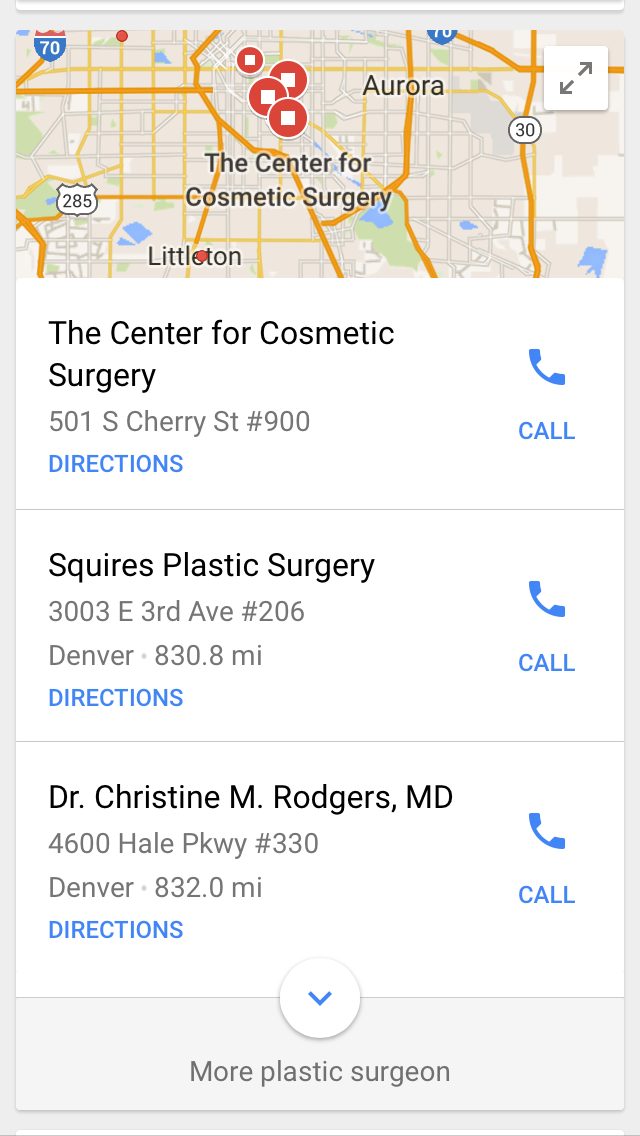 8. No more "blended" results: At least it appears that the Local Pack now ranks top three for *almost all* local queries. (It should be noted that I have found queries with an organic results in first position, but only for branded queries). Before, depending on your location, your search history, and several other factors, search queries with local intent would show a blended page one with three organic results first, then the 7-Pack, then seven more organic results (see below for old blended results).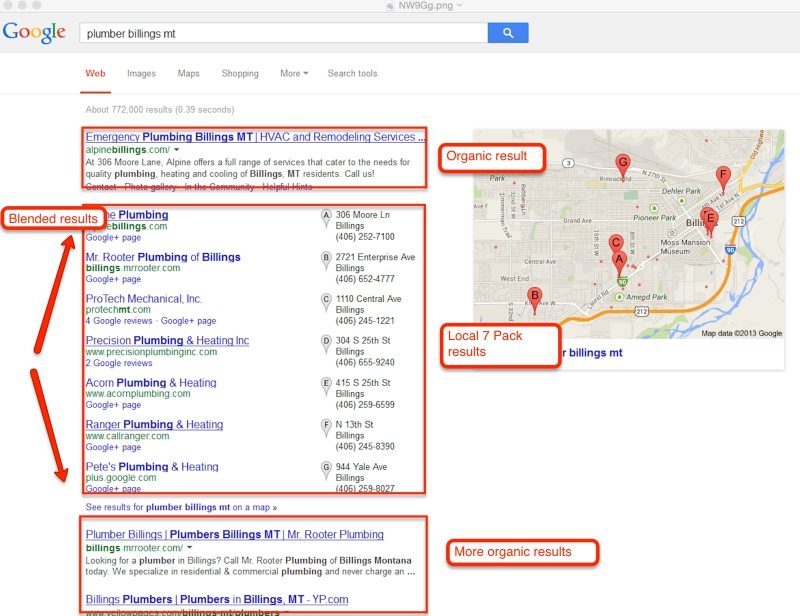 original photo: courtesy of blumenthals.com 
9. Maps results increased: I'm still awaiting an official name for the new Maps page (Mike Blumenthal coined it the "Local Finder"), but now, when you click on one of the three Local Pack results on page one, it brings you to an upgraded Maps page with 20 listings, not just 10 like before. So, while only the top three will show on page one, at least the field opens up to 20 once the user clicks on one of those top three.
10. Multiple locations: For a single location branded search, expect to see the same results as you always have: your organic result with address, and the knowledge graph to the right. However, if you have multiple locations, expect to see a Local Pack for all of your locations (and yes, that means no phone number). Instead the user will need to click through on the listing to see the phone number, like they would for a normal Local Pack result.

How this impacts your medical practice
Well, the competition for purely local page-one real estate just kicked up a notch or four. Which means that all of the tactics you needed to complete to get ranked in the 7-Pack before haven't necessarily changed, they've just become more important:
•   Your review count needs to be over five now. This is a must, not a recommendation anymore.
•   Your citations (business listings) need to be consistent, local, authoritative and niche-specific. Citations are more important now than ever before, and run-of-the-mill business listings won't compete for the top three. You need listings on all major data aggregates.
•   Your Google My Business listing needs to be fully optimized with accurate data and categories, especially hours of operation since Google shows business hours in the top three Local Pack now.
•   And you need to claim your Google My Business page immediately if you haven't already.
If you've relied solely on 7-Pack local results for most of your website traffic, it's time to put more of an investment in organic (where traffic is more diversified, not just from Google). That's not to say you should give up on Local Pack results altogether. After all, they still rank top three on mobile and desktop, which represents a giant portion of traffic.
Like always, your Local SEO strategy should encompass organic *and* pure local, but your holistic marketing strategy should focus on diversifying your sources of traffic. God only knows what Google will look like in a year; the same goes for Facebook.
And if you think this was a move by Google to keep you within it's web properties, or worse, to force those local businesses who got squeezed out of the top three to start paying the traffic they lost, you're probably right. At the end of the day, Google makes almost all of its money on paid advertising from search results, and don't expect this to change.
Sources:
Continued reading: