Having an online shop for your medical practice is an absolute must. It can create an alternate, passive source of income that can easily make up over a quarter of your total revenue. Here are some strategies to make your online store as successful as possible.
"Why should I have an online store for my medical practice?"
As a medspa, plastic surgery center, or any other aesthetic medical practice, you have an advantage that most online retailers can only dream of. You have a brick and mortar sales hub that attracts your most qualified customers, builds trust and provides expansive access to products with the expertise and knowledge to educate your customers on the best products for them as an individual. 
Think of it from a customer perspective, if you were shopping for products online, especially in the aesthetic space, you can look at places like Amazon.com or other multi-brand retailers, but where do you start? How can you trust the reviews? And how do you know what's best for YOU? You can also go directly to a brand's retailers. But now you're stuck with choosing the products carried by only one brand and, again, how do you know that brand is best for you? 
Aesthetic medical practices are a perfect outlet where you have trained professionals who have deep knowledge of products, expertise, medical training, and most importantly they know what will work best for you as an individual. As a patient of theirs, they have provided treatments/procedures on you and have an intimate understanding of your needs and what works best for you. 
Why not take advantage of this opportunity and build an incredibly successful online retail environment for your customers.
Products for your online store
Simply put, you should build your online shop to sell whatever makes the most sense for your practice:
Skincare items

Nutritional items

Tonics/powders
Aromatherapy
Branded apparel/goods
Gift cards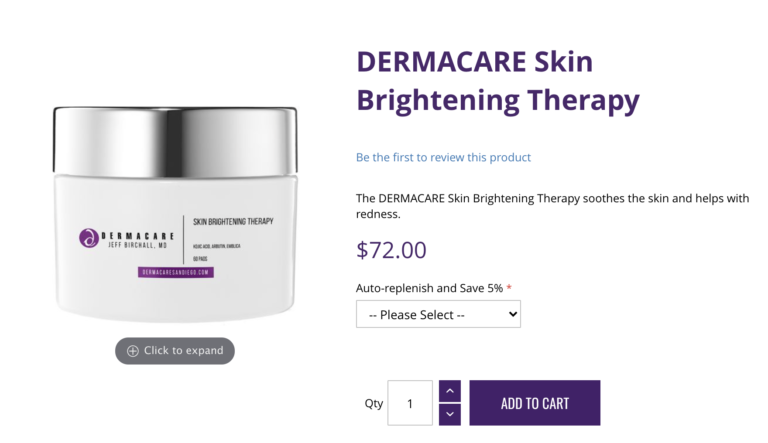 Every online store should sell gift cards so that your patients can become your own salespeople and bring new customers to your store to buy your products, build a relationship with your brand, and possibly even become a patient in your practice.
eCommerce options for your practice
There are tons of different ways to sell your products online, but every practice should make sure their products are in two main places – your website and social media. 
1. Your website
If you're selling products online, you absolutely need to have an online store built into your website. There are tons of eCommerce solutions that make doing this extremely simple – Shopify, Woocommerce, and Volusion just to name a few. Take your time to research which software is best for your needs. Each platform has it own benefits and most make it extremely simple to embed into a page on your website. And depending on how you set it up, these platforms can fully manage checkout, payments, shipping, and other logistics so you can be hands-off.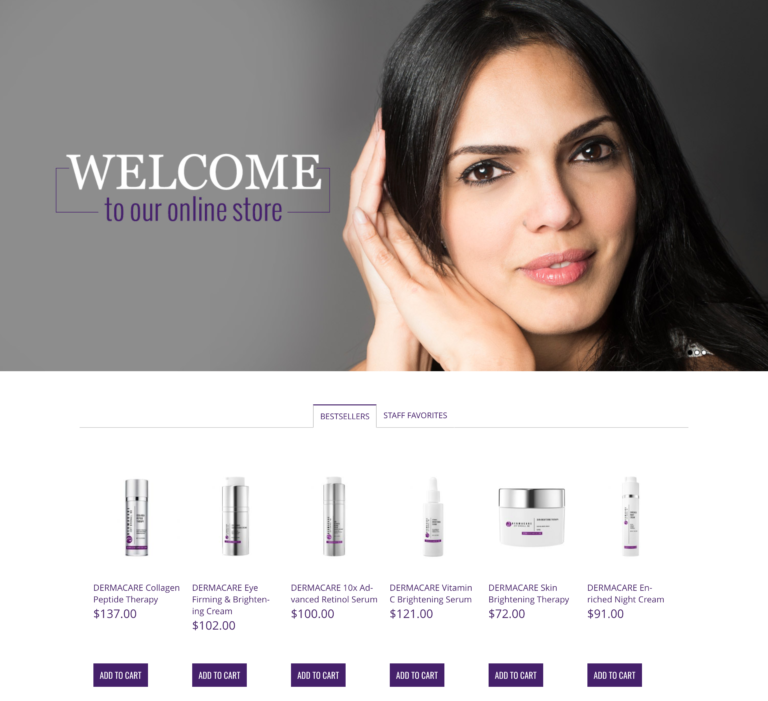 2. Social media
Social media now has incredible new online stores built directly into their platforms that make buying products online simple and secure for those that feel more comfortable on social media. You can utilize the platforms to promote your products through social media either through running ads or using your stories and live videos to promote and send customers directly to your product listings without them ever having to leave their social platform of choice. Plus they come with the added benefit of having product reviews built-in.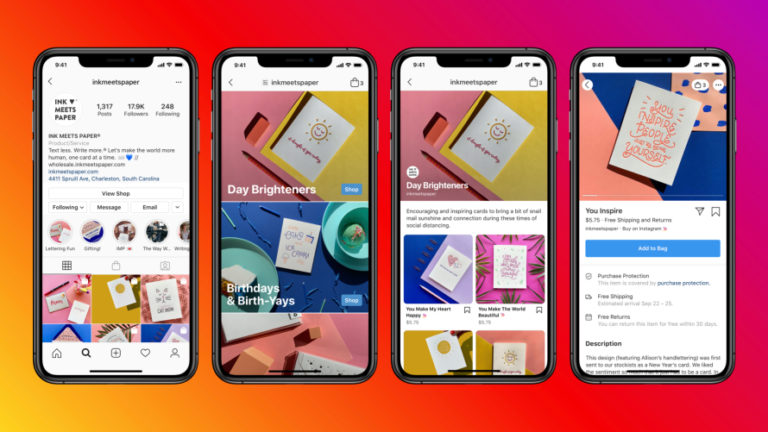 Facebook Shops
Facebook shops can be created to live directly on your profile page on its own tab. It's extremely simple to navigate and your customers can browse products, add them to a collection, view details, and complete the purchase. Facebook takes care of collecting the customer's information, securely processing payment, shipping, and more. Another layer of trust is added with product reviews directly through facebook. A lot of customers tend to trust reviews on social media because they are verified buyers who use their own personal profiles and tend to be a lot more honest and trustworthy. 
Instagram Shops
Instagram shops is another great platform that is similar to facebook shops, yet designed for mobile users who enjoy a more visual experience. Plus Instagram is heavily promoting its new shopping feature by completely replacing the <3 icon with a shopping bag, so the user is always one simple tap away from visiting your online store at any point while using the platform.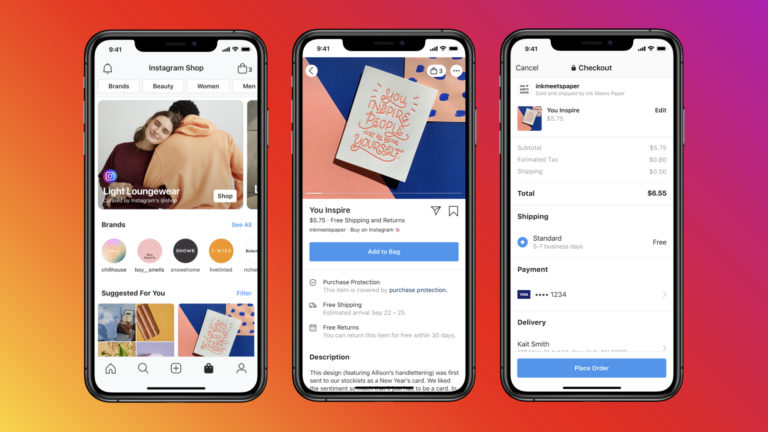 Another huge advantage that Instagram's shopping experience offers is that it has the ability to add "product tags" directly to the images on your feed. If you have a feed image featuring a product you sell, you can place a pin on that product and with one tap, a potential customer can see the product info and be brought directly to the online store to make a purchase.
Remember, the shorter the buyer's journey is to the final purchase, the higher the conversion rate will be. Social media does a great job of truncating that journey and increasing your chances of making a sale. 
BONUS TIP: Use Facebook and Instagram stories and "Live" videos to promote your products. Not only is this a good opportunity to plug a product when you have a captive audience, but the platforms have a new feature where you can pin the product directly into the comments of a live video so viewers can click and buy directly. Either way, it's just a few simple taps away!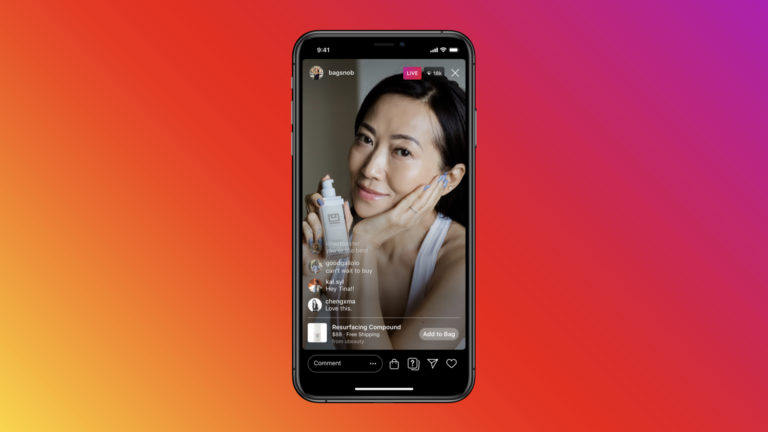 Pros and cons of online shops for medical practices 
Benefits 
The most obvious benefit of having an online store for your medical practice is having a great source of passive income. Essentially giving you the ability to make money while you sleep. Research has shown that e-commerce can make up roughly 25% of a medical practice's revenue, all without having to be at your practice or perform your treatments. 
Often times, once the online store is set up, it virtually runs itself. And you can set up drop ship retail in a way that allows you to be completely hands-off and lets third parties handle the shipping, payment, and all other logistics. 
It's also a phenomenal way to cross-promote with the services you offer. When a patient received a treatment or procedure, you can send them home with a sample of products that you carry in your online store and that you know will ensure better results. Not only will they be likely to purchase that product, but their satisfaction with their service will increase and they will be more likely to return for more! It's a beautiful cyclical relationship.
BONUS TIP: Goodie bags! Always send your patients home with a little goodie bag of sample size versions of your favorite products and a card or something with information on how to purchase those products online. It increases overall customer satisfaction, benefits the results of your treatments, and guides them to your online store so they can purchase products from you!
Drawbacks
The main drawback to having an e-commerce solution for your practice is time and energy. There will certainly be some level of additional work that is needed to get your online store set up. However, as mentioned before, it's up to you to decide how much work you want to put into it from that point forward. Dropship retail is a great way to set your store up so that third parties can handle everything like inventory, shipping, packaging, payments, returns, and more. Obviously, this will have some effect on your margins, but if you're running a medical practice, it's very likely that you won't have the time, energy, or know-how to manage that all yourself. 
You can always begin with a hands-on method and transition to dropship retail later. But believe me, the "set it and forget it" method is much better for e-commerce. Because why wouldn't you want to make money while you sleep?
8 Strategies to Make Your Online Store Successful
1. Packaging 
It's a fact, people these days don't just expect sufficient packaging, they expect to be wowed by it. Thanks a lot, Apple! Do your homework on the packaging and make sure that you put a lot of thought into the guidelines for how to properly ship the products you sell, the boxes you use, the protective wrap, crinkle, or tissue paper, and even the packing tape! Remember that you can use this as a branding opportunity to use your design style, colors, and logo on every aspect of the packaging you use. After all, you want your products to convey the same level of quality as your practice provides.
2. Imagery and Media
Quality is key! As goes with packaging, having poor quality product photos is simply not an option. People expect high, studio-style imagery when they're browsing for products online. A lot of times, especially if you're selling products from big brands, they already have great photos that you can use. Otherwise, you can create an "in-house" photo studio to take product images yourself. They are available on Amazon for extremely affordable prices and are simple to set up and use. 
BONUS TIP: Try to include videos along with the product photos in your online listings. These can be videos that discuss the ingredients, uses, and benefits, or simply "how-to" videos on how to use the product for the best results. This type of media isn't only beneficial for SEO purposes but also increases conversion rates.
3. Permissions
This one is rather simple but very important and often unknown to new online retailers. If you're re-selling products from national brands, make sure that you have permissions to do so, and more importantly to use their marketing kits (imagery, media, product descriptions, etc.). For the most part, this can be a huge benefit because they provide you with marketing tools to help you sell the product and decrease the amount of work you need to do.
4. Be picky!
This is important, make sure to curate your list of products carefully. The products you sell are a direct reflection of your practice and often a critical component to your patients achieving the best results from their treatments or procedures. Don't get caught up in selling as many products as you can, make sure to be deliberate with the products you choose and make sure they are of the highest quality possible. This will help build trust in your brand, word of mouth referrals, increase results of your services, and ultimately keep customers and patients coming back for more!
5. Use Marketing Automation 
What the heck is that? Have you ever received a pop-up when you visit a website with something like "Sign up for 20% off your first purchase"? That is the first step in a chain of marketing automation steps. Typically that is followed by an email with your offer, then another welcome email, then a string of emails with new offers and updates that are typically triggered by your actions (or non-actions).
This is marketing automation. And something that you should absolutely have set up for your online store to make sure that you capture your visitor's information, create buying incentives, and begin the journey to building a relationship with your online customers. 
6. Good Return Policy
Thanks to Amazon and Target, everyone expects a good return policy, especially when shopping online and not being afforded the chance to sample products before buying. Giving them peace of mind that they can return a product if they aren't satisfied with it will help them build trust and ultimately be the key factor for a customer to make a buying decision. You may have to eat some cost on occasion, but the benefits of a great return policy will far outweigh the downsides!
7. Consider Private Labeling 
Private labeling can have huge befits such as building a stronger brand, loyalty, and trust. It allows you more control over your products and logistics and oftentimes has a strong effect on client retention. However, there are a couple of caveats. 
First off, you need to make sure that you have a reputable brand if you want to private label. Simply slapping your logo on a product will not work unless you have a high level of trust with your customers. Doing so can almost have an adverse effect if you have a small practice or are just starting out.
Secondly, you need to make sure that the products you private label are the highest quality and the packaging you use has a very high-end look and feel. As with the first point, if you use poor quality products and/or packaging it can have an adverse effect on the perceived quality of your practice and the services you provide.
8. Offer Curbside Pickup
"These are unprecedented times." I know we've heard that ad nauseam, but despite the cringe factor, it's true. A large portion of our population has serious health and safety concerns revolving around the COVID-19 Pandemic, so it's imperative that you take the steps to make sure your customers feel safe. It's also a great convenience factor! Most of your customers are going to also be your patients, which means that they very likely live locally. This gives them an opportunity to capitalize on their need for instant gratification and receive their order instantly after purchasing online with the added benefit of limiting contact. 
Bottom Line
If you're not selling products online, you're losing out on tons of potential revenue and another source of passive income for which you have a large benefit over other online retailers. Who knows, you may end up finding this makes up more of your revenue than you ever imagined!
Too much to read? We get it, watch the video!