1. Facebook Opens Instant Articles to All Publishers, Your Medical Practice Included
How Does This Affect Your Medical Practice
Google recently gave websites the option to create AMP (Accelerated Mobile Pages) web pages for search: a way to use static HTML to serve web pages faster on mobile results. Facebook is following suit with Instant Articles.
Though Instant Articles is really meant for publishers, now anyone can use the tool to serve blog posts faster for mobile users on Facebook's mobile app (as long as you adhere to their guidelines and a few other requisites).
The benefits?
Aside from improved engagement since pages will load faster, Facebook gives you a few different options to post your blog articles automatically to Instant Articles (once you post to your website they'll also post to Instant Articles). Also, you can even serve ads within those articles. Even better news? Facebook is giving you 100% of the revenue generated from the ads you serve. In other words, if you want to lease space in your Instant Articles for paid ads, you can- and you can pocket all the money.
Why does this matter for your medical practice? Most of you won't take advantage of this opportunity, but for those of you who publish blog posts frequently, you stand to gain an advantage with your content on FB by using Instant Articles.
Prowly said it best: Facebook Instant Articles: Who Will Benefit Most?
2. Facebook Updates Algorithm to Include "Time-Spent" as a Ranking Factor
How Does This Affect Your Medical Practice
Facebook has made several updates to their social post ranking algorithm over the years, and, like the last update, their most recent update aims to better predict user engagement.
Now, Facebook is using time spent within an article on its mobile app (and Instant Articles) as an indication of quality.
In a statement from a Facebook software engineer:
"Building on this work, we're learning that the time people choose to spend reading or watching content they clicked on from News Feed is an important signal that the story was interesting to them. We are adding another factor to News Feed ranking so that we will now predict how long you spend looking at an article in the Facebook mobile browser or an Instant Article after you have clicked through from News Feed."
So what does this mean for your medical practice's business page?
Hopefully, it just means that more of your content will rank in Facebook's News Feed since you've always posted nothing but quality (wink wink).
But for those of you who have used clickbait methods (e.g. using enticing blog post titles to encourage clicks without including any substance in the article), if the content you share on your blog doesn't fulfill the promise made by the FB post and title, and if your patients aren't sticking around to read your articles, you'll likely see a dip in overall reach within Facebook's News Feed- as you should!
Facebook said it best: News Feed FYI: More Articles You Want to Spend Time Viewing
3. Google Adds Icons to Their Medical Knowledge Panel When Searching for Medical Treatments/Conditions
How Does This Affect Your Medical Practice?
Google recently added icons next to the important facts section within their Medical Knowledge Panel.
For those of you that don't know what the Medical Knowledge Graph is, it's a side panel that appears for search queries like "varicose vein treatment," and it aims to answer pertinent questions about specific medical conditions and treatments, directly from page one.
How will this impact your medical practice? Adding icons won't change a thing, but it does signal Google's commitment to serving information about medical conditions and treatments within search results- a commitment that could steal traffic away from your site in the future.
For now, keep an eye on the way Google continues to evolve their guidelines and layouts for medical-related search queries.
The SEMPost said it best: Google Adds Icons for Quick Facts in Medical Knowledge Panel
4. Google Tests Review Snippets in Local Pack Search Results
How Does This Affect Your Medical Practice?
Google has been experimenting with serving random review snippets in local search results: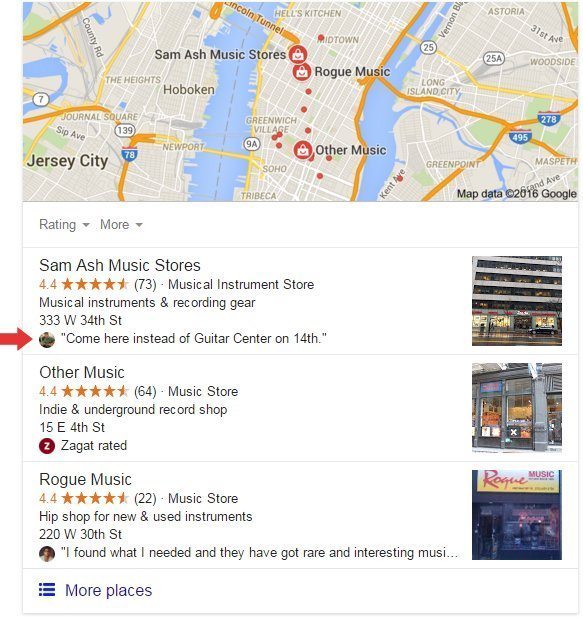 As of now, it appears that Google is pulling random reviews from your Google My Business profile. For example, they're not pulling only positive reviews or only reviews from frequent Google reviewers, they're pulling them all… the good and the bad.
Search Engine Land said it best: Google Tests Displaying Review Snippets in Local 3-Pack
5. Paid Ads Show Up in Local Map Results! Will Page One Local Results Be Next?
How Does This Affect Your Medical Practice?
Google has long served paid ads in their Map results for local listings. For example, if you clicked on "Maps" within Google's search console, and then searched for a business, you might see an ad appear at the top of the Map results. However, now Google is serving two paid ads in the Local Finder.
What's the Local Finder?
When you search for a local business on Google, if Google identifies your query as having local intent, then they'll show you a local 3-Pack of results (links to your Google My Business page), followed by purely organic results (links to your website). Well, when you click on "More Places" to see more local business results, you're brought to the Local Finder. Now, Google is serving ads there too!
Surprised? Me either.
The question remains: Is this an indication that Google will start serving ads within the Local Finder on page one like most have predicted? That remains to be seen, but never forget: Google generates 90% of their revenue from paid ads (PPC). So it's likely only a matter of time.
You've got to pay to play on social; will you have to pay to pay on search? (Queue dramatic music.)
Search Engine Land said it best: Google Makes 2 Ad Updates That Will Affect Local Search Marketers
Did We Miss Anything? If so, You're Up, Newshound?