Google's Algorithm updated on March 12, 2019 –– are you too focused on optimization?
Medic… we all remember that? Yes? Show of hands. The devastation from Google's unexpected Medic algorithm update last year is etched into the healthcare industry's minds. Countless practices suffered significantly from this update, with their rankings plunging into the abyss (aka the second page and beyond). Google executives have repeatedly denied that they target specific industries in their broad core updates, yet data collected showed 42% of websites that were medical, health and fitness related were the most negatively impacted. I personally sampled over 300 practices, in five countries, and roughly 9 out of 10 practices were adversely hit – if they had less than 5 years of internet history or had serious content or security deficiencies.
We made it through Medic, though — together!
For our clients, and others I helped along the way, most had to address the following: the creation of quality content on a well-designed, user-friendly website with an emphasis on mobile accessibility, the addition of privacy policy pages on each site, the renewal of all domains for 5+ years, the inclusion of all associations and accreditations with the proper links as well as current and legitimate staff photos. For those that did not follow this advice, it has been a long year.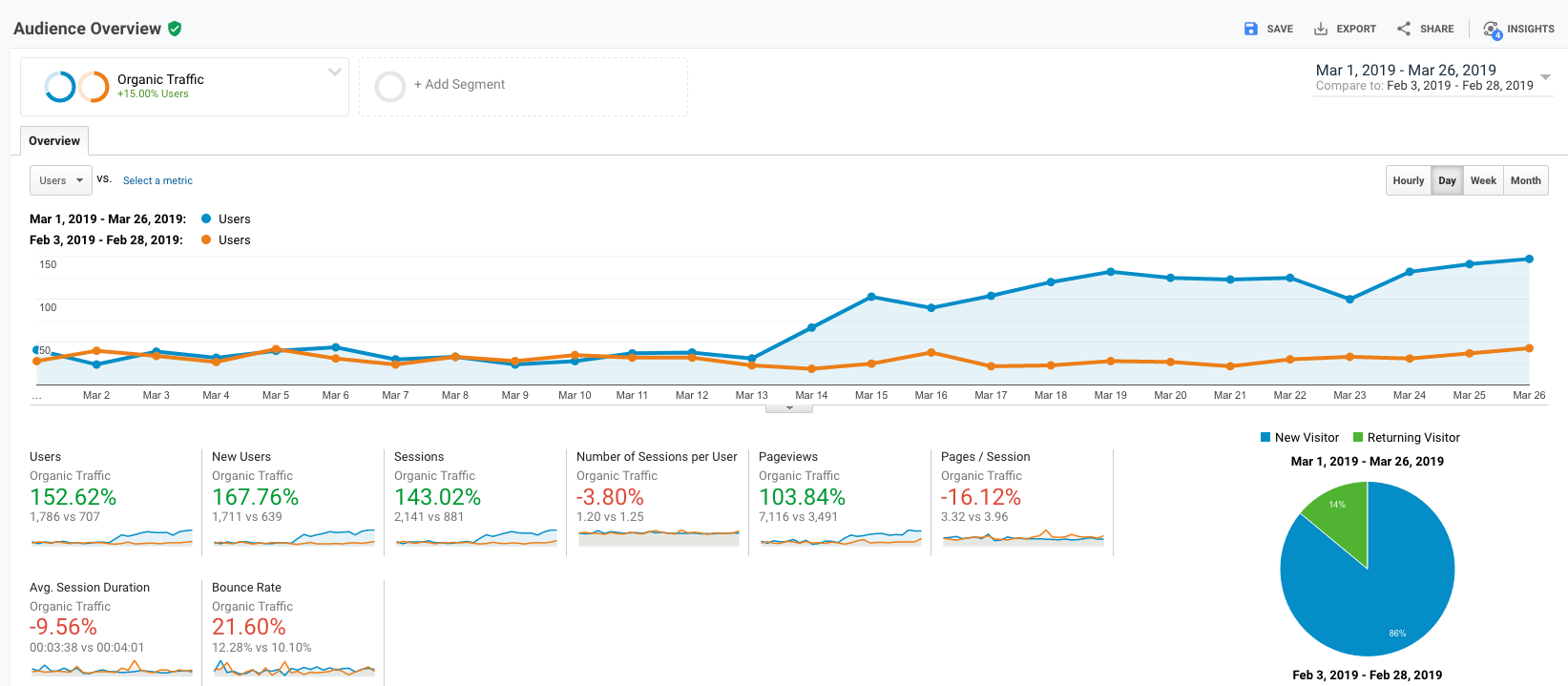 But even with all those implementations, there were still a handful of practices that did not recover. They were leaders in the field and were doing all the things they needed to, and simply were being unfairly punished. Google recognized this, and a change was made.
Now, the effects of Florida 2 are underway. What's changed? How will your rankings be impacted in search queries? Is this another great depression like Medic? No, not exactly. It's important to note that Google changes its algorithm a few times each year –– without warning or mercy, making it increasingly difficult for clients to adjust. In fact, I swear, sometimes Google is here to keep Digital Marketers like me in business! While Google may post announcements about new algorithm changes on social media, unfortunately, they offer only the same, vague advice each time:
"Google says to continue to improve your overall site quality, and the next time Google runs these updates, hopefully, your website will be rewarded."
Thanks, Google — super helpful!
Despite Google announcing this would be a massive broad core update; instead, it seems to be a "refinement" and adjustment for the medical industry. Essentially, Google is touching up their broad stroke changes from Medic and updating other industries. Sites that were previously affected by the Google Medic Update have experienced increased traffic and higher rankings on the first and second page of Search Engine Ranking Pages, like my client, shown above.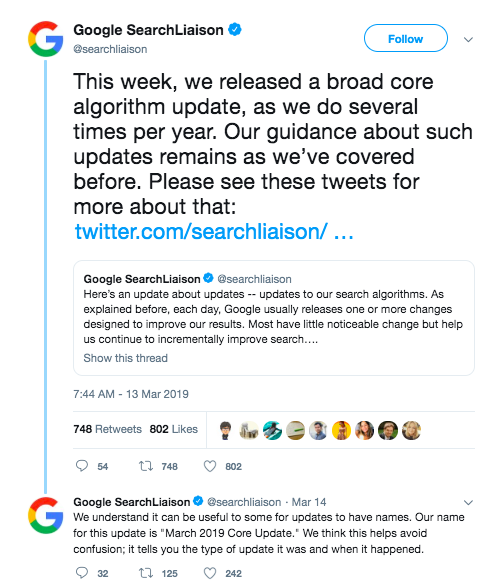 Whether your site is suffering or succeeding during these internet earthquakes, Google has been consistently emphasizing what they hope SEO experts will do moving forward –– less optimization and more emphasis on creating the best user experience your patients could ever imagine. Google's AI is trying to do what you and I would do intuitively –– create the best possible experience for the user, which is what encapsulates each broad core update. As a digital marketer, it is easy to get caught up in numbers, keywords, links and rankings. Those factors are important, but it is the rewarding result of content that users are looking for. If you're not producing engaging content for the user, you're probably keyword stuffing and using clickbaity page titles to meet a quota.
Always ask yourself, "Why does this matter to the patient? Am I helping solve a problem the patient has?"
Trying to pull a fast one on Google will only hurt your practice more and cause your site to lose credibility. So, maybe you need to do a little reflection and evaluation of the product, service or information you're offering on your site in light of Florida 2. Here are a few tips I suggest you use to maximize your website's organic visibility and SEO to become an authoritative page to Google:
1. The obvious one: Create amazing content for your target audience.
This one is pretty straightforward, but many surgeons, doctors and practitioners struggle with this one, mainly due to a lack of time. If you have back-to-back surgeries and consultations every day, it's unlikely you'll have time to create a blog post or update your website information. Content creation takes time, and creating real, quality content takes even longer. This is why many doctors are turning to agencies to do the job for them. The creation of content that truly connects with your patient base is a challenge, but the rewards are palpable. For example, let's say that you operate a cosmetic practice in Tempe Arizona, here are some wordy SEO blog titles you should avoid:
"Breast Augmentations are in –– Breast Augmentation Procedures Growing Globally, Breast Augmentations are Becoming Increasingly Popular: All You Need to Know About Breast Augmentations, Pros & Cons of Breast Augmentation Procedure"
"Acne Scarring, Acne Scars, Acne Scars on Face Can Be Treated With Skin Resurfacing: Skin Resurfacing Technique"
"CoolSculpting Freezes Fat Away: CoolSculpting Uses Freezing Technique to Eliminate Fat –– CoolSculpting the New Minimally Invasive Procedure That Freezes Fat"
Instead of keyword stuffing your titles, try using SEO friendly titles that are both creative and educational to draw a potential patient's interest:
"The Benefits of Skin Resurfacing Treatment for Stubborn Acne Scars"
"You Can't Freeze Time, But You Can Freeze Your Fat: A Comprehensive CoolSculpting Guide for Beginners"
"Spider Veins: Is it a Health or Cosmetic Issue?"
Additionally, good content is not limited to just blogs and articles. Each of these three topics could be made into a video, a well-designed slideshow or even a podcast. What kind of content does your audience consume?
On your website, you need to be sure all photos displayed are high resolution but compressed for web. While stock photos are the easiest route, use authentic photographs of your office, staff and before & afters. I highly recommend the investment of doing a photoshoot with your team. The job gets easier when you have loyal clients, especially those pesky millennials because they're more likely to share their experience with your brand via social media and on YouTube. This is the golden content that you want!
2. The more detail, the better.
Being detailed in your website pages is critical. These pages should also include links, where necessary, and be consistent with your website's SEO. There's nothing worse than landing on a procedure page and finding very little information. That's not going to make me or a potential client trust your practice. I know we've all heard the phenomenon that our attention span is getting smaller –– this is true, but people are more likely to read in-depth about something they are interested in pursuing. Additionally, your procedure pages should also be educational for the patient, while also highlighting why your practice and doctors are different. To maximize conversions, you should include specific content pages that explain "What to Expect: Before and After Surgery," "Why Choose Us?" and "FAQs." Think about it from the patient's perspective –– if you're interested in getting a rhinoplasty, you're going to research it — thoroughly — before going through with the procedure. You'll probably even come back to the page three to four times to make sure you've read all the details about the procedure. If your page is resourceful for the reader, it will prevent them from clicking away to research more on another site.
3. Find your niche on social media: Be resourceful, not promotional.
Your social media serves as insurance for potential clients. You could have an educational website, but clients want to see behind the scenes and your practice in action. What will be your brand's niche on social media? Will you post useful tips your followers can actively take into consideration? Or will you make the mistake of trying to sell and over-promote your services? If you're a medspa and surgical practice, will you show your followers more content from your medspa or your surgical procedures? More and more, surgeons are including footage from inside the OR, such as tummy tucks and breast augmentation on Instagram, while others remain modest and show minimally invasive procedures like Botox™ or dermal fillers. What may work for one practice might not work for the other. It's about identifying your brand's niche. Can your audience relate to what you're posting? If you know your audience demographic and behavior, you'll be able to identify what kind of content is resourceful. If you're regularly posting about facelifts on social media, your audience is probably in the 45-60+, upper-middle-class range. What kind of information is useful to your audience and what platform will reach your demographic the best? These are all questions you have to consider before posting without a strategy. Develop your strategy based on your brand's niche and audience. Stay away from being promotional. Your audience will appreciate valuable information and credibility over a sales pitch on their feed every day. Plus, social media helps in your SEO efforts tremendously!
4. Reputation Management
Reviews are essential to your practice, and if you don't have a strategy in place to account for them…well, good luck. Listen to your clients. Sometimes we're so busy creating blogs and social media content that we forget to go back and see how that post is performing and what your audience is saying, or what they are posting about it! This is critical to your success –– track patterns and audience behavior. Was the post informational, humorous, promotional or personal? In response, your clients may repost your post, or create their own post about their experience with your services. This can obviously go very well or pretty badly, depending on what they say about your business! Client testimonials are among the most powerful content for your practice; it provides an honest, personable insight for other potential clients and builds your credibility. From there, you can optimize your client testimonials and create a campaign highlighting their experiences. If a client had a great experience, don't be afraid to ask them to leave a review. The algorithm is giving reviews increasingly more credibility, which means your clients' experience is vital to your practice's heartbeat.
Hopefully, you'll take something away from this update, whether that means optimizing your content first and SEO second or capitalizing on client reviews and testimonials. Include these recommendations in your practice moving forward to ensure your site's page authority, which will result in your practice ranking higher in the Search Engine Results Pages. Dig deep into your audience's behavior; when you understand what kind of patients your practice is attracting, you'll be able to tailor your content to their specific needs. Don't run from Google's broad core update; use it as an opportunity for some overdue housekeeping. Don't take shortcuts when it comes to your business because it will hurt it in the long run. Optimizing your content means optimizing your rankings! With Medic behind us, we can thank Google for this refinement…for now. As long as Google continues to update its algorithm spontaneously, it's up to digital marketers like myself to keep on our toes ready to problem solve.