Did you know that Americans tell an average of nine people about a good experience they had with a business and tell sixteen people about a poor experience? That's nearly double.
And when a customer does feel dissatisfied with their experience, you're likely only to hear from 4% of them. The rest either don't voice their complaints or never come back.
In a recent consumer survey from HelpScout, it was reported that for every customer who bothered to complain, 26 other customers remained silent. While this study didn't focus solely on patient-doctor experiences, it's safe to say that your reputation may be a lot worse than you ever imagined if you were only gauging your reputation based off your number of negative reviews.
You already know the dos and don'ts of acquiring patient reviews, but what about responding to negative reviews so you can resolve poor experiences before your patients tell sixteen of their friends and family?
That's exactly what I'll cover in this article.
Do encourage reviews
While you may risk the occasional negative review, if you're doing your job successfully, the majority of the reviews posted are likely to be positive. Your patients love you and want to share their experience with others. Consider this free advertising for you (and the best kind!) What better recommendation exists than the word of mouth from someone who has already experienced what you have to offer? The more reviews you have, the more those outlier negative posts will fade from a prospective patient's memory, and the higher your overall "star rating" will score.
Make it easy for your patients to write about you.  Create custom branded review cards to help your patients find your review sites (RateMDs, HealthGrades, Vitals, Yelp, and Google+). Just be careful of the different bylaws certain review sites enforce. Also, build out a custom Facebook Tab that will allow users to write a review for all the various sites by the click of a button! Easy right? That's the point!

Don't assume negative reviews have to do with your competence as a physician
A 2013 Vanguard Communications survey found the vast majority of patient complaints had nothing to do with the advice provided by the doctor. Instead, patients had a tendency to complain about a physician's bedside manner or the customer service of the practice (rude front desk staff, dirty waiting area, etc.).
Sometimes you have to take these one-off bad reviews for what they are: bad seeds that have found their way to your page. Just check out the review below. Nothing is based on the performance or outcome of the patient's actual procedure:

Do respond
Ignoring negative reviews may suggest indifference to patient satisfaction on your part. On the other hand, responding to negative reviews in a professional, calm, and honest way can make a big difference in the way your prospective patients perceive your practice. Always try to respond within 72 hours of the initial post date.

Don't respond in anger
Sure, a negative review is bound to make you defensive – at first. That is why you don't want to post the first comments that come to mind. When a negative review gets you hot under the collar, give yourself a day or two to cool down before posting a response to the review. It would also be wise to have an extra set of eyeballs look at your response before it goes live! It's not personal, it's just the cost of doing business.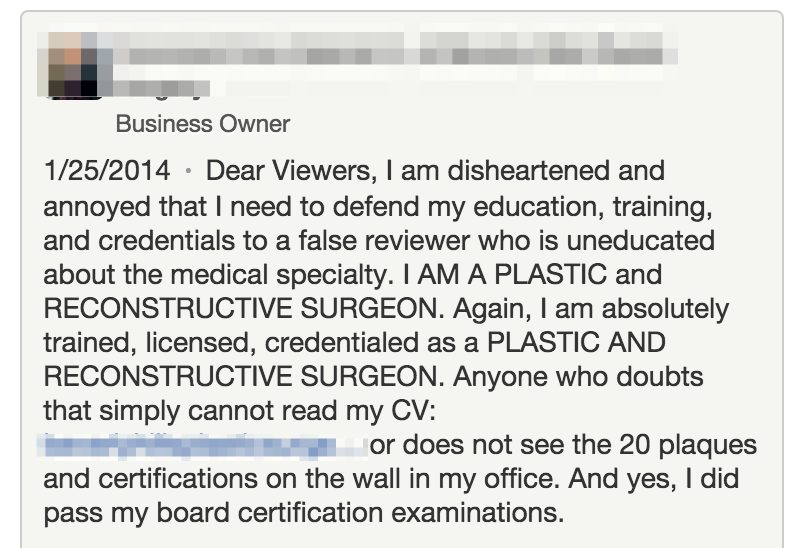 "Annoyed", "uneducated", "simple cannot read", capitalized letters that signify yelling… put it together and you get a sulking, condescending response to a review that inflicts more damage on the doctor's reputation and character than the initial negative review.
Do maintain a professional tone
Professionalism is the name of the game – in person, on the phone or online. Maintain your professional image in your responses to negative reviews. Instead of addressing a patient directly in your response, post a general statement about the policies, procedures or general philosophy of your practice. This technique will also help you avoid the next "don't" on the list…

Don't violate HIPAA guidelines in your response to a patient
Avoid a lawsuit! HIPAA is alive and well on the Internet, which is why you need to exercise some caution when responding to patient concerns online. This goes beyond offering information – even if a patient provides information in the review about their specific medical information, anything you say directly to that information will be a HIPAA violation. Stick with general policies to keep it professional and private.
Even if your patient mentions his or her condition, treatment or personal information in the review first, neither confirm nor deny in your follow up. Even confirmation can lead to a HIPAA violation. Take the conversation offline.
Do encourage offline communication with an angry patient
If you do need to address a patient's concerns directly, encourage the patient to contact you offline. Through email or a phone call, you can get to the root of the problem without airing your patient's personal information or creating an online battle for prospective patients to witness.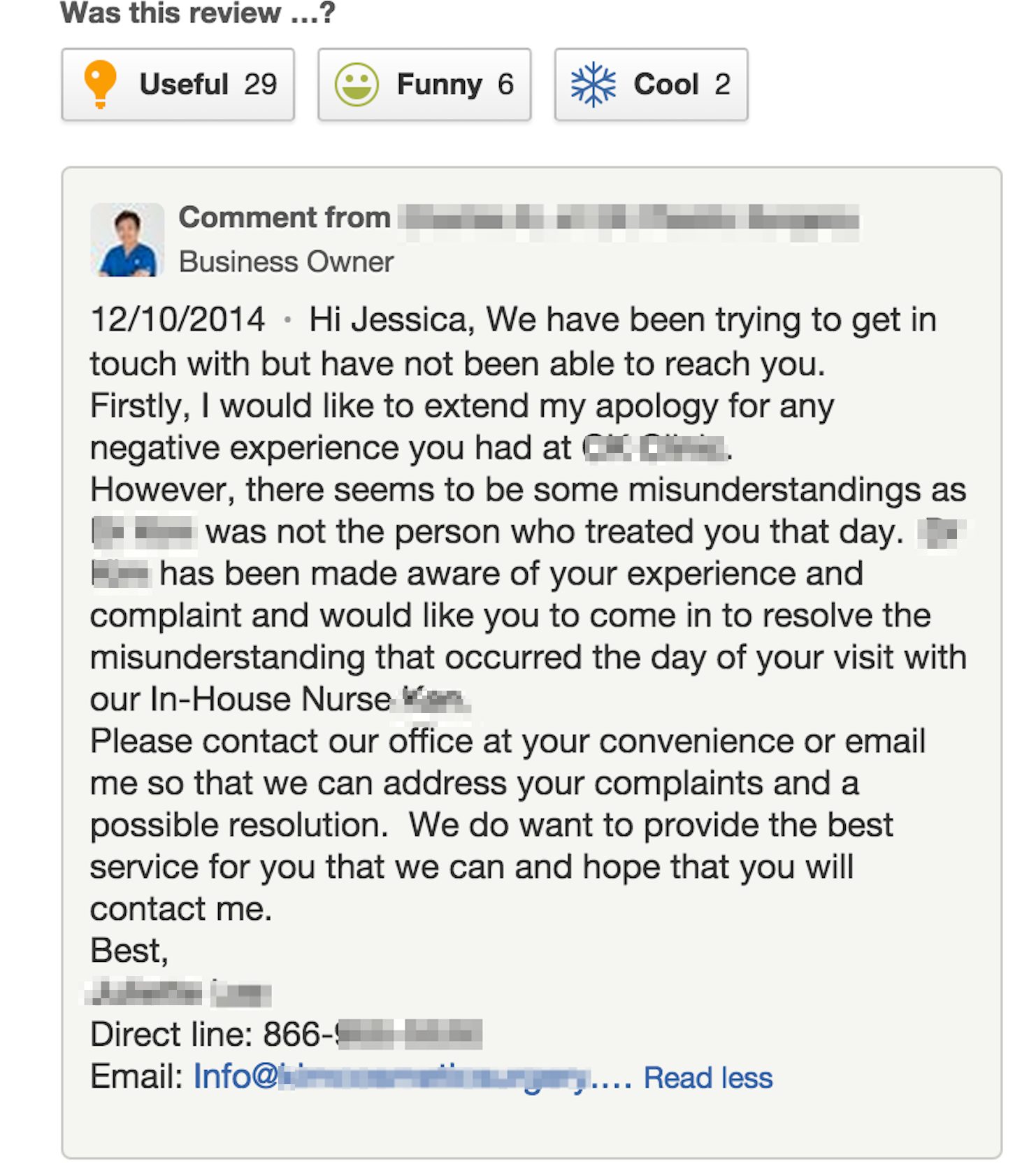 Don't get into an online battle with an unhappy patient
You see it all the time in hockey games – one guy pushes, another guy trips, and before you know it, you've got an ice battle. Nothing is tackier than a back and forth virtual exchange for all the world to see. The same thing happens in online disagreements. You may think you are in the right, you may even BE in the right, but taking up your case online is sure to escalate the tension between you and your unhappy patient. Avoid virtual pushing and tripping and keep your biting, albeit sarcastically witty, remarks to yourself.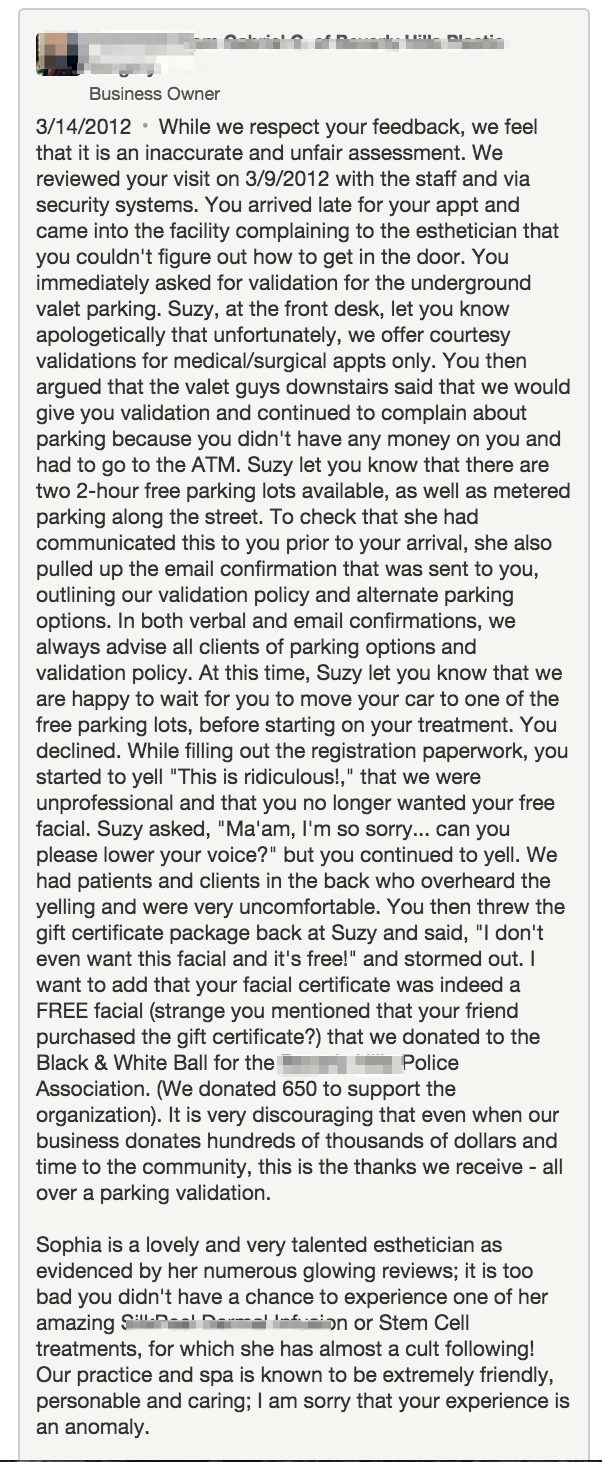 Not only does this doctor reveal too much information about the patient, but he fails to manage his emotions and encourage the reviewer to take the conversation offline. Instead of improving the situation, he creates a back-and-forth for everyone to see, and in doing so, further motivates the unhappy patient to continue the negative argument online.
Instead, try this:

Do make an effort to remove libelous statements
When patients make written statements about you that are simply untrue, that is libel. Libel can do real damage to your practice and you shouldn't tolerate it. In some cases, having the libelous review removed may be as easy as checking the terms and conditions of the review site. In more complex cases, your attorney may need to advise you on how to proceed. In any event, if a reviewer states something inaccurate that defames your character, remain calm, politely state your concerns, and continue to take the conversation offline. Once you move the conversation offline, then take legal action if necessary.
Don't take reviews too personally; learn from them instead
Doctors are accustomed to being the ones with the answers, which is one reason criticism is so hard to take in this profession. Instead of taking reviews personally, look for valuable feedback that will help you to improve your practice. Maybe a patient is unhappy with someone on your office staff or the condition of your waiting room. Take constructive criticism to heart and make the changes necessary to take your service and patient care to the next level. If you're finding that 3-5 reviews mention the same type of problem or even call out a specific person, it's more than likely there is some truth to it.
Key takeaways:
Reviews can be an effective way to grow your medical practice and build a loyal patient base. Learning to take the good with the bad will help you to use reviews to your benefit, rather than your detriment!
•   Take it offline, always: Everyone is watching, always. Your first step in resolving your patients' unhappiness is to take the conversation offline. And just because it's offline, doesn't mean it's over.
•   Every negative patient review is an opportunity: Negative reviews aren't personal, they're a part of doing business. Use them to better understand how well your practice manages patient satisfaction, and consider every negative review an opportunity to grow.
•   Maintain professionalism: Have you ever overreacted before? Of course. More often than not, a calm, cool and professional disposition will resolve negative reviews and cool tempers in no time. We all get emotional when we experience something unpleasant, and most of the time, we overreact. That doesn't change when assuming the role of patient.
•   HIPAA compliance: Perhaps most importantly, never disclose protected health information about your patients, even if they reveal this information in their negative review first. Take the conversation offline always.
[Bonus] Automate your review process: We partnered with Yext so we can manage our clients reviews across multiple platforms under one centralized dashboard. It notifies us when we receive a review from over 50 business listings so we can respond promptly. It's a great tool for monitoring your online reputation, and one we recommend you invest in.
What Next?
•   Download "The Incredible Review Creed," print it out, and share it with your practice staff. Follow these 17 commandments before responding to negative patient reviews online.
•   If there's something you want to add, or something you've found particular useful when responding to negative reviews, let us know in the comments.
•   And if you want to learn more about acquiring patient reviews, read "The Dos and Don'ts of Acquiring Patient Reviews" here.