Content saturation. Content shock. Content overload. Whatever you want to call it, the deluge of mediocre content to hit the world wide web over the last two years is at its a tipping point, and your blog likely contributed in some capacity.
While I don't agree with those that say the human brain reaches a limitation on how much content it can consume, I do believe that we're incredibly adept at distinguishing useful content from useless content. And we're only getting better at it.
We don't get overloaded or go into shock; we just get smarter. The human brain is constantly looking for cognitive shortcuts (you can thank evolution for this), which means that now, more than ever, your blog needs to embody something meaningful. With so much information available, we're constantly looking for an excuse to trim the fat. And I mean any…
•   No bullet points or subheadings? See ya
•   Long paragraphs? Yuck. See ya
•   No clear and concise intro? See ya
•   No images!? SEE. YOU. LATER.
And it all happens in a matter of seconds.
Your blog needs to do more than add to the clutter; it needs to:
•   Cultivate a local audience
•   Create awareness in search and social
•   Satisfy your business goals and users' needs
•   Entertain future and existing subscribers
•   Continue to evolve and add value over the long-haul
•   Give your audience a good excuse to check their email every week for your blog newsletter
The good news? Your local community (the only one that matters) desperately wants for you to fill their voids with your content. Local blogging for doctors still abounds with opportunity to fill those voids, even in a content saturated world. You just need to put the "local" back in local blog.
In this article, I will teach you how to put the "local" back in your local blog using a simple, yet effective, method: The Local Blog Formula
The Local Blog Formula consists of four different groups of content that all local blogs should incorporate into their regimen in order to successfully create awareness in your community, cultivate a local audience, add practical value, and engage your subscribers over the long haul.
This article WILL NOT include information on:
•   How often you should post
•   Quality of content (though I recommend you shoot to produce content 10X better than anything like it or save your time)
•   Content publication
•   Lead capture
•   Repurposing content
•   Type of content (video content vs. text vs. infographic)
…or anything of the like. This post will only outline a formula for what kind of content you need to post to engage a local audience and satisfy you user needs and business goals.
Let's get started.
Why You Need This Formula
This content formula focuses on the micro-market (that's you) rather than the macro-market (your national "content competitors"). And it plays to your strengths as a local small business.
Too often, small businesses like your medical practice fail to embrace their "smallness". Instead, they produce run-of-the-mill, broad content that patients will find on your competitors sites (WebMD, Wikipedia, or any men's and women's health and fitness blog) long before they'll ever discover it on your site. And if you don't think those sites compete for your audience, guess again.
The problem? Your national "content competitors" already own most, if not all, of the broad iteration of the story you are trying to tell. In other words, their content owns all of the real estate in search and on social for surface-level, broad information as it pertains to your service. Trying to compete with them not only plays to their strengths, but it's a losing proposition. Afterall, you can't out-Amazon, Amazon. So don't try to out-WebMD, WebMD.
The solution? Instead, local businesses need to stick to their strengths: their location.
Your location is a place that offers distinct advantages over your national competition. By focusing your content towards your community, it will allow you to send the same message, only this time in a way that your prospective patients can actually find it on search and social.
Whether your content marketing for plastic surgery, cosmetic surgery, vein and phlebology, dermatology, or any local medical practice, following The Local Blog Formula will force you to play to your local strengths.
The Local Blog Formula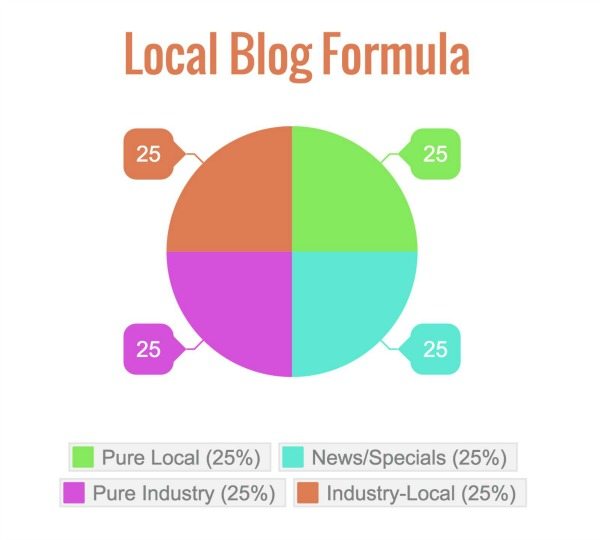 I comprised the Local Blog Formula using four proven groups of content:
•   News & Specials
•   Pure Local
•   Pure Industry
•   Industry-Local
Use this formula as a framework to work within and around, not as a strict guideline.
I will say this and only this about frequency of posting: No matter how often you decide to post, do your best to split your content evenly between the four content groups. For example, if you post once a week, then you should hit each group once over the course of a month.
It helps to document your strategy using an editorial calendar.
News and Specials
This category is self-explanatory. My only advice: organize your specials in a separate category from "non-sales" posts on your blog, and exercise subtlety when notifying your email list of a new special. If I send a special to my subscriber list, I make sure it comes with something beneficial or that will add value, even if they never purchase the special. And I only allow myself to send an offer once every seven emails at the very least. Here's a better idea. Do the work of segmenting your email list into two different groups: a group who opted in for specials and a group who didn't. Then send accordingly.
•   "Ultherapy & Neocutis Event: July 14th, 2015 "
•   "Introducing Laser Tattoo Removal."
•   "20% OFF Injectable Party, April 11th."
•   "Welcome Lindsay, Our New Aesthetician!"
Pure Local
If you want to engender loyalty from your community, you need to start acting like a local, honest, dependable resource for that community. By sharing a genuine passion for your city and the interests of the people in it, you will establish something meaningful at the core of your business beyond money. Only then will you truly attract and foster a local community around your brand.
•   Local events or news
•   Commentary on local politics and economy
•   Photo Journal: "local photo of the week"
•   Patient feature: residents share their industry-local experiences
•   Announcements: sponsored charity event, food drive, soup kitchen
Pure Industry
While these posts will likely never rank well in search given the global competition, you still need them for three reasons:
Long-tail opportunities: "Pure Industry" posts do rank well for derivatives of your main procedures and treatments if you select the right long-tail search queries to target. For example, if your research shows little competition for a search query like "Botox for men," a blog post covering the benefits of botox for men would make sense (and rank well in search, too).
Deep topic expertise: "Pure Industry" posts provide a great opportunity to deep-dive into a treatment or procedure. This is the information your audience will find extremely valuable, but that the competition doesn't talk about or that your users can't find easily online.
Entertainment: While a blog post about Kylie (or Caitlyn) Jenner's recent plastic surgery procedure will never outrank the national tabloid websites, it might still entertain your existing subscriber list.
•   "Man-Power: Botox For Men"
•   "How To Choose The Right Injectable"
•   "Lipo Vs. Tickle Lipo: What's The Difference?"
•   "Consciously Plastic: Gwyneth Paltrow Had Recent Plastic Surgery "
•   "Full Tummy Tuck Vs. Mini Tummy Tuck"
Industry-Local
Alas, the sweet spot. "Industry-Local" posts represent locally-tailored content that also directly relates to (at least tangentially) your local offering. If someone outside of your locale read these posts, they likely wouldn't find them useful.
These posts will rank well in search and create top-of-funnel awareness for your practice. Not to mention the search queries they will rank for will drive interested traffic from your broader target audience. More importantly, they'll keep your subscriber list entertained and coming back for more. Note: While Industry-Local posts may separate you from your direct competition (i.e. other medical practices) within search, they could open the doors to search competition from other tangential industries, too.
Also, creating content around topics other than your services, but that are top of mind for your target audience, will allow you to attract visitors early on in the buyer's journey (sometimes before they even start their journey). In a hyper-competitive industry, capturing the attention of your target audience this early in the buyer's journey, and introducing them to your services, will eventually win you business.
Not only will these posts emphasize shared values and establish shared interests with your local audience, but they'll also demonstrate deep topic expertise and mastery of your niche. A win-win.
This is your chance to give your audience something unique that they can't find anywhere else.
•   "7 Moderate Hikes in Denver For People With Venous Deficiency "
•   "19 Unique Ways To Lose Weight in Miami"
•   "Skin Care Tips Only A Northerner Would Understand"
•   "Why New Yorker's Do Aging Better"
•   "9 Foods That Turn Back The Hands Of Time (and where to find them in Orange County)"
Conclusion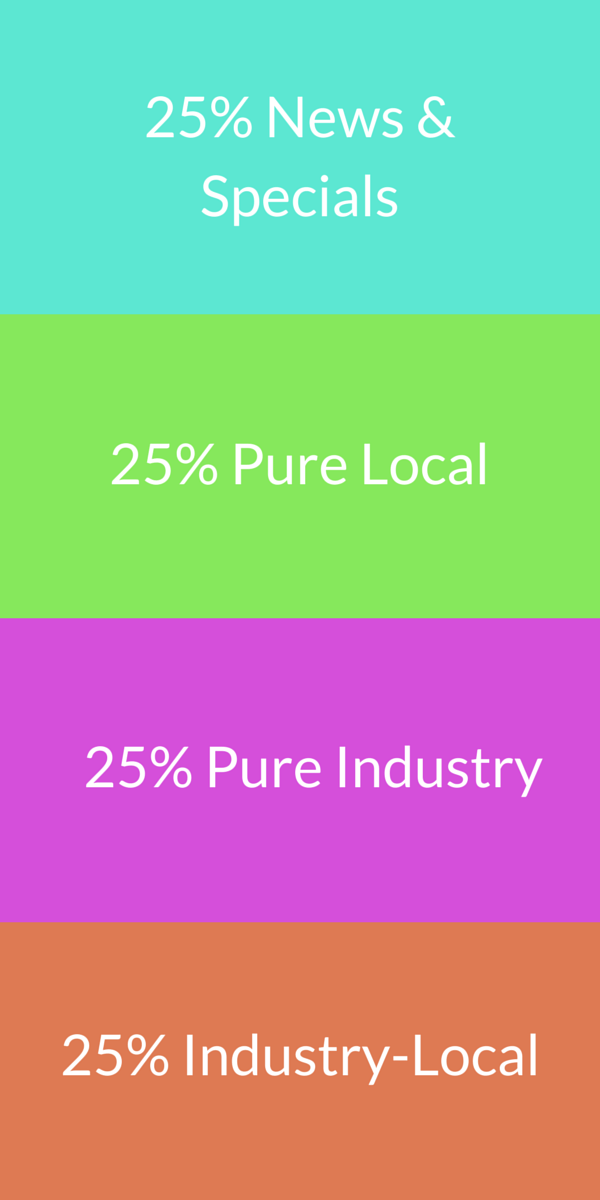 While this formula will help keep your strategy focused, it only represents a sliver of what's required for a successful local blog strategy.
Together with consistency, authenticity, patience, and the 10X rule (if your post isn't 10X better than any other like it, then don't bother), you can successfully cultivate a community around your blog that will not only continue to engage with your content, but will also continue to use your services. Just remember to stick to your strengths and embrace your "smallness."
Happy blogging!
What Now?
   •   This isn't the be-all/end-all local blog strategy. If you do something different, and it works, I want to know! Comment or email me directly.
•   If you enjoyed this article and think your friends or colleagues might find it useful, then be a good friend and share it!