(This is the second article in our "How to Win at Search by Optimizing Your Treatment Pages for Humans" series. If you haven't read it, do that first here.)

The one advantage your medical practice has over its national search competitors (WebMD, Wikipedia, major medical directories, or even Yelp in certain coastal, urban cities) when it comes to search visibility is that you are local and they are not, which means that searches with local intent remain your biggest opportunities.
Trying to outrank your national search competitors for broad keywords like "breast augmentation" is the quickest way to the bottom. Not only do they have more money and resources than you, but they've been at it much longer, too.
Instead, stick to your strengths: your location.
This also means that in order to rank locally, you need to optimize your procedure/treatment pages for both the procedure/treatment and your city (e.g. Breast Augmentation Denver). After all, Google is looking for strong signals in regard to both. In doing so, you'll attract potential patients toward the end of their buyer's journey, whose intent is to find a doctor.
At the end of the day, Google knows you are a local business, so don't "over optimize" for your city. In keeping with the same spirit of the first article in this series, you should add relevant, location-specific information if, and only if, it supports your users' needs.
In this second part of our four-part series on "How to Win at Search by Optimizing Your Treatment Pages for Humans,"  I'll share five quick and dirty content strategy tips for adding authentic, valuable, user-first content about your location, plus an additional bonus method.
Let's get started.
Optimizing For Your Location
Placing your city name and/or state in the title tag of your procedure page (e.g. Breast Augmentation + Denver) still remains the number one local search ranking factor in MOZ's 2014 Search Ranking Factors Report.
However, if you want to outrank your competitors in your city, just optimizing your title tag won't suffice. Instead, take a user-centric approach to location optimization by thinking about your location thematically, much in the same way you thought about your procedure.
What questions will your visitors ask about your location in relation to your practice specifically, and how can you answer those questions before they arise? Even for your location, if you can solve for user intent, then you can solve for Google.
1. Local Reviews + Testimonials
Rather than placing all of your reviews on your testimonials page, select 1-2 reviews per procedure and add them to the corresponding procedure or treatment page, along with their first name, last name and city/state (e.g. – Kim L. Denver, CO). With any luck, one of your reviews will include a commentary on your city (authentically, not manufactured).
At the very least, you'll be adding a genuine testimonial from one of your visitors' fellow neighbors. Now you begin to sow the seeds of empathy.
Notice how RealSelf.com uses the city name and state in the title of each testimonial:

2. Local Before-and-After Case Study
Your before-and-after gallery receives more traffic than any other page besides your home page, and in most cases, it even beats out that. For most procedures or treatments (especially cosmetic), potential patients intend on seeing the results (our Google Related Search confirmed this), so show them… on the procedure page.
Rather than placing all of your photos in a before and after gallery several clicks away, spotlight a brief case study (or two) on your procedure page. And use local residents when doing so.
Example: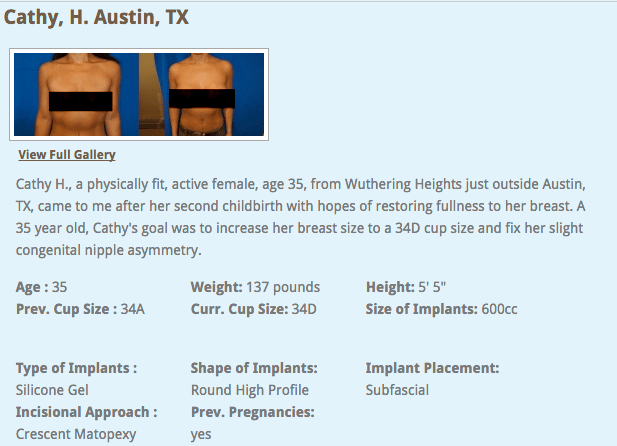 3. Landmarks, History, Slang, and More…
Don't just own a business in a city, be about your city, and communicate that on your procedure and treatment pages.
•     add photos and mentions of seminal landmarks (within context)
•     reference local history or popular areas in the community when using metaphors
•     use local colloquialisms ("Austinites," "Uppers")
Demonstrate that you're a passionate member of the community, just don't force it. Be authentic.
4. Driving Directions
This one is self-explanatory. Just remember that there are multiple ways to get to your practice (4 to be exact: North, South, East, and West). Not only will driving directions help your prospects find you (and determine whether or not you're close enough), but they'll provide search engines with additional context about your location.
It never hurts to add a map, either. Just avoid giant embeds on every page that may slow down page load speed.
5. Business Hours
Adding your business hours to your procedure page is the lowest of the low hanging fruit. Not only is this an extremely important piece of information for your audience, but it also reminds the search engines that you're a local business.
As I mentioned before, semantics have come a long way, and search engines now understand the context and meaning of the words on your page (for the most part), but it never hurts to help them out when you can.
You can also wrap your business hours in Local Business Schema to provide additional context to the search engines.

Bonus: Structured N.A.P (Name, Address, Phone Number)
Last, always include your name, address and phone number (NAP) on every procedure page, and structure it in local business microdata. In short, microdata provides context to the content on the page. Though the search engines are getting smarter, they're still not human (yet). Providing structured data speaks to search engines in a language void of speculation.
I recommend placing your NAP in the <footer> of your site so it shows up on every page.
You can copy the code below or generate your own here:

Key Takeaways
By taking a user-first approach in regard to location-specific optimization, you're able to add practical value to your prospective patients' experience, all while providing search engines with additional context about your page.
• Remember, Google knows where you are, so don't optimize for search engines (in the traditional sense of the word), optimize for your user.
• Will you have any chance of ranking for broad keywords like "breast augmentation" doing it this way? Absolutely. The search engines understand your intent and try to serve the most relevant, contextual, personalized results to every user. This means that your pages will get a bump in rankings, even for broad keywords, when the user has either interacted with your site in the past or is in your geographical location (that's just the tip of the iceberg when it comes to semantics).
• When someone searches for "breast augmentation Denver," not only are they past the first phase of the buyer's journey (awareness), but they're well beyond the middle of it (research + consideration), and closer to the end (decision time). This means that they already know a ton about a breast augmentation procedure– you can thank WebMD and Wikipedia for that. So give them what they need now: information about your location.
In this article, I've included five different options for adding information about your location that your users need, but the skies the limit! If you'd like a consultation with one of our experts at Incredible, call us at (800) 949-0133 or schedule a one-on-one.
What next?
– Part 1: Optimize for Theme and User Intent First, Keywords Last
– Part 2: Quick and Dirty Location Optimization Tips
– Part 3: 3 Super Simple Ways to Humanize Your Practice
– Part 4: Creating Content Hubs For Your Procedure Pages, Kinda Like Wikipedia