Maximize Your Organic Reach Using These GMB Attributes
There's no denying that Google is the undisputed leader for online searches.
With that in mind there's no reason why your Google My Business profile, your "first impression" with nearly every customer, shouldn't be up to date with the latest attribute options.
If it's not then you are missing out on clients and revenue.
Every.
Single.
Day.
It's unacceptable… Unless you like having zero clients and being broke.
We're going to explain what Google My Business attributes are and which ones you should prioritize as a medical practitioner, so buckle up.
What Are Google My Business Attributes
Your Google My Business profile is filled with little tidbits of information that Google calls "attributes" after the Greek god "Attrobrute"* The god of algorithms and data structures.
*May or may not be an actual Greek god.
Google My Business attributes are factual statements about your business that appear on your Google My Business profile listing. They visually indicate features such as COVID-19 safety precautions, Healthcare options or whether a business is Black owned or veteran led. (just to name a few)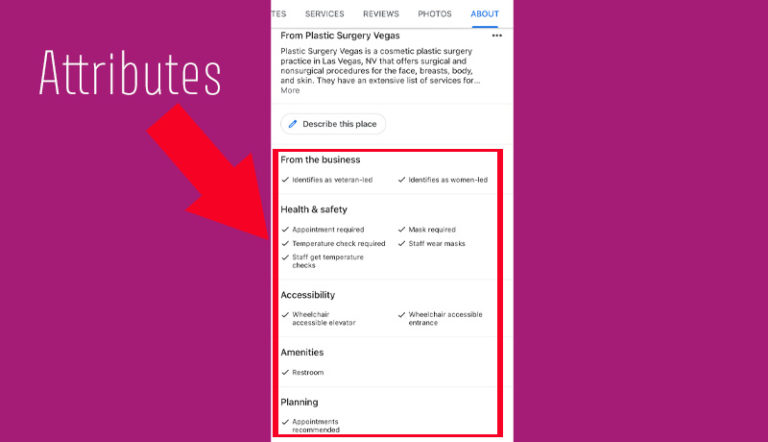 Attributes Medical Clinics Should Prioritize
Throughout the pandemic Google worked quickly to update their available attributes to business owners to offer clear and relevant information for potential clients. We're going to highlight the ones that are relevant to your practice, not every attribute that exists, because you are not a restaurant or a train station. You are not your f*cking khakis.
Fifty bonus points if you appreciate the Fight Club quote.
COVID-19 Attributes
One of the biggest Google My Business attributes rollouts over the course of 2020 are the COVID-19 attributes. You would think that these are no-brainers, but to people searching local businesses, this is vital information about your safety protocols.
Appointment Required
Mask Required
Staff Wears Masks
Staff Gets Temperature Checks
Temperature Check Required
Masks are required at most places of business these days and temperature checks are becoming more common for staff and visitors. If you and your staff are already doing these, make sure you let the world know.
Are appointments required at your practice to help keep large crowds, or even medium-sized crowds in small places, from forming at the office? You should have the appointment required attribute set in place.
Masks have also become part of most office staff's everyday uniform. They are chic and they save lives! So letting customers know your staff is operating at maximum safety and maximum sexy is a must.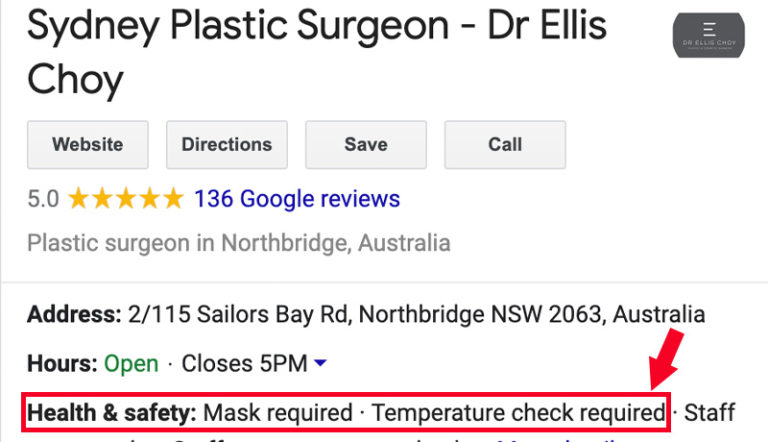 Healthcare Attributes
Virtual care, online care and online appointments have become paramount as coronavirus cases continue to surge around the world. During these challenging times, it's important to remind your customers you respect their health and safety.
Virtual Care
Online Care
Online Appointment
Online Estimates
COVID-19 Info Link
Virtual care is a term that encompasses all the ways healthcare providers remotely interact with their patients. In addition to treating patients via telemedicine, providers may use live video, audio, and instant messaging to communicate with their patients remotely.
If your medical facility offers virtual care such as check-ups after in-person visits, monitoring vitals after surgery, or responding to questions about their diagnosis, treatment or recovery plans you now have an option to select.
Online care or an e-visit is a way of obtaining medical care for problems which do not require a physical examination and which do not require treatment beyond a prescription available online or diagnostic tests beyond blood tests.
Online appointments are a way to let patients know that you use a service to help book appointments through their internet browser, eliminating the need for a phone call to your office.
You can add links for virtual care and appointments to direct patients to those pages on your website or your practice's profile on a 3P virtual care site. Google does note however that this feature is only available in the United States and displays on mobile only.
Some service providers will find the online estimates attribute especially helpful for those potential customers who are looking to "kick the tires" a bit before making a purchase.
The COVID-19 Info Link takes consumers directly to the latest relevant COVID-19 information.
if you are already feeling lost about all of this, no worries, just drop us a line, and we will guide you through the process.
Accessibility Attributes
Accessibility attributes collect information about your business to share with customers who have specific accessibility needs. There are a number of these attributes available, but we're going to focus on the few specific to healthcare.
Wheelchair Accessible
Wheelchair Accessible Parking
If the entrance to your business is approximately 3 feet wide and doesn't have steps. 3 feet (or 1 meter) is approximately the minimum comfortable width for two people to stand right next to each other. If there are one or more steps, there should be a permanent ramp or, at the very least, a moveable ramp. Entryways that consist of only revolving doors should be marked No for this attribute.
If there's a parking spot specifically marked for those with accessibility needs you'll want to make sure you update your profile to reflect this.
The complete list of Accessibility attributes includes wheelchair-accessible entrance, wheelchair-accessible restroom, wheelchair-accessible seating, wheelchair-accessible parking, and wheelchair-accessible elevator. Choose the most compatible attributes for your business.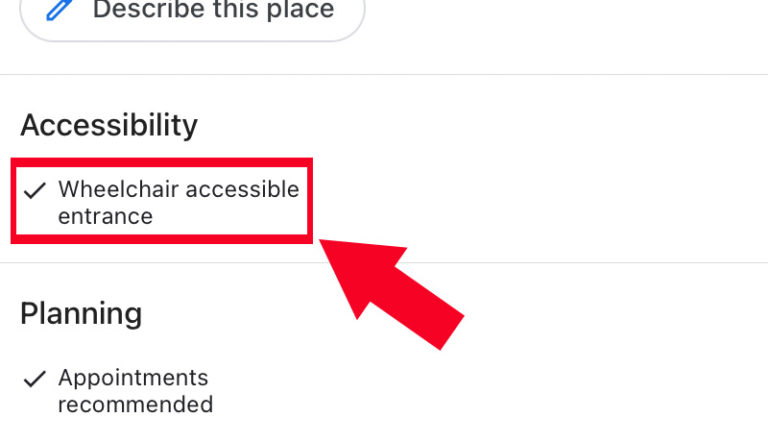 Languages Spoken Attributes
While English may be a dominant language in the United States it's not the only one out there and people searching online want to make sure that when they walk through your doors they are understood clearly.
Arabic
Cantonese
Dutch
English
Filipino
French
German
Hindi
Indonesian
Korean
Mandarin
Portuguese
Spanish
It's no secret that the world has gotten smaller. Hiring bilingual or multilingual employees can greatly expand your opportunities to cater to non-native speaking persons.
Do you know that people search in different languages as well? Is your website and SEO multi-language friendly? You should probably contact us because we provide services in 12 languages, in over 20 countries. Big time flex, bruh.
Lo entiendes? Ce n'est pas un concept difficile à saisir. Wenn Sie Hilfe benötigen, sind wir hier, um Ihnen zu helfen. Você usou o Google Translate, não foi?
Highlights Attributes
These are the unique details about your business. They allow you to share information about who owns or leads your operation.
Doctor On-site
Family Owned
Veteran Owned
Women Owned
Black Owned
Having a doctor on-site lets customers know that a licensed medical doctor is on the premises, should the need arise for one. This attribute is important because it can help give a sense of relief to those patients who might have medical concerns.
The basis for family ownership is to have a family that's dedicated to and passionate about the health and well-being of the business. A veteran owned business indicates that the owner or a person in charge of this business has served in some capacity in the armed forces.
A woman owned or Black owned business is usually defined as one that is at least 51% owned, operated and controlled on a daily basis by one or more women or African-American persons.
Some options, like 'Black Owned', are only available in the United States.
Planning Recommendations Attributes
Letting searchers know whether your practice is accepting new patients, or whether your services are for adults or children can free up time-consuming phone calls to the office.
Accepting New Patients
LGBTQ Friendly
Transgender Safespace
Treats Adults
Treats Children
New jobs, changing insurance and new healthcare choices or options keep consumers looking for practices that are currently accepting new patients. If your office is, you absolutely need to make sure this option is selected. It's equally important to turn this option off should you find that your business cannot accept new patients. What a great problem to have, amirite?
The LGBTQ Friendly attribute lets the community know that your practice is a welcoming place for everyone. Medical facilities that create an environment where all patients feel welcome can better meet their patients' often complex healthcare needs.
The same can be said for designating your facility a Transgender Safespace, especially if your practice does transgender surgery. Also, if you practice anything in the aesthetic space, these are important attributes to consider.
Do you treat the whole family, adults and children included? Let people know before they show up with a juvenile panda. Talk about awkward.
Offerings Attributes
Medical Imaging Services
Teeth Whitening
Simple and straightforward. Again, it's about eliminating questions for the people researching your business.
Retail & Food Services Attributes
Many of you will probably say, "I'm not in the retail business" and to that we would reply, "Do you sell anti-aging or skin care products? Do you offer any surgical garments?" If not, you should.
Check out our *ahem* Incredible video and article on '8 Strategies on a Successful Online Store.'
Curbside Pickup
In-Store Pickup
Delivery
No-Contact Delivery
In-Store Shopping
If you sell any products, you need to prioritize your pickup and delivery options right now. Curbside and No-Contact delivery has changed the business model for the better. Even before the coronavirus pandemic, retail giants like Walmart had ramped up their pickup and delivery options.
Customers now expect some form of contactless / curbside pickup options when shopping for their everyday needs and your business needs to respond in kind.
During COVID-19, attributes like these will help drive customer revenue since health and safety is top of mind for everyone right now.
Payments Attributes
How we pay for things has changed drastically over the last few years, so while it may not seem like a big deal, you need to keep your customers in mind here.
Cash-Only
Checks Accepted
Credit Cards Accepted
Debit Cards Accepted
These attributes are important because it takes all the guesswork out of how a customer will need to pay once they visit your location. If you're a cash-only business it would help if people knew that before they show up at your practice trying to pay you in Reddit Karma.
Coming Soon
Insurance remains the deciding factor in how and why people choose the locations and physicians that they trust their healthcare to. Google is beginning to roll out a new attribute that will let Healthcare providers share information about health insurance networks that are accepted at different office locations or physicians.
As this attribute continues to go live you need to make sure you have jumped on this opportunity and that this information is checked for accuracy against what you may have listed on your website or anywhere you have this information published.
We also fully expect future attribute updates to include more dialed-in options concerning important information about your business to provide a more comprehensive Google My Business profile. We may also see a push to include more video chat options linked directly through the business profiles so customers and business owners can talk directly.
The COVID-19 Layers feature has been around for a few months but an update is also supposedly on the horizon. The new, more robust COVID-19 Layer where information is sourced from many different third party providers for Google and can be accessed on the Google Maps app, is said to be updating in the late Q1 or early Q2.
A Google Guarantee Badge on your profile will allow an unsatisfied client who books a service through a Local Service Ad to be reimbursed the costs associated with that service. So far, home service providers that meet certain criteria, and pay a monthly fee to Google, will be associated with this feature. But you'll get a shiny green check mark next to your business name for the upgraded business profile.
Hint: You can sign up for our IM3 newsletter on our homepage to be the first to know when the word drops.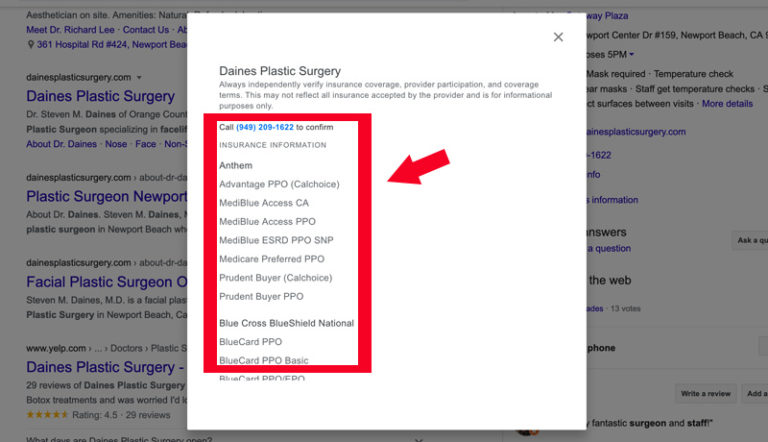 Haven't Been Paying Attention?
Healthcare providers like plastic surgeons, dermatologists and other medical practitioners can use Google My Business to claim and manage their practice's info.
"When someone searches for a business or place near their location, they'll find local results across Google, in places like Maps and Search. For example, you can probably find local results if you search for "Italian restaurant" from your mobile device. We try to show you the kind of nearby restaurants that you'd like to visit. To improve your business's local ranking, use Google My Business to claim and update your business information."
That's straight from Google's algorithmic mouth.
Factors like search relevance, distance, and your practice's prominence determine whether your information appears in a search.
TL:DR – Attributes are always changing. Fill out our Google My Business 2021 Attribute Audit and take the next step to improve your online visibility NOW.
Have questions? 
If you need help updating your GMB page, fill this out quickly and we can help you out. We understand that every website and every practice is unique. Our educators are here to answer any questions you have, anytime, for free. Give us a call at (800) 949-0133 or click below to schedule a one-on-one.