1. Yext announces partnership with Google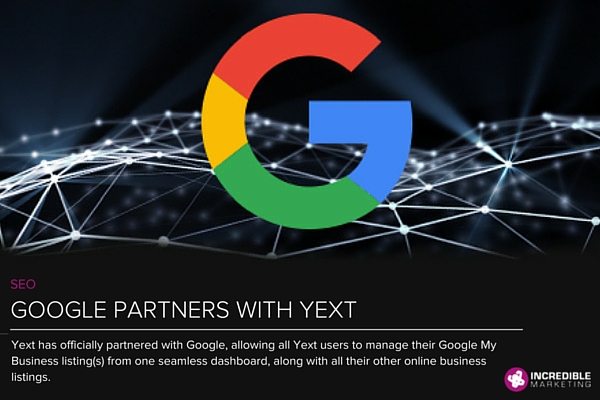 How does this affect your medical practice?
Inconsistent business location information across online maps, apps, directories, GPS devices, social networks, and search engines costs you real sales.Yext lets you control your company listings across 100+ global partners, including Apple Maps, Bing, Facebook, Yahoo, Yelp,and now, Google. And you do it all from one seamless dashboard!
For those of you who have tried to manage your medical practice's business listings on Google My Business (formerly Google+ Local), you know how complicated it can be. Now, for all Yext users (p.s. we partnered with Yext last year, so all of our clients get Yext for free), you can manage your GMB listings from the same dashboard you manager your other business listings.
Inconsistent business information on Google and across the web not only costs you business, but it also hurts your search engine rankings. Use our free business listing scan here to find out if your business information is consistent. If it isn't, we can fix it all in minutes using Yext.
They Said It Best:
Yext Announces Partnership with Google- Yext
2. Star Ratings Disappear from Google Search… Temporarily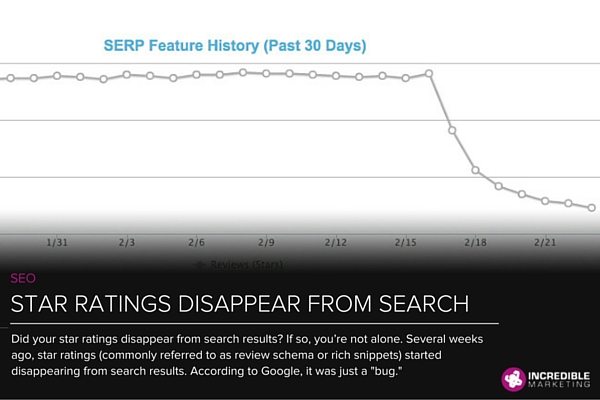 How does this affect your medical practice?
You can add star ratings to any page on your website that contains unique 5-star testimonials from your patients. Once you add the necessary review schema, your search result snippet will include your aggregate review star rating: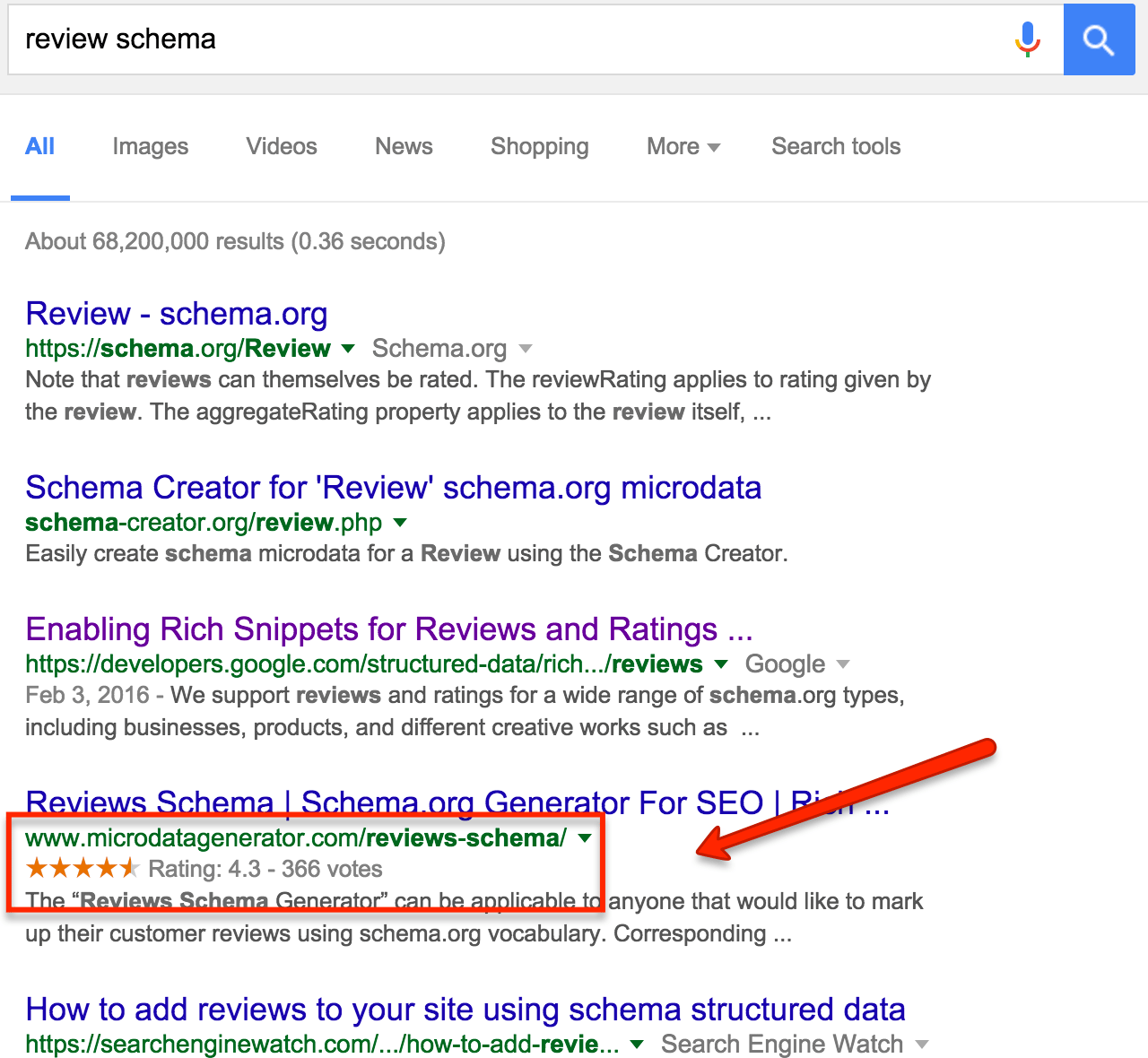 Or, if you want to embed a review widget from a third-party review site like Yelp, Google allows you to mark up those reviews, too. The only caveat is that the reviews contained in the widget must all match the same service as the service the widget appears on.
The benefit?
Star ratings have been shown to increase your click-through-rate (the percentage of people who click on your search result) dramatically.
So what now?
According to Search Engine Land and a representative from Google, this was just a bug and not some movement to eliminate rich snippets from search. Rest assured, for now. Your star ratings should return if they haven't already.
They Said It Best:
Google Looking Into Star Ratings Dropping Out of Search – Search Engine Land
3. Google Publishes Search Quality Rating Guidelines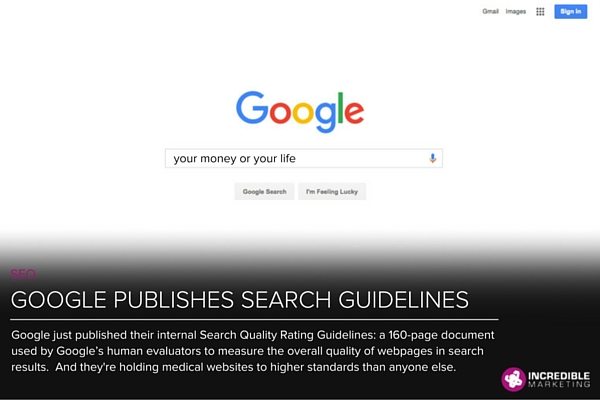 How does this affect your medical practice?
Google just published their internal Search Quality Rating Guidelines, a 160-page document used by human evaluators at Google to grade the quality of search results.
Until now, only an abridged version of this document has ever been made public. However, several "leaks" over the last few years have prompted Google to publish the document in full.
Also, there's a section in the document titled, "Your Money or Your Life" (YMYL), and it outlines a higher set of rating standards used for websites that publish medical information and advice. That's you!
Why?
Unlike ordinary websites, medical websites offer information and advice that can potentially lead to serious health implications, even death, if misrepresented or advised by an amateur. So Google is holding you to a higher standard than everyone else.
They Said It Best:
Google's Search Quality Rating Guidelines for Doctors: Your Money or Your Life – Incredible Marketing
30+ Important Takeaways from Google's Search Rating Guidelines – Moz.com
4. Google Permanently Removes Right-Column Ads from Search Results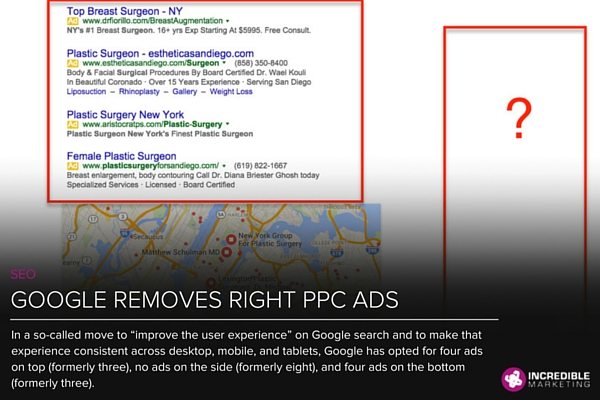 How does this affect your medical practice?
In a so-called move to "improve the user experience" on Google search and to make that experience consistent across desktop, mobile, and tablets, Google has opted for four ads on top (formerly three), no ads on the side (formerly eight), and four ads on the bottom (formerly three).
But I'm not buying it.
We're told time and time again (by Google) that the user experience is different on mobile vs. desktop, and that we should design our websites differently for both (hence the buzz around).
So why homogenize mobile and desktop design now? Why contradict everything you've told us, Google?
I smell… money!
Google still makes 90% of their money off of search ads (PPC), so I'm willing to bet they did their homework. (I'm sure they won't be losing money with this transition.)
The question remains: will this move earn them more money (at our expense)?
The jury is still out.
Some speculate that the reduction in available ad spots will increase cost-per-click for the top four (i.e. supply and demand). Others, including Google, claim that right-hand column ad clicks were sparing at best, and that this move won't hurt visibility or increase ad spend.
It's still too early to know. Stay tuned as we watch the data.
They Said It Best:
Google Kills Right Hand Side Ads: What Does This Mean for Marketers and Users?