The facts don't lie: reputation management is an integral part of your practice's success. What your patients say about your business online has a significant impact on your bottom line:
In this article, I'll cover the Do's and Don'ts of acquiring patient reviews, and teach you how to implement a process for measuring patient satisfaction that actually improves your overall business. I'll also explore what to avoid when acquiring reviews, and how to build a business where patient experience is at the center of your business model.
Whether you're a plastic surgeon, cosmetic surgeon, dermatologist, vein specialist, ortho surgeon, eye physician, or any other private practice doctor or surgeon, the Dos and Don'ts of acquiring patient reviews will work for you.
Let's get started.
1. DO Optimize Your Practice For Quality. DON'T Optimize For Reviews
"You need more patient reviews," cries your marketing consultant. Yes, you may need more reviews, but what she should be saying is, "You need more undeniably satisfied patients."
At 27%, reliability is the single most important characteristic a customer looks for in a local business, followed by expertise (21%), then professionalism (18%). Rather than focus on arbitrary metrics like quantity of reviews, focus on implementing a process that will help you exceed your patients' expectations and make that process the centerpiece of your business model.
If you optimize your practice for quality, you'll get reviews.
FACT: A recent survey (presented by Mike Blumenthal at LocalUP; download slide here) found that insurance agents with an 'exemplary' Net Promoter Score (a score that measures customer satisfaction) of 90 received six times as many reviews on three times as many review sites than insurance agents with a 'below average' NPS of 60. It also found that customers from the 90 NPS group were 8% more inclined to open the email asking for reviews than the 60 NPS group.
2. DO Measure Patient Satisfaction. DON'T Measure Review Count
The only metric that should matter is whether or not your patients were satisfied with their experience- the entire experience (from consultation to post operation or treatment).
Review count is a quantitative metric that means nothing. In fact, more often than not, giving credence to review count will deter you from your primary objective: improving your patients' experience. Coincidentally, it just so happens that improving your patients' experience leads to more reviews.
Instead, think quality, not quantity, and measure patient satisfaction (and be honest about it, too).
How? Ask them.
TIP: Rather than attempt to gauge review sentiment and patient satisfaction directly from written reviews already online, survey your patients with a customized questionnaire that allows you to expose every touch point they encountered during their experience, and that allows you to measure the degree of your service.
Feeling uninspired? Download the patient satisfaction survey template we created for you here.
3. DO Make Reviews a Part of Your Patients' Experience. DON'T Make Them an 'Afterthought'
Make reviews a fundamental part of every patient's experience rather than a "campaign" you conduct when your marketing consultant tells you to "get more reviews."
The only way to accomplish this is to create a process where measuring patient satisfaction is the final step in every patient's experience with your practice.  Your goal is not only to measure patient satisfaction, but also to encourage those who provide positive feedback to leave an online review, and to identify negative feedback — and fix it — before someone leaves a dismissive online review.
Three simple steps:
A) The first step is to create a conditional survey that will identify positive or negative sentiment. You can create a form on your website, use SurveyMonkey (free up to 10 questions), or print out a questionnaire to hand to patients. I say 'conditional' because what you do after your patient finishes the survey is dependent on what condition is met (was the sentiment positive or negative?).
Note: "yes or no" questions won't give you any conclusive evidence about whether or not your patient enjoyed his or her experience. Stick to questions that allow your patients to grade your performance on a scale (a scale from 1-10, or on a scale from poor to great). Or just use the template I created for you here. At the very least, include the following four questions:
How likely is it that you would recommend this practice to your friends and colleagues? (scale from 1-10)
What does our practice do really well?
How would you describe your overall experience? (very poor, poor, ok, good, great)
What can we do even better?
B) Positive sentiment: In other words, if the patient said that their overall experience was either good or great, send them a follow up email thanking them for their time, and ask for an online review (provide the links).
C) Negative sentiment: In other words, if the patient said their overall experience was ok, poor, or very poor, follow up immediately to investigate why and fix the situation before they leave a negative online review (don't send them review links).
By making patient reviews a fundamental part of your point of sale, it allows you to take back control of the conversation, good or bad. Taking back control may even mean taking it offline, in which case you can reconcile indifference between you and your patients before their emotions get the better of them.
FACT: 88% of consumers say that they trust online reviews as much as personal recommendations. Take control of your reputation by actively managing (and mediating) your patients' satisfaction with your practice.
4. DO Give Patients a Choice. DON'T Give Them an Ultimatum
In a recent study (download "Review Acquisition Strategies That Work" deck to view survey) conducted by Mike Blumenthal (SEO guru) that sent 1,000 emails to customers over three different businesses asking them for reviews, 0% actually left a review when given only the one choice of Google Plus. However, when Blumenthal replicated the study, only the second time with FB as the other choice, review responses increased to .5%-3%.
Top 3 Preferred Review Sites (both for reading and leaving feedback):
Google Plus (32%)
Facebook (21%)
Yelp (18%)
source: http://moz.com/localup#agenda (download Mike Blumenthal's deck, "Review Acquisition Strategies That Work.")
TIPS
Facebook: FB mobile (https://m.facebook.com) and FB desktop (https://www.facebook.com) use two different URLs. If one of your patients tries connecting to your FB review page on a mobile device using the desktop link, the page won't populate. Instead, provide both versions (m.facebook and www.facebook) when asking for reviews, especially given the mobile propensity of your users.
Google Plus: As of writing this, there is no review option available on your Google Plus page for mobile users, only desktop users. Workaround: sign into Google Plus, navigate to the "Local" search page, type in your city and business name in the spaces provided, and then copy the link from that page for mobile users. This is the only page with a review function on mobile.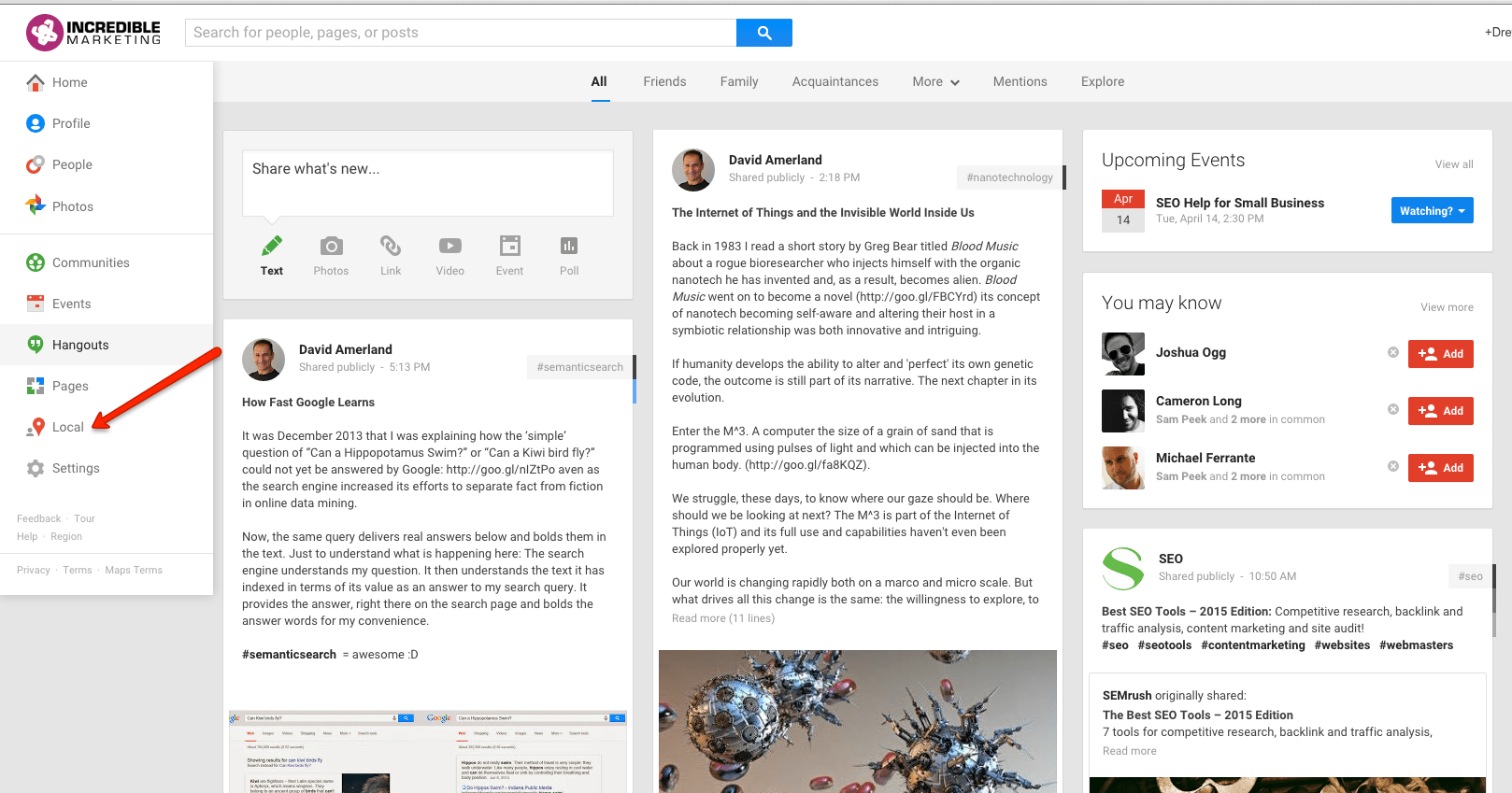 Yelp: Since Yelp heavily favorites reviews from users with active profiles, identify which of your patients has a Yelp account by integrating your patient contact list to Yelp with either Gmail or Yahoo Mail. Then send a separate review request email to this segment.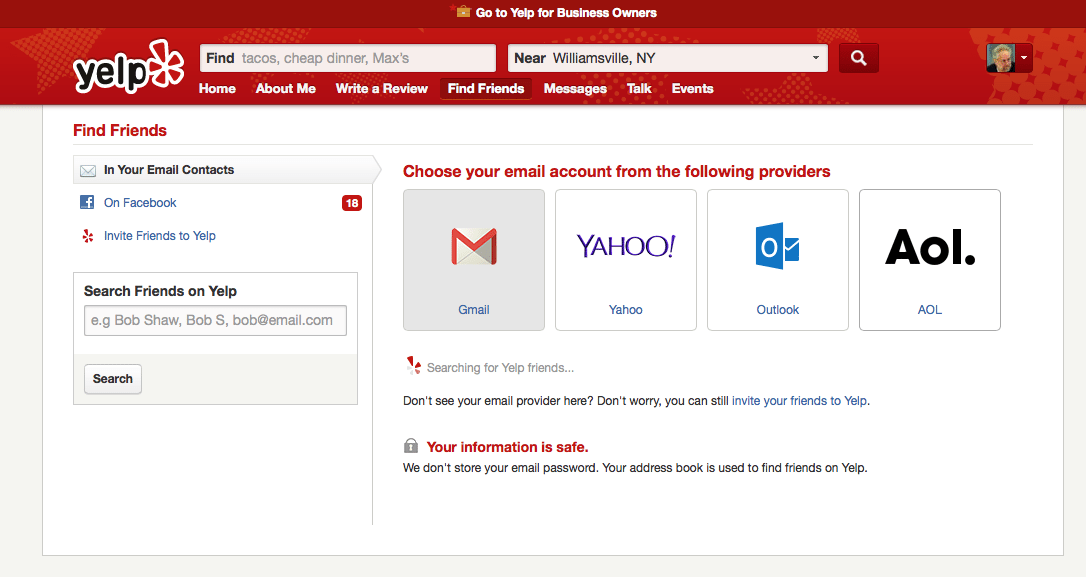 5. DO Comply With the Law(s). DON'T Risk Your Integrity and Credibility
As a small business, it's your responsibility to comply with the Federal Trade Commission Act governing the use and acquisition of reviews and testimonials. It's also your responsibility to comply with the different review sites bylaws, however absurd some of them may sound (sigh, Yelp).
For the former, the consequences of violating the FTC include significant fines (and brand equity in the form of public humiliation). For the latter, you risk losing your reviews (even the good ones).
Here's what you cannot (and should not) do:
Solicit reviews en masse. Most major review sites will block massive waves of reviews at once. This isn't illegal, per se, it's just not an intelligent way of amassing authentic reviews.
Reward people based on their public endorsement of your service without the endorser explicitly stating the offer in their review, no matter where the review was left (social media threads and posts included).
Ask for Yelp reviews verbally, or on your website (Tip: you can say "view our 4.5 star rating on Yelp"). If you get caught, Yelp will place a tacky "Consumer Warning" banner on your page notifying visitors of your negligence.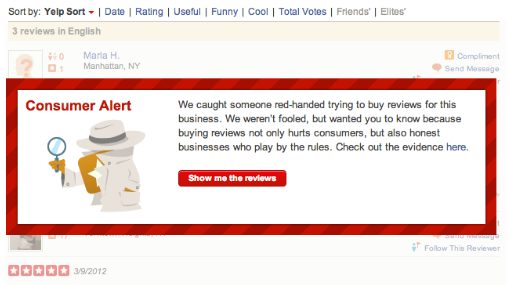 Incentivize reviews on Google +, Yelp, or Facebook. Though you can likely get away with it in some capacity, the long term repercussions aren't worth it.
Use reviews on your site that showcase unusually positive results (i.e. the average patient shouldn't expect to see the same results) without explicitly stating, "results not typical." Note: if you're in Australia, you can't use reviews at all.
Bottom line: It's a bad idea to incentivize reviews, and though some will argue that it's their First Amendment right to say (or not say) what they want in a review, any speech on behalf of an advertiser (or business) is considered commercial speech, and therefore regulated by the FTC. The bottom line? Incentivizing reviews for the sake of reviews is not only deceptive and unethical, but it's a shortsighted perspective on business development. By optimizing for quality, not reviews, your practice promises to benefit tenfold, not just in terms of review count.
Key Takeaways
The truth remains: acquiring reviews for your medical practice is hard work. In fact, on average, 78% of consumers will never leave a review for a local business (about 16% will leave a review occasionally). However difficult it may seem to acquire patient reviews, they still play a pivotal role in how your prospective patients perceive your business. Implement the DOs and avoid the DON'Ts, and always remember:
Optimize your practice for reliability, expertise, and professionalism, not reviews.
Implement a process for measuring patient satisfaction (or dissatisfaction) and make it a fundamental part of your patients' experience.
Don't stress over review count… it doesn't matter.
Acquiring reviews isn't something you campaign for once every few months. It's a long term process.
Give your patients the option to leave reviews on multiple sites, both mobile and desktop.
Always comply with FTC regulations and the different rules and stipulations of the review sites. If you feel the need to manipulate or manufacture reviews, you've likely got much bigger business problems.