User-generated content (UGC) for social media marketing is a modern-day digital word-of-mouth situation that benefits both practices and patients. It's a win-win scenario and a marketing tactic that practices can benefit from because their patients do their work for them… and do it more authentically. UGC is more trusted, the content is more authentic, it's more credible, and it's free!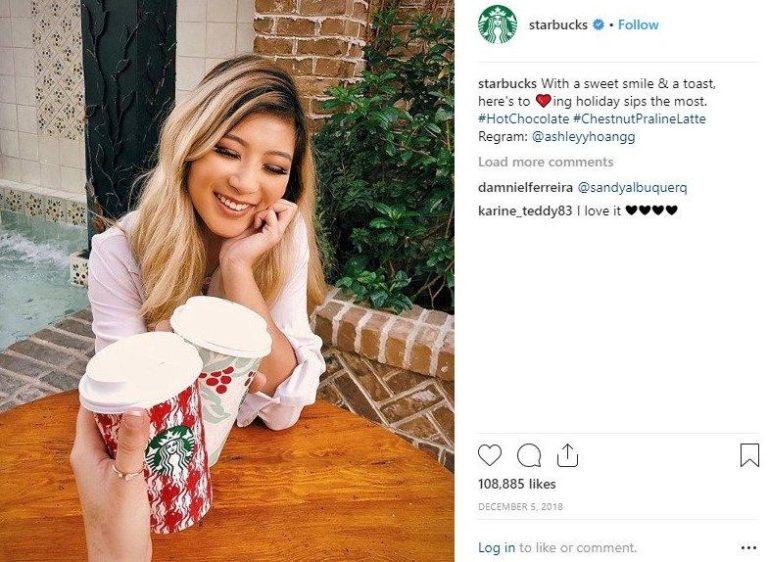 Starbucks leverages UGC as a "Regram" on Instagram
WTF is UGC?
User-generated content (UGC), also known as user-created content (UCC), is any form of content, such as video, audio, imagery, and text that has been posted by users on social media platforms such as Instagram, Facebook, Twitter, YouTube, and more. 
This can come in many forms – a selfie that a patient took after a facial you performed with your practice tagged, a testimonial that a patient posted on their own feed, a conversation with you and a patient, or even a patient journey of the before, during, and after of the treatment(s) or procedure(s) they received from your practice. 
The most important part of UGC is ensuring that your practices leverage it by reposting, sharing, or publicizing in some way. The only caveat is that you absolutely NEED to get permission from the user. Don't kill the trust of your patients by stalking and stealing their content without asking them – this can quickly lead to the exact opposite effect of what UGC seeks to accomplish – building trust. 
Why UGC is so great
In a day and age where social media users are drowning in a sea of sales pitches and marketing messages, the benefits of UGC are difficult to deny. 25% of search results from today's largest brands are linked to UGC which makes it a potential goldmine for traffic, engagement, and conversions. Not only does UGC remove the sales pitch from your posts, but it also shows off your services in action. Patients today want to put their trust in other buyers versus sellers.
Interaction is everything
The beauty of social media is the fact that potential patients and practices are more connected than ever before. Both are just an "@" away from each other. The ability to interact with followers in real-time is a means of customer service and a tool for curating user-generated content, including the conversations themselves.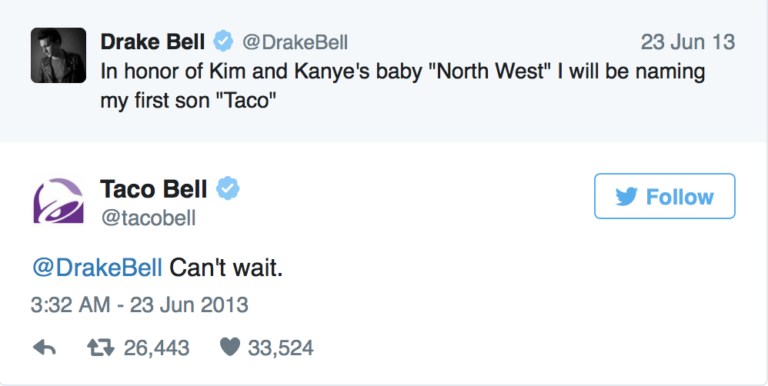 Taco Bell has been famously leveraging UGC and online interaction for years
Every tag and reply on behalf of your practice represents an opportunity to build a connection. The quicker you are to respond, the more likely you are to be labeled as a listener and receive more engagement in the future.
Customers not only want responses from brands these days, they expect them. Taking the time to both seek out and respond to your audience is a quick and painless process and a small touch that can make all the difference.
UGC grows your followers with ease
While we regularly preach that follower count isn't everything, but it certainly doesn't hurt to boost your numbers. UGC can be a potential goldmine of new followers – users crave opportunities for engagement and affirmation and it's up to you to provide those respective opportunities. You'd be surprised at the lengths followers are willing to go to on your behalf if you just ask.
If you encourage and curate UGC, you instantly lift the burden of constant content creation. Each time a follower tags you, leaves positive feedback or asks a question, you present an opportunity to take advantage of UGC. After all, sometimes the best content isn't what you create, but what others create on your behalf.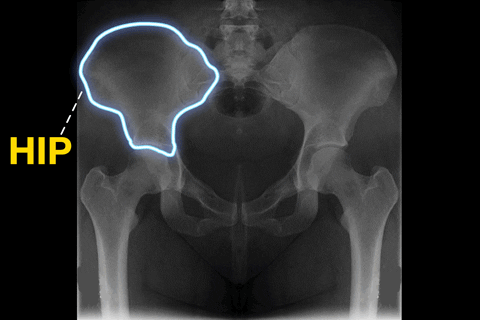 Three cheers for UGC!
User-generated content can eliminate some of the most common burdens of social media marketing for your medical practice:
You eliminate the burden of self-promotion.

You eliminate the burden of determining what content is relevant to your followers because they are the ones creating it. 

You eliminate the burden of time and effort by leaning on your followers to curate content for you. 
If nothing else, incorporating UGC is a fantastic supplement to your existing social media strategy. They're a welcome break from content that you'd normally create yourself and create a stronger, more authentic connection with your audience. Give yourself more time to run your practice and let your patients promote it for you!