Congratulations, your practice finally decided that it's time to get on board the social media train. Some of you may be joining the ride wholeheartedly and with total enthusiasm, while others may have been coaxed into social media by your marketing director. Either way, this article will help you make a more informed decision on which social platforms to use for your practice, and which to avoid.
I'll cover, in detail, the five major social media websites for your medical practice, whether you're a plastic, cosmetic, vein specialist, or any other private practice doctor:
Facebook
Twitter
Instagram
Google +
RealSelf
And I'll teach you how to ask the right questions upfront so you'll know where to begin.
Where to start?
With more social media platforms than ever before, you would be spreading your resources too thin if you tried to have a finger in every piece of the pie.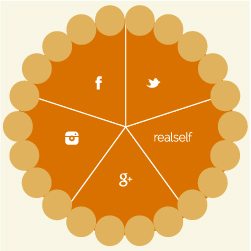 Not only that, but your patients aren't engaging with each of the different social networks in the same way. Afterall, the aim of social media is to establish an online community of your patients, not just to create an account that speaks to the masses. So how do you find out which networks your current and potential patients are engaging with? And how do you know which ones could benefit you in the long run?
Know YOUR demographic
Don't just guess, either. If you use a CRM system, use it to find out exact demographics for your patient base. If not, mine your charts and organize your patients into different age groups.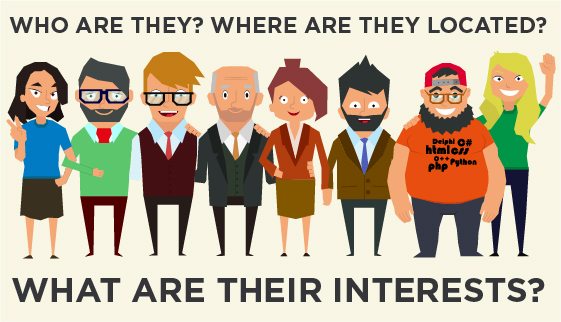 How it works when you guess: Off the top of your head, you believe that most of your patients are between the ages of 35-55, so you strategize your social media campaign accordingly, and decide not to pursue Instagram (since Instagram favors a younger demographic). However, since you recently started offering CoolSculpting®, you may have noticed a growing number of 25-35 year olds visiting your practice, making them a valuable asset. But when you were guessing who your key demographic consisted of, you forgot about them altogether. If this were the case, because you didn't use actual data to determine your demographic (or you didn't consider new markets for growth), you would have been missing out on the CoolSculpting® conversation taking place over on Instagram. But I guarantee that your competitor isn't!
Know THEIR demographic
Each social media platform is made up of a different audience with different intentions, and it would surprise you to learn who is using what. Just as it's not wise to guess the ages of your patients, you should never assume you know who is using what platforms. Just because you might be 55 and none of your friends use Facebook, it's not to say that a large group of other 55 year olds feel the same way. Do your research.
Depending on where you do business (urban, coastal or rural, for example), social media behavior can vary drastically. Where you might find a large number of 55+ year olds in New York using Instagram, you probably won't find that same demographic adopting Instagram at the same rate in North Dakota.
So make it a point to ask your patients which social networks they use most often. You can do so in an email campaign, or you can ask them at the point of sale.

How involved are you prepared to be?
Even if you plan on delegating this responsibility to another staff member or to an agency, it doesn't mean that you get to brush your hands of it completely. If you want success with social media, you'll need some level of involvement and commitment – no matter how skilled you or your colleague is as a social media architect. How involved is up to you.
You need to integrate social media into all aspects of your marketing efforts, you can't just slap it on and hope for the best. If you're excited about watching your business grow from social media, and you know that this is something you will be able to contribute to, then your options are endless.
On the other hand, if you would rather stab yourself in the eye than spend time on social media, then a lower maintenance platform is your best route.
What are your goals?
For the majority of practices, you're more than likely going to be concerned with:
Creating awareness:
Building relationships: Developing advocates for your practice
Collecting feedback/reviews:
Cultivating a community
Converting users to patients: Your ultimate end goal
It's important to establish your goals before you start your social media program so that you can accurately monitor your success throughout.
If you're just starting, it's ok to set superficial goals that won't necessarily improve your bottom line, like posting once a day or sticking to your social media editorial calendar. However, once you learn the ins and outs of the platform, you'll want to start assigning real goals to your campaign.
An overview of the social networks
Facebook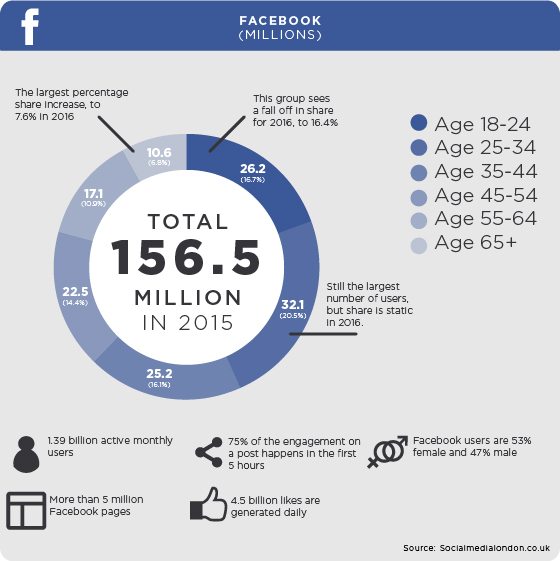 No matter how much their ever-changing edgerank algorithms may annoy us, Facebook is still the dominating social media platform, and unless you market specifically to 90 year olds, you need to be on it.
With more than 50 million Facebook pages, you wouldn't be wrong in wondering how the heck you're supposed to get your content out there. Remember, we don't just want to put it out there and hope that anyone sees it, we want users that fit your patient profiles to see it, engage with it and share it.
FB ADS:
One of the best things about Facebook is the ability to run hyper-targeted ads. You can create ads for 'page likes' that target your exact patient profile. You can even get down to targeting specific interests and occupations, or showing ads to people who recently visited your website.
What to post
Working out what type of content you will share will likely be the hardest part. This is where many people make the mistake of only posting promotional material.
"I run a vein clinic, what relevance does it have to post about a local sporting event?".
By posting content that is similar to your patients' interests, you are developing trust, encouraging engagement and establishing a sense of community. This is how a user grows from simply being a 'visitor' to becoming a full blown advocate for your business. Remember, you want to target people in your community, so emphasizing shared values and authenticity go a long way when cultivating a community on social media.

Facebook is also a great resource to build up your reviews, share patient testimonials, and become a resource for information on your industry.
 Instagram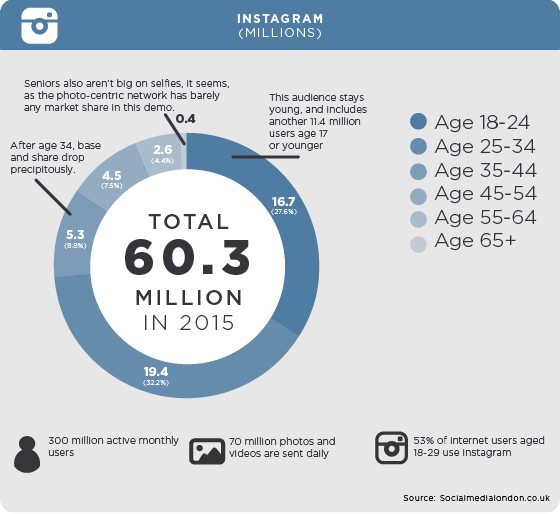 Instagram is the fastest growing major social network with the highest engagement rates of any other social network. Strictly an image sharing platform, it's a fantastic opportunity to give your patients a behind the scenes look at your practice, your staff, your patients and procedures. You can show your patients how you see the world, literally.
By simply posting an image of yourself scrubbing in for surgery, a staff member on their coffee break, or even some thank you flowers from a patient, you are humanizing your practice which strengthens customer rapport and builds advocates. Not to mention it's a great way to get your before and after images seen, and to show off your great work.
Challenge: There's a reason this network has been given a high maintenance score. It's going to require effort from the inside. We can regram and post existing online images until we're blue in the face, but at the end of the day, that's not why people are following your account. Sure, they want to see that stuff when it's relevant, but really, they want to get to know the real you.
This means that somebody needs to be taking 3-5 images (at the very least) per week from around your practice. If you can't manage that, it's unlikely that you are going to see much success from Instagram.
For a more indepth look into Instagram, check out "Should Your Medical Practice Have an Instagram Account?"

RealSelf


Another reason your medical practice should be online – it's an opportunity to educate your patients and demonstrate your medical expertise. When it comes to patient education, no site does it better than RealSelf. They have established themselves as a trusted resource for reviews, photos, and doctor Q & A's. By being a part of the conversation on RealSelf, you're extending your reach to an audience of people who are actively seeking the procedures that you are offering. Conversions are inevitable.
Pro Tip:  If you use RealSelf for one thing, use it as a resource for discovering what your patients are thinking. Surf the Q&A section on different procedures, and identify important questions from real people. Then, curate the most popular questions into individual blog posts for your website. It's a great way to solve problems on your blog that you already know your audience needs help with.
Twitter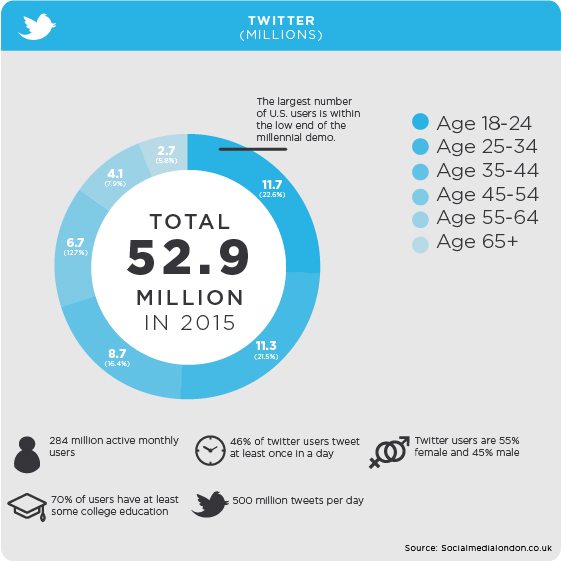 Despite Twitter's 140 character limitation, this platform is a powerful tool for communicating with patients & potential patients. Think of Twitter posts as sending quick, small news bursts or updates to users. Just got the latest SkinCeuticals range in? Hired a new esthetician? Performing a new procedure? Want to let everyone know you're offering free consultations all week? Whatever the news, sharing it on Twitter means your captivating the attention of some of those 284 million users.
Twitter brings together people with similar interests and thoughts, and gives them the opportunity to engage in conversation with each other. If that particular interest happens to be the best way to remove varicose veins, and you post an announcement that the FDA just approved VenaSeal, chances are that your tweet will be retweeted, expanding your audience reach yet again.
Twitter is also an excellent way to collect feedback about your services or treatments and to offer customer service in a timely manner. Tweets may be either directly relating to you, or they might offer some insight into how people are feeling about a particular issue in your industry. Either way though, if you're listening, your patients are telling you what they need.
PS Google just recently struck a deal with Twitter, so live tweets may actually start to show in searches results sooner than later. It's likely to roll out slow, but Twitter will likely play an important role in your SEO in some capacity.
Google Plus


Due to Google's desire to add a social layer to its search results, Google Plus quickly became a major social network to incorporate into your marketing repertoire. The bonus with Google Plus is that posts you make on the platform will appear higher in search results for not only those that are in your "circles," but also for the friends and family of people who are in your circle. So if you can build a following here, you stand a chance of acquiring additional traffic by increasing your presence in search with actual posts from Google Plus.
However, of recent, Google has begun to dismantle features of Google Plus in what looks like an attempt to favor the sum of its parts (namely its photos and Google Hangouts features).
It's hard to say with any confidence what Google Plus will offer in the future for your medical practice, but one thing is certain: Google My Business isn't going anywhere. At the very least, take advantage of a Google business page and build a following there. These are the pages that appear in local search results and map results for keywords like "plastic surgeon Denver".
Conclusion
So, I'm sorry if you were hoping to get to the bottom of this blog and have the answer laid out for you as to which social media sites are right for you. As you can see, it depends largely on your goals, your audience and how involved you're prepared to be.
Whether you choose to run social media internally or to seek out an expert, just remember, it needs to be an integral part of your day to day affairs and not something you assign to the intern and then forget about. Your social media campaign is only as successful as the effort that you put into it! If Incredible seems like the right fit for your social media marketing, give us a call at (800) 949-0133 or schedule a one-on-one.