Three things in life are certain – death, taxes, and Google changing its platforms. In late 2021, Google announced that significant changes to Google My Business were looming. Those changes are officially underway in 2022, so it's important to know what's changing, what's not, and what that means for your medical practice.
In today's ever-expanding digital landscape, consumers of every age and demographic use online search as the default way to find products and services. And Google is the runaway leader in that category, receiving about 86% of search traffic worldwide in 2022.
For the aesthetic medical field, this fact is especially true. Most of your potential patients will be coming from the local areas surrounding your medical practice and searching for your business using either Google Maps or Google Search.
FACT: Search terms like "Medspa near me" or "Best plastic surgeon in [city name]" are among the most common in the aesthetic medical industry.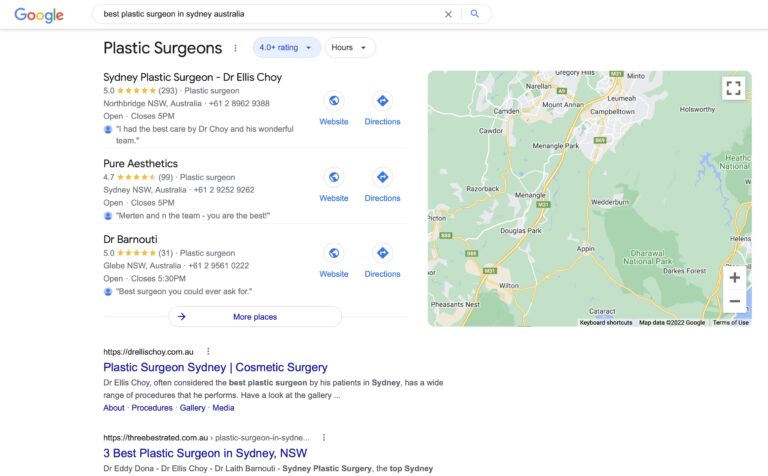 Google My Business (now Google Business Profile) is one of the most essential pieces to ensure that those searches lead directly to your practice and, more importantly, directly to the information they're looking for. That information includes things like your business hours, address, website, phone number, attributes, health and safety information, service information, etc. 
Remember that Google is also a relatively powerful direct messaging platform and gaining quick adoption by users globally. Hence, it's essential to make sure you're monitoring questions and inquiries through direct messages.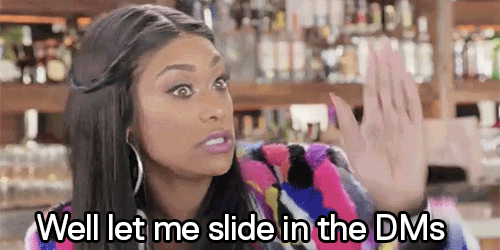 That said, ensuring your medical practice is up-to-date with its Google Business Profile and any changes to the platform is now more essential than ever. 
So what exactly is changing? What does this mean for your medical practice? And what action do you need to take? Don't worry; we've got you covered. 
Why the Changes?
The recent move by Google is geared toward positioning the platform as the best tool for your local business to get discovered, improve your online presence, reach potential customers, and continue the communication with them.
In many ways, Google Business Profile is like managing a social media profile aimed specifically at local businesses. Optimizing your listing directly improves search rankings with local Search Engine Optimization and reviews.
A little while back, we wrote about the best practices and guidelines for doctors with Google My Business. But with the recent updates, there will be a shift in how your profile is accessed, how changes are made, and even how you communicate with your customers. 
What's Changing
1. New Name
Google My Business has officially been renamed to Google Business Profile. Even though this name change became official in 2022, Google has slowly been transitioning the nomenclature in Help documents and other places in their platforms, using the term "profile" instead of "listing" for months. 
According to Google, the new name is an effort to unify its platforms and "keep things simple." Unlike other Silicon Valley giants like Apple and Facebook, Google has a rich history of renaming its products, so this isn't entirely out of character. The platform has been known as Google Places, Google Local, and some other names, which all still appear occasionally here and there, indicating it may be a while before "GMB" falls out of use. According to Google's recent post, Community and Support channels will be updated over the coming months to reflect the new name.
As for the Google My Business web platform, that will also be renamed to "Business Profile Manager" and will transition to support primarily larger companies with multiple profiles. These larger businesses will still be able to manage individual profiles on Google Maps and Google Search if they so choose. However, the expectation is that smaller businesses like single location medical practices will be shifted to managing individual profiles directly on Search and Maps.
2. New Access Options 
Beyond the name change, Google will be retiring the GMB app altogether by the end of 2022 and encouraging businesses to access their profiles directly through Google Search or Google Maps in what they're calling an "upgraded experience."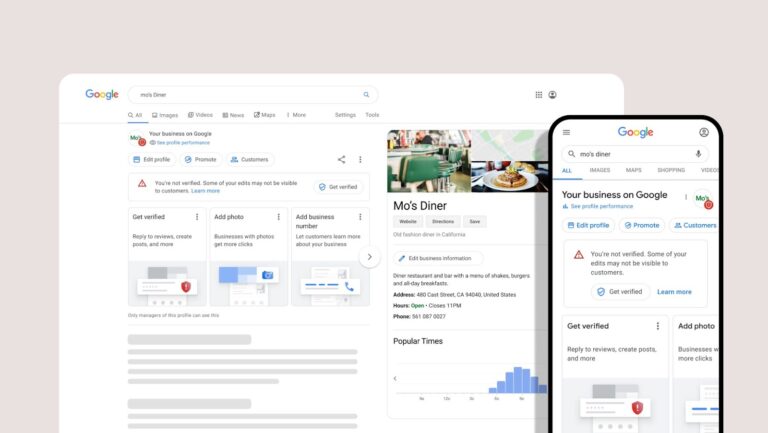 This experience has actually been available for a while and is done by logging into your Google account and navigating to https://business.google.com. For many businesses with a single location, this may already be the most common way you access your profile.
With the new update, your Google Business Profile's access point is set up similarly to a social media profile. The buttons are prominently displayed at the top of the page and allow you to perform several actions instantly:
Edit your profile 

Business information

Hours

Products

Services

Photos

Promote your practice 

Create ads

Check performance

Ask for reviews

Update photos

Add posts

Create offers

Promote events 

Communicate with your customers

View and reply to reviews

Monitor calls

View and respond to messages

Answer questions about your practice 
NOTE: As previously mentioned, for businesses that manage multiple profiles such as marketing agencies or medical practices with multiple locations, you will continue to use an interface like Google My Business, renamed to Business Profile Manager. However, there may be changes to that platform in the coming months, and we'll be sure to keep you informed.
3. Messaging on Desktop 
Now direct messaging can be performed directly from Google Search in the same way you can access most other Google Business Profile functions.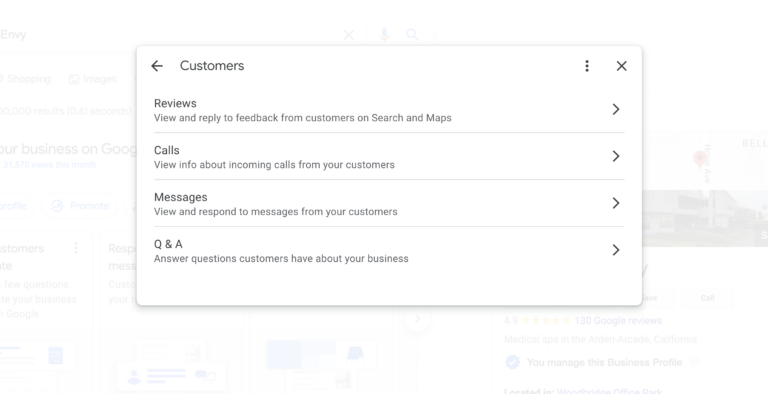 Similar to other Google features, the messaging functionality has a history of not being well promoted. It's been available in the app (which few business owners actively use) and deep in the GMB profile manager (which few business owners know how to find), so most aren't even familiar with its existence.
Now, Google is making progress in providing the same visibility and functionality as the mobile chat option inside the desktop dashboard. 
Here's how it works: when messaging is enabled, your customers will see a "chat" button on your business profile and can directly message you with a simple click. You can even set a custom welcome message in your settings to make the right first impression or set expectations on replies.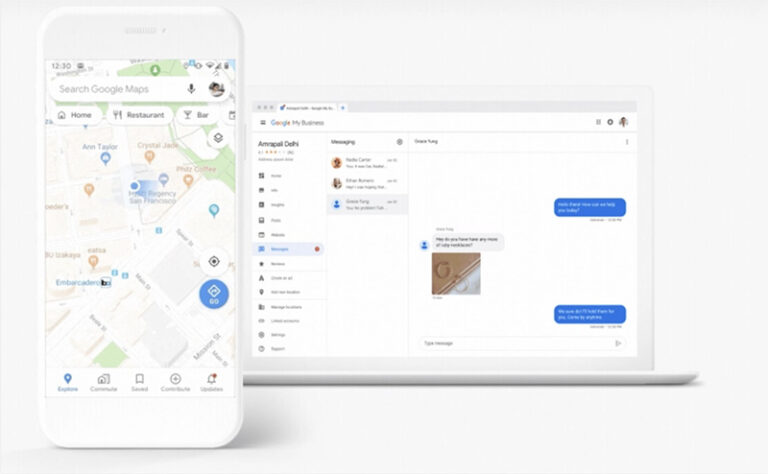 This is a great new tool for businesses, such as medical spas, that rely heavily on direct messaging and need to ensure that answers to potential questions are answered quickly. You'll get notifications instantly via email and push, and all of your messages can be monitored in real-time through a single pop-up window right on your business profile. Additionally, the message "read receipts" can be controlled directly in Google Search and Google Maps.
4. Other Minor Changes
Account Verification 
Claiming and verifying your Google Business Profile will be done directly in Google Search and Google Maps. 
Call History 
Now you can keep track of phone calls from your customers on Google Search and Maps with call history. Currently, this feature is only available for a select number of businesses in Canada and the US. Note that Google changes the phone number to a tracking number, so your actual phone number won't be displayed.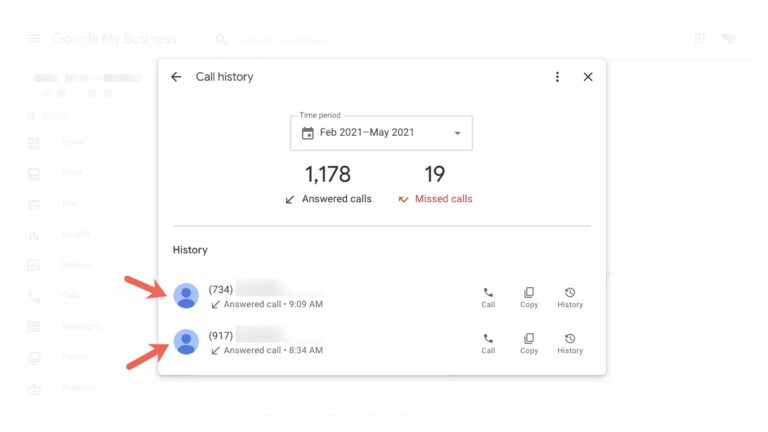 Potential Support Changes 
Google's recent update stated that the current Google My Business web portal would  "transition to primarily support larger businesses with multiple locations." This change has led to mixed reactions from digital agencies and SEO professionals. Some think that Google will move away from supporting smaller businesses. Others suggest that the impact on small businesses will be minimal since marketing agencies and multiple-location companies are already using the platform. Since Google is still stating that changes will be coming in the months ahead, we'll have to wait to see what impact this makes. 
What's Not Changing
What's important to note about the recent changes is that they are primarily cosmetic and focused on improving the user experience through new access points and a streamlined experience. The bulk business management functionality and relevance to your online success will remain the same. Thus it's essential to make sure you have accurate, complete, and up-to-date information on your Google Business Profile. Here are a few things to keep in mind:
1. Your Primary Category Is Still Important
One of the most essential components of your business profile is your primary business category. To this point, Google offers more than 3,000 categories and expands that list regularly. If you're unsure which category fits your practice best, search terms for what you want to place for and see what your top competitors in the area are using.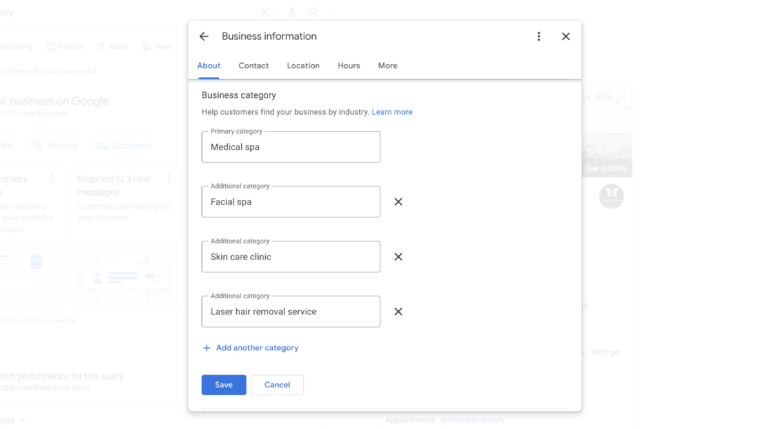 For example, if you own a medspa that provides aesthetic treatments and also sells skincare products, maybe you initially categorized your business as a "Medical Office" or even just a "Store." However, you would likely receive more relevant inquiries by changing your primary category to "Medical Spa" and including additional subcategories like "Cosmetics Store" and "Skincare Clinic."
2. Business Attributes
On your Google Business Profile, you can select different attributes to let consumers know particulars about your business. Your practice might appear in search results when customers look for businesses with those attributes by adding these.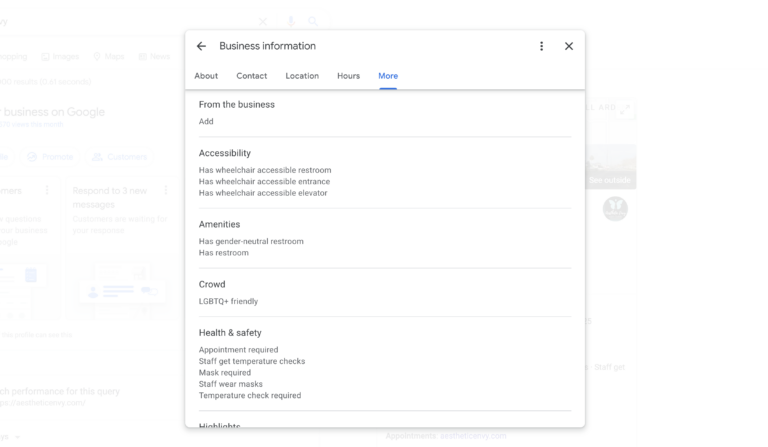 It's important to keep these updated for SEO purposes and because Google regularly adds new attributes options such as "women-owned" or even ADA compliance attributes like "wheelchair-accessible bathrooms."
For example, many delivery and contactless payment attributes were added during the pandemic. It's a great idea to check and update this periodically so you don't lose potential customers that may have certain filters on their searches. 
3. It's Still Free (for Now)
Like most of Google's products, you do not have to pay for your business's Google Business Profile. Although they still heavily promote and educate business owners on paid Google Ads, the profile itself is and likely will be free for the foreseeable future, although some of our Incredible Marketing experts believe that Google may one day attempt to make these listings paid. For now, you can get a ton of the SEO benefits of a fully completed Google Business Profile for free. 
4. More Changes!
Yes, one thing that never changes about Google is, well… more changes. Google has never been timid about releasing new, altering current, or killing existing products. The most recent wave of changes has been primarily due to the pandemic and the shift in consumer behavior stemming from that. Some estimate that the pandemic pushed the digital marketing industry ahead by a global average of six years. And although we don't know how long-lasting those impacts may be, we know that consumer behavior changes rapidly and will always be a fluid state. To that end, Google will always respond to ensure that its platforms are optimized to meet the dynamic environment of consumerism.
Other Upcoming Google Changes
Performance Planner 
In addition to the Google Business Profile changes, Google Ads is now enabling you to plan your Local campaign budgets using Performance Planner. Performance Planner is a new tool that lets you create plans for your ad spend and see how changes to current campaigns might affect key metrics and overall ad performance. This tool lets you see forecasts for your campaigns, explore outcomes by adjusting campaign settings, understand opportunities in seasonal periods and manage budgets across accounts and campaigns.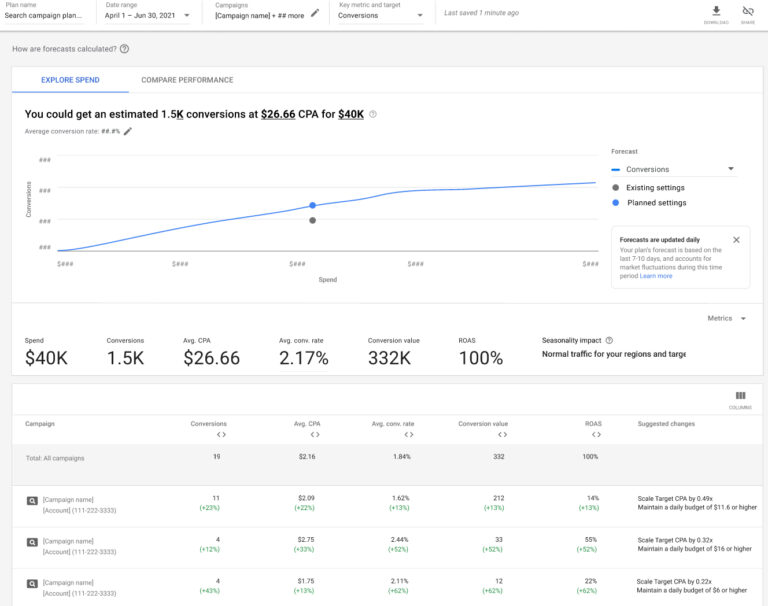 Brand Account Changes
Very soon, Business Groups will be removed from Brand Accounts. If you currently own or manage at least one brand account, you'll need to visit this website and opt in by July 20, 2022. If you've opted in, you'll be added as a co-owner to any Brand Accounts you previously owned and as a manager to any Brand Accounts you once managed. It's important to note that if you don't take action, you'll lose access to any Brand Accounts you previously owned or managed. This upcoming change will not affect Business Profiles. 
Google Analytics 4
Due to recent privacy policy changes on the web, Google Analytics 4 will replace Universal Analytics on July 1, 2023. This will impact how website data is collected and analyzed in terms of success. We'll write a full article on all the upcoming changes and how they will affect your medical practice. Subscribe to our Medical Marketing Minute blog to get updates on the latest news affecting your medical practice. 
Time to Appease the Google Gods
Change is inevitable, and when Google's involved, it's inescapable.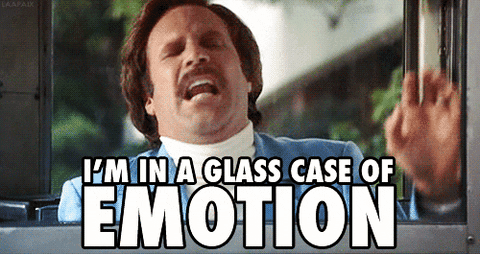 Whether you like it or not, as long as Google owns the internet (or at least internet search), your aesthetic medical practice is bound to Google's essential products. Google Business Profile is the most essential of those products for any business with a brick-and-mortar location. This means that your practice needs to keep up with any changes to the platform and ensure your profile is optimized to stay relevant on local search engines.
Need an expert to take a peek and ensure your Google Business Profile is optimized? Schedule a one-on-one today.